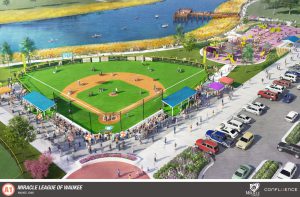 Waukee Betterment Foundation Assisting With All-Inclusive Amenities
As the Waukee Community School District begins construction in October on its second high school, the City of Waukee has plans to turn the adjacent 66-acre property into the Waukee Youth Sports Complex & Park. But, don't let the word "youth" fool you: the new amenity will benefit community members and visitors of all ages and abilities.
Waukee Youth Sports Complex & Park
Construction on Phase I of the Waukee Youth Sports Complex & Park will begin in the spring of 2021. Phase I will include eight softball/baseball fields and two practice quads with batting cages. These fields will accommodate youth softball players ages 18 and under, as well as youth baseball players ages 10 and under. In Phase 2, four larger baseball fields will be added to accommodate players up to age 14. The need for a complex of this sort has been growing in recent years.
"The impact of this project will be huge," said Waukee Recreation Supervisor Josh VandeKamp. "Right now, the City has three large fields at Centennial Park and four small fields at Warrior Park. We have 125 teams vying for field space and 40-plus Parks & Rec softball teams to accommodate annually. The construction of this new facility should alleviate Waukee's shortage of field availability."
VandeKamp said the investment in an amenity of this magnitude will not only benefit local athletes, but it should also catch the eye of regional tournament planners.
"We envision hosting tournaments on the weekends, which will attract teams from across Iowa, as well as teams from bordering states," said VandeKamp. "If the weather cooperates, the City's new complex should be busy from April through October. That could also help boost the local economy as visitors will need places to sleep, eat, shop and be entertained."
In addition to ball fields, the City plans to construct playgrounds, a lake, trails and parking. The Waukee Youth Sports Complex & Park is expected to open in 2022.
Nearly half of the project will be funded through a Public Improvement Fund set up by Apple; the remainder will be financed by revenues from the Dallas County Local Option Sales & Services Tax. These new funding sources make it possible for the City to complete this project without the use of property tax revenues.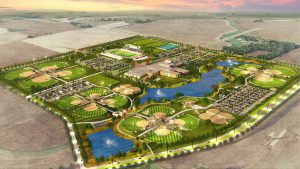 An Eye on All-Inclusive Amenities
In partnership with the City, the Waukee Betterment Foundation recently launched a fundraising campaign for the Waukee Miracle League® Ball Field and Play Area, as well as an all-inclusive fishing pier, all to be included at the Complex. The goal is to raise $2.5 million to put toward these specialized amenities.
"The Waukee Betterment Foundation is devoted to making Waukee better," said Foundation President Jim Miller. "This project will actually extend its reach beyond Waukee into the neighboring communities to provide a source of recreation for a surprisingly large population. Each Miracle League field can accommodate roughly 220 children in leagues. Since we know there are about 700 children in the area with disabilities, there is a real need. The adult leagues will also have a very strong demand."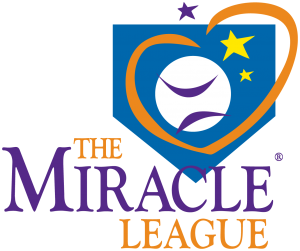 The Miracle League field will serve those with disabilities by way of its custom-designed, rubberized turf field which helps prevent injuries and provides easy access for wheelchairs and assistive devices. An all-inclusive play area with the same material and specialized equipment will also be installed near the field. It can be enjoyed by all visitors.
In addition to sports and play, new fishing opportunities will also be available. The City is constructing a 12-acre lake at the park, and the Foundation is working to ensure its fishing pier suits everyone.
"We are hearing from senior living facilities and veterans' groups that an all-inclusive fishing pier will be a huge draw," said Miller. "Currently, there is no place in the area to fish easily if you have mobility issues. This pier will have ample parking and restrooms nearby, as well as paved low-slope walks to the pier. Its design will allow people in wheelchairs to fish from a safe and protected area."
The Waukee Betterment Foundation's goal is to have the all-inclusive projects within the complex completed by 2022. To learn more about supporting this initiative, visit WaukeeBetterment.org or call Jim Miller at 515-224-5516.
To follow the progress of the Waukee Youth Sports Complex & Park, as well as other park projects occurring within Waukee, visit Waukee.org/parksandrec.
FOLLOW & LIKE US ON FACEBOOK!

SUBSCRIBE TO OUR NEW YOUTUBE CHANNEL!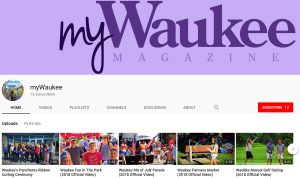 FOLLOW US ALSO ON TWITTER AND INSTAGRAM!