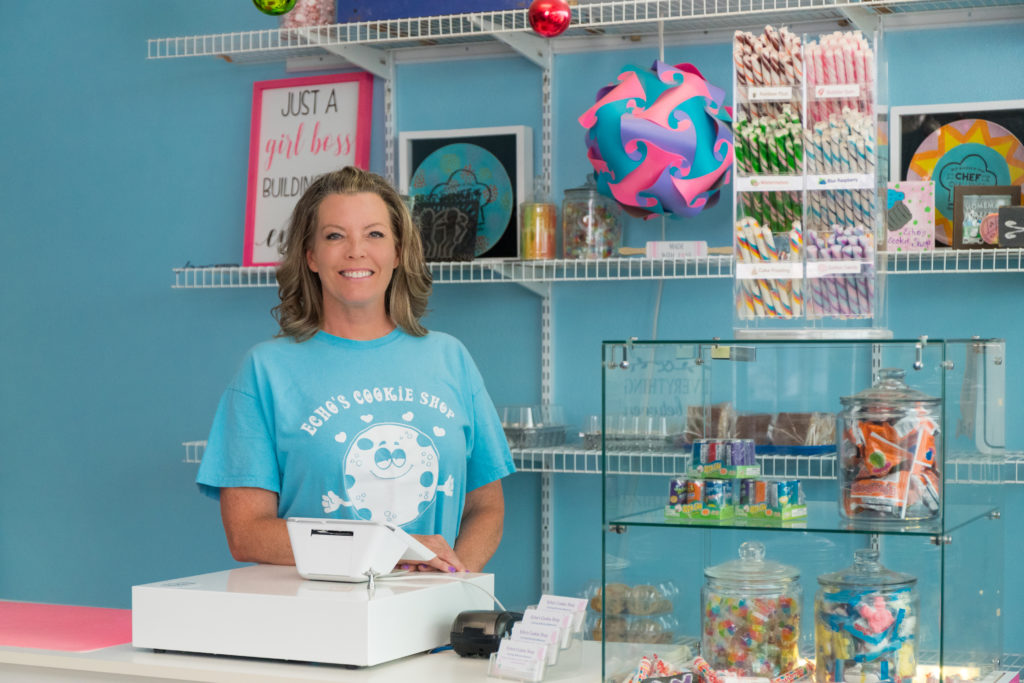 Where did you grow up? 
I grew up in Canal Fulton, Ohio.
When did you decide to make a hobby into a business?  
It's funny, but baking was never a hobby for me. I didn't even grow up around baking. My mom couldn't bake anything but bread. She made her own bread because she didn't want us to have the "junk" bread at the store. We weren't allowed to eat sweets growing up, either.
Tell us a bit about Echo's Cookie Shop.
When my daughter was little, I saw a book that had a cookie bouquet on the cover. I thought it would be fun to make that cookie bouquet with my daughter for her friend's birthday. The book was called "Cooking with Kids," so why not? Everybody loved it, and we made several for other friends. Two years later, I moved to Des Moines and asked the guys I worked with if anyone wanted a fun cookie bouquet for their wife for Valentine's Day. I made about 10 of them, and the rest is history. I've probably made thousands of cookie bouquets since that day, as well as cakes, cupcakes and cinnamon rolls. When I retired from the Air Force in 2013, I never thought I would grow my cookie business big enough to own a brick and mortar store, but a friend had just started selling real estate and wanted me to look at some places. Not thinking I would even know how to open a storefront I said yes, with zero intentions on committing to anything. I walked into the first location and I felt it—this was the cookie shop's new home. The City of Waukee walked me through the process and BOOM, I've been in my cookie shop for seven amazing years. This year, we added edible cookie dough—in vending machines! I have one outside my shop, ready to dispense edible cookie dough, monster bars and drinks 24/7. One of the best things about my cookie shop is that I made my first cookie bouquet with my daughter when she was 7, and she's now 26 and the best baker I have at the shop. She's moving on to her own career this month, but she'll still be with me part-time. I have a very sweet life.  
What are your favorite projects at the shop? 
It's not really a project, but I love, love, love my customers. I just saw a little girl on the 4th of July, who's now 11, and I've been making cookies for her mom since her baby shower. I feel like the cookie shop and my customers are one big family. I'm so very blessed for the original group of customers and the new customers that stop in.
How has Echo's Cookie Shop adapted during the pandemic?
I'm so grateful for everyone that has supported local business during the pandemic. Wow—I truly know the cookie shop is here to stay if we can make it through a pandemic and come out with a smile, still as busy as ever.