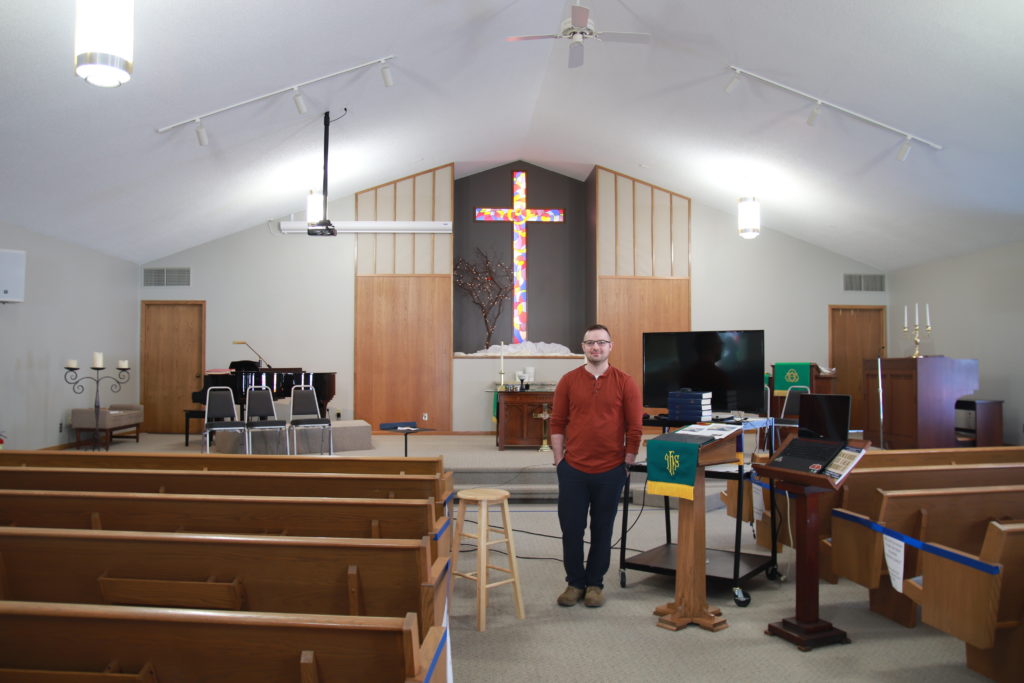 Where did you grow up?
I was born in New Haven, Connecticut, but I spent most of my formative years between Anaheim, California, and Grand Prairie, Texas.
Tell us a bit about Waukee Christian Church.
Waukee Christian Church (WCC) is a congregation organized under the Christian Church (Disciples of Christ) denomination. As a smaller congregation, a visitor can expect warm welcomes from everyone they meet and opportunities for involvement and volunteerism in the local community. We are the hands and feet of Christ, and we seek to serve Waukee as such.
When did you find your calling?
I found myself volunteering in a church in 2014 supporting Family Promise, a Colorado Springs-based charity that assists homeless families. One thing led to another, and I was asked to begin leading and teaching in the congregation. Then, when I wrapped up my Bachelor's degree, I applied to Lexington Theological Seminary and was accepted.
So much of the church-going experience is centered on gathering together.
How has WCC adapted during this pandemic?
At first, we closed down entirely. But then we got creative and taped off pews, made gathering-limit rules, began holding outdoor services, etc. But as Fall approached last year, and things got really bad here in Iowa, we moved to an all-digital platform. We had to learn a lot on the way, but eventually, we were able to create a worship service of which we're all very proud. We even do Sunday school classes online now! We understand caution in a global pandemic is not a failure of faith, but an opportunity to meet God in creative ways.
Some of our neighbors need help now more than ever. Would WCC like to call attention to any particular forms of community outreach?
We partner with Waukee Area Christian Services to ensure our neighbors are fed. This past winter, we donated several hundred pounds of food to the food bank as a Christmas offering. We also regularly gather hats, gloves and mittens for local Waukee students who might find themselves without what they need to keep warm. The work of Justice cannot be done through words alone; we strive to represent Christ's radical generosity and concern for those marginalized people with whom we share space. Action, we believe, is the most sincere form of prayer.
Any big plans for Easter?
COVID remains one of those uncertainties in our congregational life. We hope to do something special for the kids, maybe an Easter egg hunt or some outdoor crafts, but if it risks their health and safety, it wouldn't be worth it. Throughout the pandemic, our incredible Sunday School team (Shari Burgus, Janelle Taylor and Holly Showalter) have found creative solutions to reach kids from a distance. Each week they prepare a Sunday School kit with games, snacks and important spiritual lessons that the kids can reflect on throughout the week. If we cannot meet by Easter, I have no doubt our Sunday school team will make it something amazing for the kids.
How can our readers learn more about Waukee Christian Church?
Visit WaukeChristianchurch.com or check us out on Facebook, Instagram or YouTube. If you have any questions about our programs or want to know more about how you can serve your community, please email us at waukeechristianchurch@msn.com.