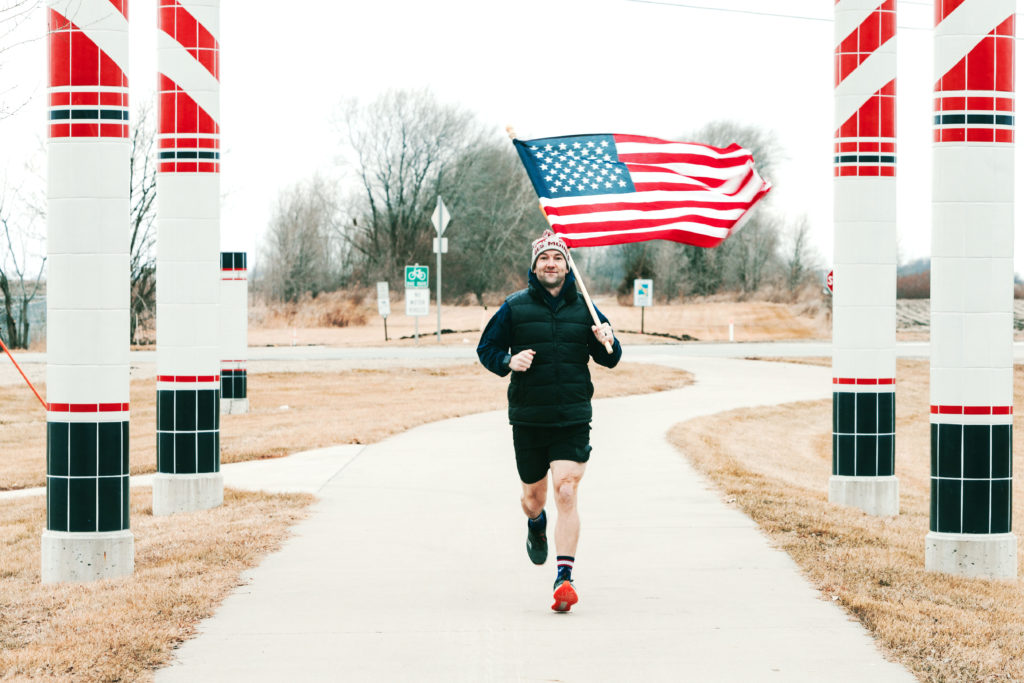 Tell us about your family.
My wife Kaylee and I have been together for 11 years. We have two amazing children—Vienna (8) and Hudson (3). We moved to Waukee in 2013 and absolutely love our city. It's an excellent place to raise children. We love going to movies, eating tacos, family-centered events and attending community activities.
You have a strong affinity for personal fitness. Where do you think that started?
It started in high school. I was too small to really participate in any sports, so once I graduated and finally grew, I started lifting weights. I really enjoyed watching mixed martial arts fights and ended up giving it a shot for a few years. Fighting requires you to be in excellent shape, so I ramped up my weightlifting and cardio. I quickly moved from fighting to powerlifting (bench, squat and deadlifting competitions) where I did okay, but injuries were very common when lifting so heavy.
A few years later, I ran a race with friends and did really well and beat all of them. I realized that if I actually trained, I could do well in competitive running. Over the last five years, I've run about 70 races and placed in the top 10 in over 40 of them. Even though I'm 39 years old, I'm still getting better. I've set some lofty goals to run the Booneville Backwoods 50k in May and then do the Ironman 70.3 in Des Moines in June. I love doing things that people say are impossible or too hard. 
You came up with a really great way to give back to our veterans. Tell us about that.
I spent this summer and fall training for the Des Moines Marathon. When I was just a few days away from running it, I kept wondering what I was going to do once it was over. I love having goals or something on the calendar to look forward to. I was sitting on a stationary bike at the Waukee YMCA, looking out the window, and I began wondering how many streets are in Waukee.
I found out that there were just over 200 miles worth of streets and decided it would be a perfect challenge for myself. Not long after I decided to do it, I thought about Veterans Day and how I could give back. I called the Wounded Warrior Project and they immediately set up a fundraising page. I set a goal of raising $5,000 for our veterans by running every street in the month of November while carrying a huge American flag. I used social media to spread the word, and by the end of the event, we had raised $7,000! 
How can readers follow your progress and/or donate to the cause?
The fundraiser link is still open and the Wounded Warrior Project told me it will stay open permanently.
If you go to my website, Road2Gold.net, right in the middle of the page is a big star that says DONATE HERE.
The run is officially over and ended up being 208 miles. I will continue to do events in the future and will share on my website or Instagram/Twitter @GoldMedalDad
As someone who maintains an active lifestyle, do you have any tips for those wanting to begin down that road?
I always tell everyone, JUST GO! If you're thinking about going to the gym, just go. If you're thinking about signing up for a race, just go do it. If you dwell or procrastinate, you're less likely to do it. I follow a lot of champions, Olympians and motivational people on my social media so when I open my social media feeds,
I'm filled with inspiration. It makes me want to be better every day. Don't spend the money on special clothes, supplements or programs. Just get started and become dedicated first. Earn those special clothes or shoes once you've hit monthly or weekly goals. Lastly, throw away the junk food in your cupboards and buy healthy items, natural items and lots of fruits and veggies! Also, drink water—all day, every day.