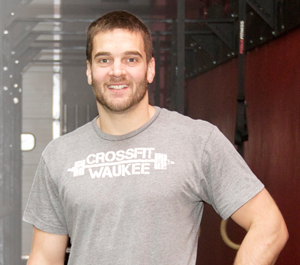 Where did you grow up?
I grew up in the country outside of Sully, Iowa.
Tell us about your family
I am the youngest of six. I have one brother and four sisters. We all played a lot of sports, but we liked basketball the most. Five of us played basketball in college.  I'm married to Laura Hoegh and we have three children: Ryan (4), Bueau (2), and Karly (3 weeks). My wife is an English teacher at Waukee High School and she coached volleyball until we had Karly.
Tell us about your current career
I'm the director of training for the speed and agility program at Acceleration Iowa. We work with athletes from ages 8-18 that are looking to improve their athletic performance. We help them run faster, jump higher and improve their foot quickness. Many athletes have the skills to make plays, but sometimes their opportunities are limited by their inability to get there in time. We help these athletes move better so they're able to increase those opportunities and help their teams win.
I also own and operate CrossFit Waukee, which is a strength and conditioning program for all ages. It incorporates a variety of strength, gymnastics and endurance sports (such as running, biking swimming and rowing). It's an effective and fun way to meet one's fitness goals. I've seen many people gain confidence in not only their appearance but in their strength, both physically and mentally. It's truly a life-changing program!
What are some of your hobbies and passions?
My biggest hobby right now is CrossFit. CrossFit is also a sport, so I enjoy training and competing in local competitions. I always get nervous before competitions, but I love sense of pride and accomplishment I feel from competing. Another thing I enjoy is going to the movies with my wife.
What do you like about living and/or working in Waukee?
I like that I have the small-town feel but the amenities of living in a city. The people are great, as well! I can't imagine living anywhere else – I love it!
What motivates and inspires you?
My clients motivate me! I love coaching, and when I watch people work hard, it fires me up to do the same. I look forward to seeing people do things they've never done before and seeing their excitement when something "clicks." It keeps me excited to show up to work each day!
Do you have a New Years Resolution for 2015?
A lot of my goals are related to my CrossFit training. I'd like to get stronger and develop my skills in gymnastics. The main thing I want to do is continue to develop as a coach and see my athletes succeed in their goals. I always like to see my athletes get the confidence to compete in local competitions, as it's a great way for them to showcase their fitness and inspire others to pursue their goals.
Competitions can be scary, but I've never heard anyone say that they've regretted it afterwards.
Not everyone wants to compete, but for those that are interested, I want to help them get there.
Any tips to help others keep their New Years Resolutions?
Start small. Don't try to do everything at once because it only sets you up for failure. Almost as important is to get a workout partner or get involved in a fitness program in your area. Having a support system is a huge part of being successful. That's what helps athletes at my gym.
Being a part of a team makes you accountable and keeps you motivated to show up and put in the work each day.