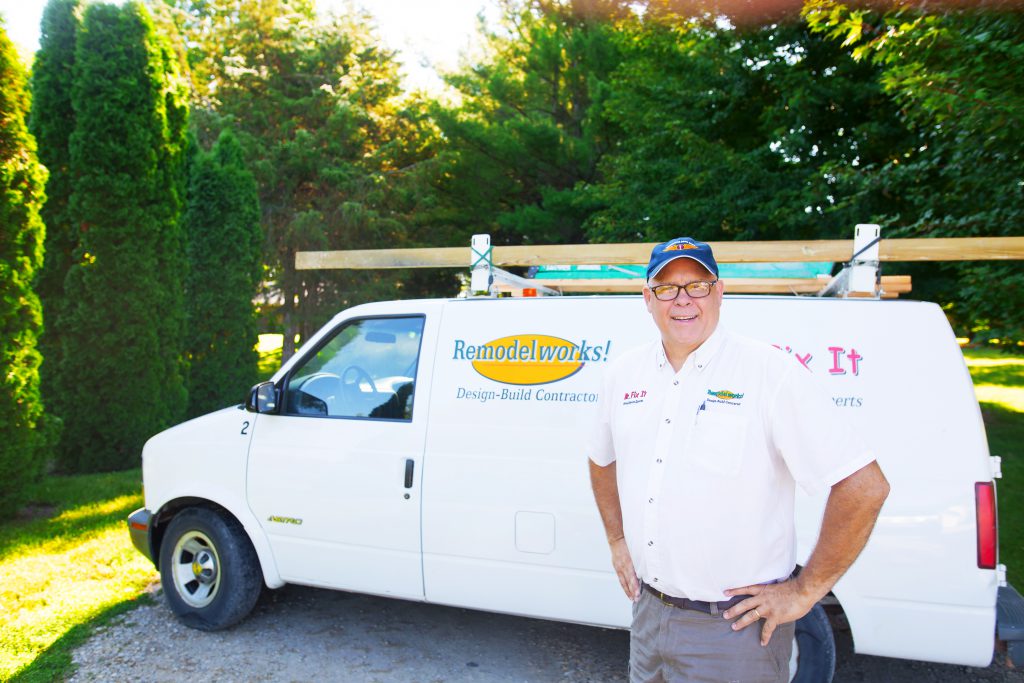 Larry Lyon's dual-focused business—Remodelworks! and Mr. Fix It—has been an influential part of the growing residential neighborhoods of Waukee since its inception in 1996.
But even before that, Lyon had an entrepreneurial spirit. After graduating from the University of Northern Iowa in 1984, he worked for Bristol-Myers Squibb, a pharmaceutical company, for about a decade. While working there, he spent a lot of time in hospitals and nursing homes, where he noticed that wheelchair wheels were always "gunky" and therefore not as functional as they could be.
"I invented a machine that automatically cleans wheelchair wheels," Lyon said about the invention for which he received a U.S. patent. Back then, he thought that invention was how he was going to make his "millions." But, the business was based on his onsite machine, which was transported in a huge 24-foot-long cargo trailer, and it hit some operational hiccups, especially in the wintertime. So to make ends meet, he began taking on home improvement gigs for friends and neighbors.
"A friend had gotten back from Colorado to find that a water pipe had burst in his condo, and that was my first big home improvement job. After a few more projects, the business really started taking on a life of its own," said Lyon.
Fast-forward about two decades and Lyon still runs his small business out of his home, but he now has a fleet of vehicles and an experienced team of contractors to tackle even bigger projects in the "West Metro" area.
In the Family
Fixing problems and creating something new out of something old is in Lyon's blood. He grew up helping his father and grandfather in their hardware store, Coast to Coast. He saw what it took to be a valuable asset to a community, and to do the same with his own business, he started small.
He traded his minivan for a pick-up truck and strategically began acquiring tools beyond the table saw and vice with which he began. Slowly and steadily, he grew the business. "I would try to take jobs I could complete with the tools I had, and if a job required a tool I didn't have, I would get the tool and then the job would help cover the cost of it," he explained.
Dallas County Growth
"We thought we were moving into the country when we moved to Waukee," Lyon said of his family's home on a then-gravel road that backed to a field. That lasted for about a year before the major residential growth started to crop up all around them. With substantial growth in Waukee and the surrounding area, Lyon's Mr. Fix It business rose to meet a growing demand for remodeling.
"Satisfied clients from our home improvement projects would ask us to come back and finish their basements or decks," said Lyon. That's when he realized he had a marketing problem—Mr. Fix It didn't sound like a remodeling company. It sounded like the company you call for smaller (yet still important) property fixes. So in 2008, Lyon launched the other part of his business—Remodelworks!—and invested in a 3-D imaging software program that allows customers to "see" what their projects will look like upon completion.
As a design-built contractor, Lyon and his craftsmen work with clients to help them find solutions to their home issues by helping them determine what they want, as well as what they want it to look like.
"The hottest thing right now is master bathroom remodeling, people want to remove those giant master bath jacuzzis that no one ever uses and they want to install walk-in tiled showers."
Remodeling now makes up the majority of Lyon's business. "Our business has been able to grow because of two factors. One, we have a very loyal customer base that calls us for every project they do. In fact, 80 percent of our business comes from repeat and referral, while the other 20 percent is a little bit of print advertising and a small sign in the front of our driveway," said Lyon. "The other factor is the growth of the city. There are simply more rooftops."
Lyon added that some of his early clients now have grown children that have their own houses and call Lyon's crew first for their remodeling needs. "We really appreciate the business and feel blessed that our clients have supported the company for so many years," he said.
Hammering Out the Challenges
Business has been great, but there have also been some challenges. "Our greatest challenge is finding qualified employees," he said. "There's so much construction going on that everyone is in high demand."
That's one of the reasons why he says would like to teach a course about the construction trade, perhaps at a local institution like DMACC. "There are so many enjoyable and rewarding careers within the construction industry; I think many potential students just don't know about them."
Lyon's business is currently home-based, and at some point, he foresees the need to move to a commercial location. However, that will present another challenge.
"As a small business, you can't find a commercial property or building to purchase that's affordable," he said. "One of my goals [on the city council] is to develop a business park focused on small businesses. I would also like for us to implement some zoning laws and to find a developer for a development for home-based businesses—homes built with office spaces in them that allow for one or two employees to work out of them."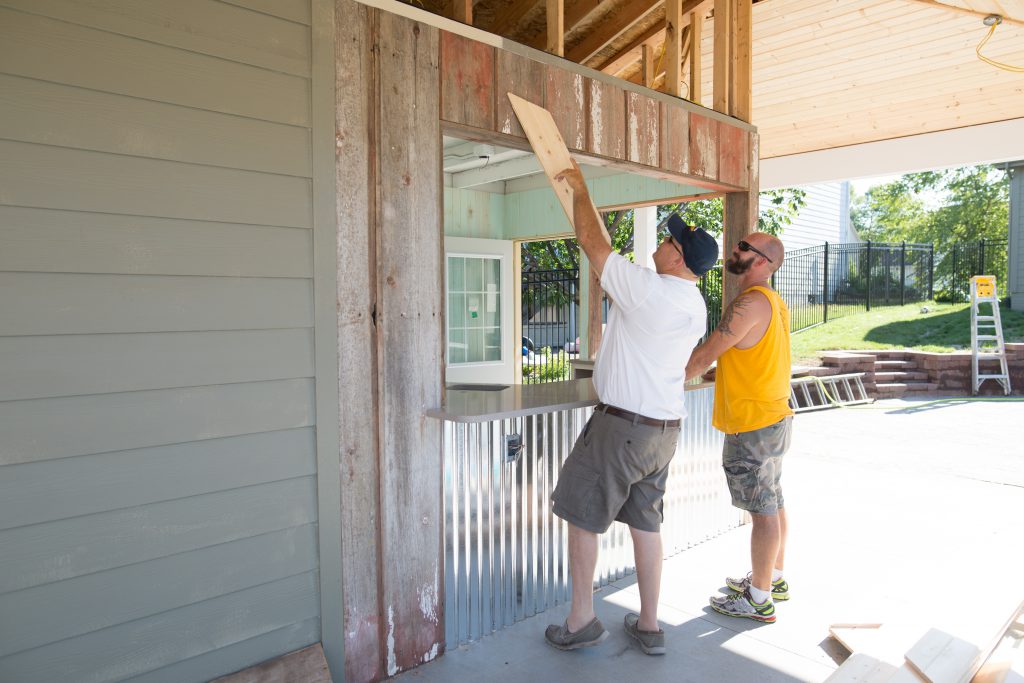 Laying the Foundation Through Community Service
If there's anyone in a position to tackle the challenges of small businesses, it's Lyon, who is a familiar face in Waukee, thanks in part to his involvement within the community.
"My dad said that community service is the price you pay for space on the Earth," said Lyon, and he's been living that value—especially since he moved to Waukee.
He first got involved in an economic development group and then first ran for Waukee City Council in 1998. He served on the council through 2000 and the Waukee Board of Education for over a decade, from 2004 to 2015.
Now he's on the Waukee City Council once again, and it's been a chance for reflection on how much Waukee has grown as a community. "When I was on the council with Bill Peard back in the '90s, we didn't realize it then, but it's like we were building a city from scratch. It's been amazing to see everything that's happened," said Lyon.
He also translated his father's teaching into co-founding the Waukee Leadership Institute. Lyon says that when he was on the school board, they saw the district growing at an astronomical rate, but there were only one or two people running for elected positions, which was concerning.
"The purpose of the Leadership Institute was to educate people on how cities and school districts operate. The intent was for the graduates to step forward and serve in leading the city, and I'm proud of how that has grown," he said, adding that he's no longer involved with the institute on a daily basis. "My forte is focusing on the big picture, so luckily, other people have stepped forward to execute all the details," said Lyon.
Don't Move…Improve!
For Waukee residents, remodeling is oftentimes a more cost-effective choice than moving. "Because the housing market is so strong, prices are going up," Lyon explained. "We see a lot of young couples who are considering adding onto their home, and they're trying to decide whether to move or improve. At the current market rates and lot prices, if they want to move, they're not likely to get much more house for their money. Instead, more folks are staying where they are and fixing what they have."
He added that many people can reconfigure their homes to create the types of spaces they want and need. Lyons offers the following tips for homeowners who are debating whether to move or improve:
Contact a remodeling company.

Discuss the project and its feasibility, and obtain a price and time estimate.

Call a realtor.

Ask how much money you could invest in your home in order to still get a return on investment when you sell the property.

Double check the rules and get a green light.

If you're looking to construct an addition to your home, check whether your local neighborhood association will allow it. Also check with the city to ensure you're not crossing a property line or infringing on any utility operations.

When you're ready to move forward, set up a meeting with the remodeler to clearly define the goal of the project.

"I always like to have both partners in the home present when I ask about their goals and needs," said Lyon.

Acknowledge the time the work requires.

Remodeling, when done well and with quality craftsmanship, takes time. Lyon said that finishing a basement takes five to six weeks, additions and large kitchen remodels take around eight weeks and a master bathroom takes about four weeks to complete.