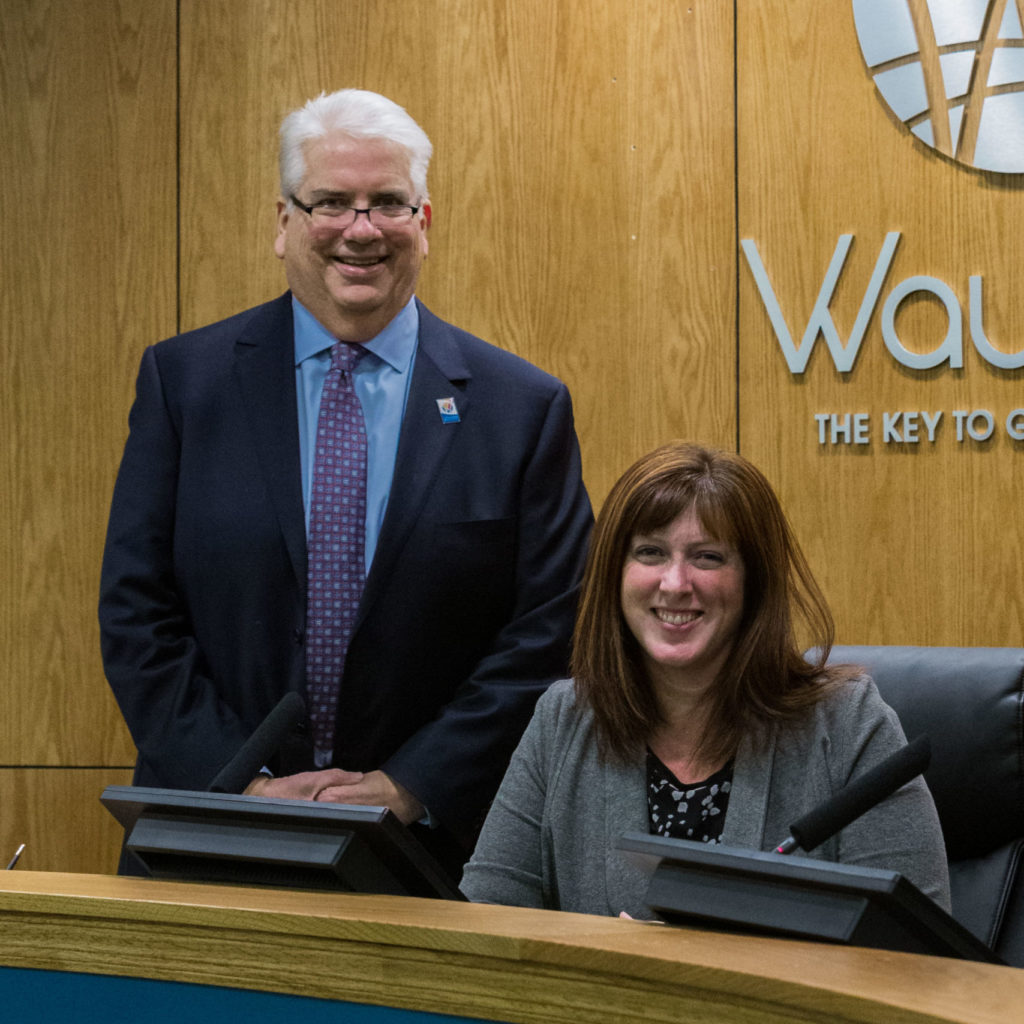 Courtney Clarke—Waukee's first female mayor—comes to the job after two years on the city council. She is succeeding Bill Peard, a transformative figure with 22 years of city service.
She has big shoes to fill.
Peard was mayor for 14 years after eight years on the council, while ascending to executive vice president at the Iowa Cable & Telecommunication Association.
He and his wife Linda raised two sons (Brady, now 27, and Tanner, 25) as Waukee grew from 5,126 in the 2000 census to 22,810 in 2018.
The Peards moved to Waukee in 1993 following an extended metro area search and "found a great community with great schools," he recounted. "This was the place."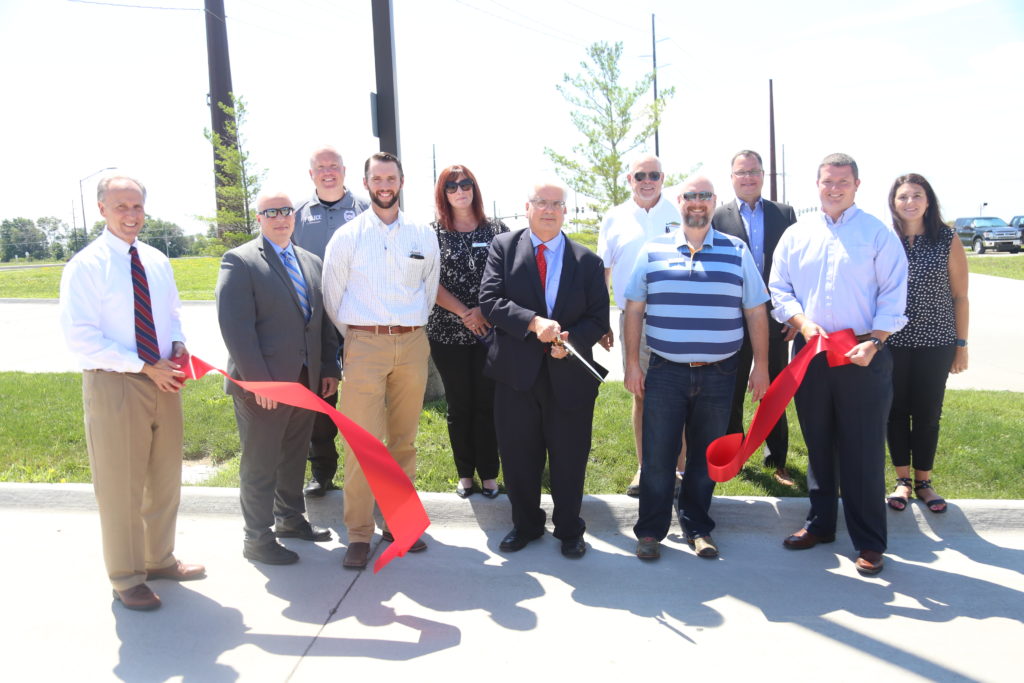 His entry into politics came at a backyard barbecue, where he attempted to get friends involved. Instead, they drafted Peard for the city council.
Notable development during his tenure ranged from the I-80 and Grand Prairie Parkway interchange and impending projects associated with it to the Apple data center, which figures prominently in funding community improvement.
Peard said he takes pride in "how our quality of life has developed with our entertainment venues, new restaurants and trails."
Some of his accomplishments didn't make headlines, but were fundamental for the city.
"Hiring great staff to run and develop the city as well as it has been, I'm very proud of that—all the directors, police and fire chiefs," said Peard. "We have top-notch people."
He said he is also proud of the founding of the Waukee Leadership Institute in 2006, which shapes leaders through training, networking and mentoring.
Parlaying Private Sector Experience
Clarke, 38, now a director at Miles Capital, was previously its marketing and communications manager and client services manager, a title she held earlier at WB Capital.
Those responsibilities have helped hone her strategic thinking, which she believes is critical in her new position, including implementing Imagine Waukee 2040, the city's strategic plan.
"At Miles Capital, I'm responsible for basically everything external," said Clarke. "That means sales, marketing and client service. Additionally, I lead the strategic planning effort. Being responsible for the strategic growth of a firm prepared me very well for some of the strategic concerns we have as a city and building relationships."
The Des Moines native and Iowa State University grad (with a bachelor's degree in business management and international business) moved to Waukee in 2009.
"I started to look at where I wanted to live long-term, and I wanted to be close to work. That's what brought me out in this direction," she said. "When Adam and I were looking at getting married, we talked about where we wanted to raise a family, and it was Waukee."
The mother of four (Teagan, 7, and Rylie, 3, with husband Adam; Chloe, 14, and Emmett, 12, from Adam's previous marriage) is constantly multi-tasking with parenting, career, city and volunteer responsibilities.
She serves on the Iowa Child Advocacy Board, with Iowa Workforce Development, as a Waukee Community Church mission team member and a Love Lunches team lead and volunteer coordinator.
"Adam and I do a lot of tag-teaming," she said. "We obviously make sure that things are covered and have our schedules well-coordinated."
It's a stereotypical "right-brain/left-brain" partnership. Adam, a graphic artist, is a creative services director, while Courtney is in finance.
"At our house, Adam is the one who kind of does the fun projects," Courtney joked, "while I'm the one who makes sure the math homework gets done."
Clarke ran for council in 2017 after attending meetings on a neighborhood zoning issue.
"The more I watched and paid attention, I realized so many people don't understand how much local government impacts your daily life. The things that are being discussed will affect the city for the next 20 or 30 years. That made me want to become more involved," she explained.
As for becoming mayor, "I wasn't looking for what's next," she said. "When Bill was considering retiring, several people approached me. They thought I would be good at it. Ultimately, I thought I could bring my skill set and dedication to serve the people in Waukee well."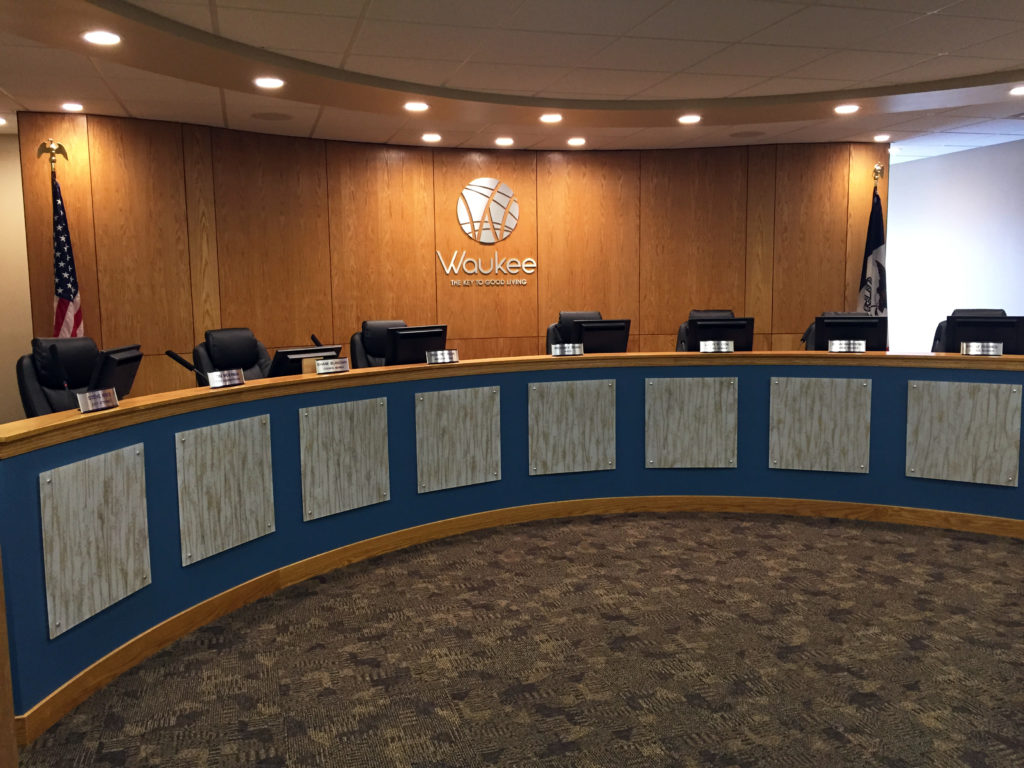 Building Bridges
Clarke and Peard credit the Waukee Community School District as a catalyst in Waukee's metamorphosis.
"When the growth started, it was driven by people wanting to be part of the school district here," said Clarke. "I don't think anybody projected back in 2005 that we'd be at 23,000 people before 2020."
"The Waukee School District has been so successful," said Peard. "They've done a great job in expanding their district, which many people followed. And along the way, we've had good council members, good staff and good school cooperation."
Meanwhile, Peard was busy building the tax base.
The I-80 interchange at Grand Prairie Parkway is a testament to developing fruitful relationships.
"We were partners with West Des Moines on that project," he said. "Half of the bridge on that interchange was paid for by Waukee and the other half by West Des Moines. We were partners in Washington, D.C. to help get the funding."
The interchange spurred the nearby Kettlestone mixed-use project (office, retail and residential) and The Quarter entertainment area coming soon.
The Grand Prairie Parkway-Alice's Road widening will spark more development.
Then there's the 2,000 acres Apple acquired in 2017 in the northwest Waukee for its $1.38 billion data center. The city will provide a 71 percent property tax abatement over 20 years. Apple plans to invest in community improvement projects such as the future Waukee Community Park and Sports Complex.
"We didn't give them any money directly out of city coffers," said Peard. "They are very community-minded."
Clark agreed. "That land was not going to be paying tax gold in the near term. It was a great opportunity to find a partner to develop something there and expand our tax base. That's what you want—a partner that adds something to your city and doesn't just use services," she explained.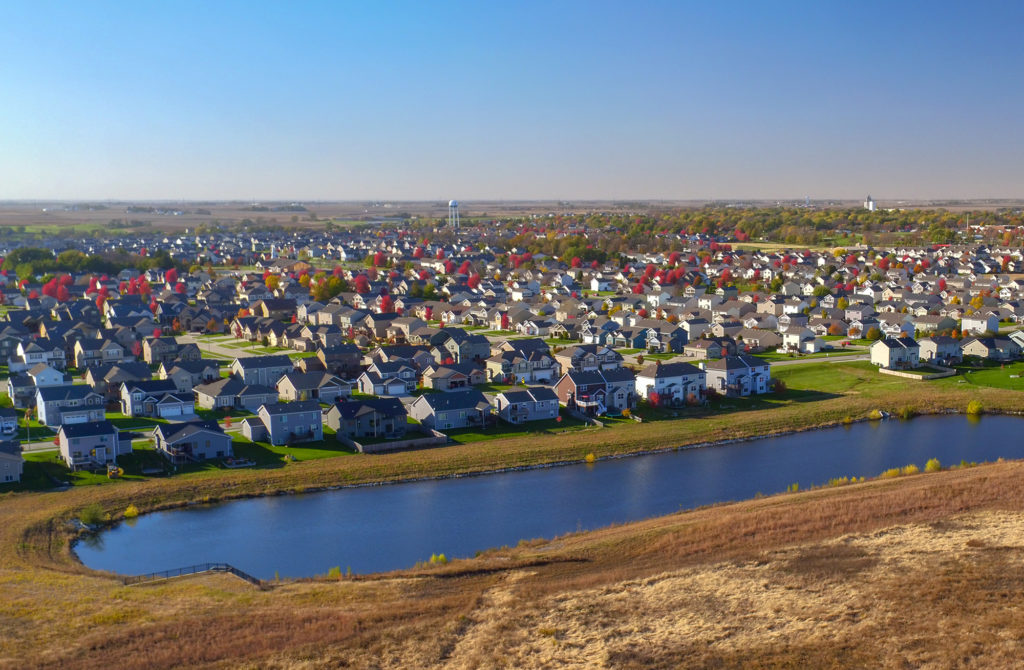 Housing Boom Isn't Enough
"We're in an interesting position right now as a city in the 'growing-pains' stage," said Clarke. "We're no longer small, but we're not large. We have a lot of infrastructure needs—like sewer build out—that aren't fun things to talk about, but are important. Yet we also have needs like additional parks and amenities for young families. We need to make sure we're meeting the needs of all residents."
In that regard, affordable housing concerns her. Despite all the residential construction, Imagine Waukee 2040 predicts needing 2,684 more units by 2026.
"We have affordability issues, which I think is true of all the suburbs, not just Waukee," said Clarke.
"I think most people want to move here to be part of a family-oriented community and an amazing school district," she added. "That shouldn't be an exclusive proposition. We need to discuss broader housing opportunities, including how to meet the needs of developers while having more affordable homes."
Where People Gather
Waukee may not have a primary gathering spot, but it is developing choices.
"Gathering places still very much matter," said Clarke, "but we're not headed toward one central gathering place. It could be different things."
"We want the (downtown) Triangle to be a vibrant part of our community," she continued. "We've talked about a city center at some point with more of our government buildings together. We're outgrowing city hall and soon the Waukee Public Library. Those kinds of facilities would be great if centrally located and together. We could also incorporate gathering space."

The city has a purchase agreement option for 224 acres at Sixth Street and University Avenue, for a civic campus as it outgrows the library, public safety building, community center and city hall.
Imagine Waukee 2040 envisions those buildings together with a possible performing arts center, field house, aquatic center and ice-skating area.
The People Behind the Scenes
"There are so many great things happening in Waukee—a lot of growth and development," said Clarke. "I'm not looking to make wholesale changes. What I'm looking to do is help the community improve and grow and make things even better. We need to do it in a way that we make sure this is the community we all want.
"There's been so much good work done by city staff and the council previously to make ourselves very marketable as a city," she added. "It attracts opportunities. We have a lot of good partners looking at how they can work with Waukee because they want to be here. They come to us because we've built something that's pretty great."
Peard has confidence in his successor.
"I think Courtney is very, very bright," he said. "She understands finance very well. She has everything she needs to be successful because she loves the community and interacts with people well. She'll do well as mayor."
As Peard attests, it isn't a one-person operation.
He cited "an unbelievable city staff" that has excelled at finances ("We didn't spend money recklessly"), provided "great roads" and "a great trails system," along with "great public safety—both police and fire that keep our citizens protected."
His tenure, he added, "hasn't been about me, but a lot of hands that did the heavy lifting, smart people, community activists and good community support," including backing from the Waukee Area Chamber of Commerce and businesses.
As for himself, Peard said, "I just want to let the people know how much I have appreciated their confidence and trust in me and for allowing me to be their mayor and councilman. It's been very humbling. I have been blessed and honored."