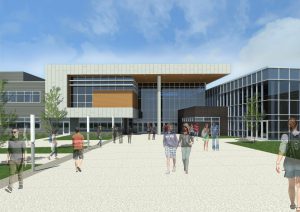 Waukee area students in graduating classes 2022-25 could be the first to attend the area's second high school, which is set to open in 2021.
The fast-growing Waukee Community School District was ready to burst at the seams with Waukee High School nearing capacity. Total districtwide enrollment increased from 2,198 students in September 1999 to more than 10,000 this year with a projection of nearly 13,000 in five years.
Meanwhile, the city of Waukee had grown from 5,180 in 2000 to 20,649 last year. Its recent one-year increase of 9 percent was the highest of any city in the Des Moines area.
The Waukee City Council and the Waukee school district took action in May 2016 to deal with the influx. They approved the joint use of 160 acres of green space for a new high school and a city-owned sports complex. The yet-to-be-named 395,000-square-foot, 1,800-student capacity high school will reside just north of Hickman Road near the Waukee Family YMCA.
Most of the land will be used for the school and its amenities with the remaining space slated for 12 softball/baseball fields and a parking lot.
Voters had to approve a referendum for $117 million in general obligation bonds for the new high school in February to make the project a reality. It required 60 percent for passage. It got 90.27 percent.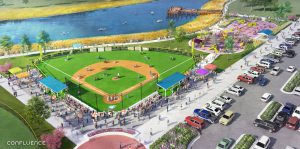 Meeting Short-Term Needs
The Waukee Innovation and Learning Center—a facility for innovative partnerships between local businesses, the community and high school students—may be used to house additional Waukee High School programs until the second high school opens. Details are still being worked out.
Ten Elementary Schools by 2022
The district is also adding two elementary schools to accommodate growth. Radiant Elementary, at 5050 170th St. in Urbandale, is under construction and expected to open in the fall of 2019.
Land has been purchased for a tenth elementary school off Ashworth Road, west of Ute Avenue and Highway R22. Construction is expected to begin in the spring of 2020 and it's expected to open in 2022. A name for the elementary school has not been determined.
In the meantime, Nicole Lawrence, Communications Coordinator with Waukee Community School District, said the district is closely monitoring enrollment and bringing on new teachers to ensure classrooms stay at an appropriate size.
News about the district's progress on the elementary and high school fronts has sparked questions about the middle schools as well. The district's website dedicated to providing information about the second high school addressed the issue by stating it will monitor updated enrollment data and then make plans for how to accommodate students at the middle level.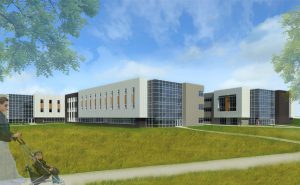 The New High School's Design
The concept for the new high school was developed through a six-month immersive design process between FRK Architects & Engineers, district administration and a visioning committee comprised of parents, students, staff and community members.
"In a series of three visioning sessions, the committee learned about current standards and trends in high schools around the country, reviewed multiple layouts from newer high schools and then created building layouts to reflect district values," said Lawrence.
Feedback from the committee was used to create the building's three-story layout, which includes a rooftop terrace, a media center with a second-floor mezzanine, an auditorium with a second-floor balcony and orchestra pit, a commons area for students and several individual and group learning areas for students and staff.
There will also be a single, secure entrance for staff, students and visitors during school hours.
"Open, light-filled spaces that promote collaboration and student development were high priorities for the committee, with student safety being a top priority," said David Briden, Senior Project Architect and Principal with FRK Architects & Engineers.
Incorporating a pond on to the campus was also an important and notable feature when designing the school's layout.
"A natural drainage channel through the center of the site allowed a pond to be placed as a focal point around which the city and school district facilities could be developed," said Briden. "Placing the building adjacent to the pond allows it to take advantage of views over the pond to the north. The natural slope of the terrain creates a structure that tucks into the hillside, helping to marry the large scale of the building with the site."
As instructional methods and learning styles continue to evolve, Briden said each classroom space would be adaptable and future-ready for students.
The school parking lot will be ready for newly licensed drivers, too, with enough room for 1,360 stalls.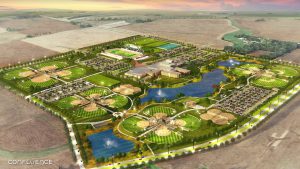 Athletic Facilities
Lawrence said that while the Iowa High School Athletic Association (IHSAA) and Iowa High School Girls Athletic Union (IGHSAU) ultimately determine sports classifications, the district anticipates each high school to compete at the 4A – IHSAA and 5A – IGHSAU level.
"Both high schools will offer similar programming and opportunities to students," she added.
The second high school's outdoor athletic facilities will feature a football stadium with a field and track, four practice fields, 12 tennis courts, and baseball and softball competition and practice fields. Additional amenities such as concession stands and team rooms are also included in plans.
The stadium will be built in a bowl-type setting into the ground. Inside, the school will have a gymnasium seating 2,500, an auxiliary gymnasium, and a three-lane track.
Parents Embrace the Second High School
Abby Jones, a Waukee parent whose fifth-grade son could be attending the second high school said the addition was a definite need for the community.
"It's amazing to think how this area has grown in such a short period," said Jones. "When I attended the University of Iowa, I remember some of my classmates from the Chicago suburbs said they graduated with a class of 1,000. That seemed huge, but we're not far behind those numbers anymore."
"I really think so much of our growth can be attributed to the school district's commitment to offering students a truly high-quality education," she added.
During the 2015-2016 school year, 855 kindergarten students enrolled in the district—a sign of even larger classes to come.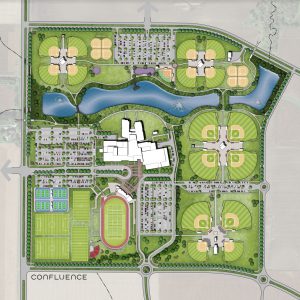 FOLLOW & LIKE US ON FACEBOOK!

SUBSCRIBE TO OUR NEW YOUTUBE CHANNEL!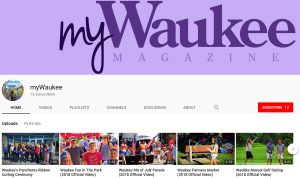 FOLLOW US ALSO ON TWITTER AND INSTAGRAM!