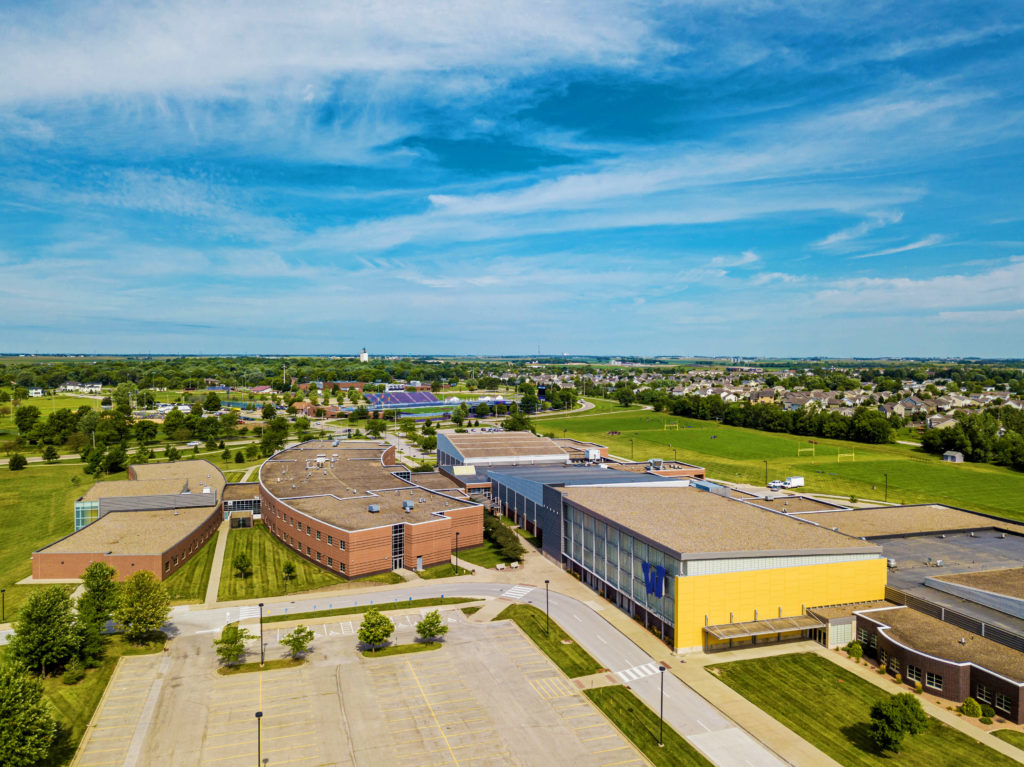 It's hard to imagine a time, more than 100 years ago when the Waukee Community School District (WCSD) was a consolidation of four small, rural towns that transported neighborhood kids to school by horse and buggy.
Fast forward to 2019, and Waukee is the fastest-growing school district in the state, with a ninth elementary school welcoming students this fall, one more K-5 school on deck and construction underway for a second high school.
The district's transformation since its formation in 1916 has been nothing short of monumental. We sat down with Amy Varcoe, WCSD's Director of Communications, to discuss the evolution of the district—including where it started, how things look now and what the future holds.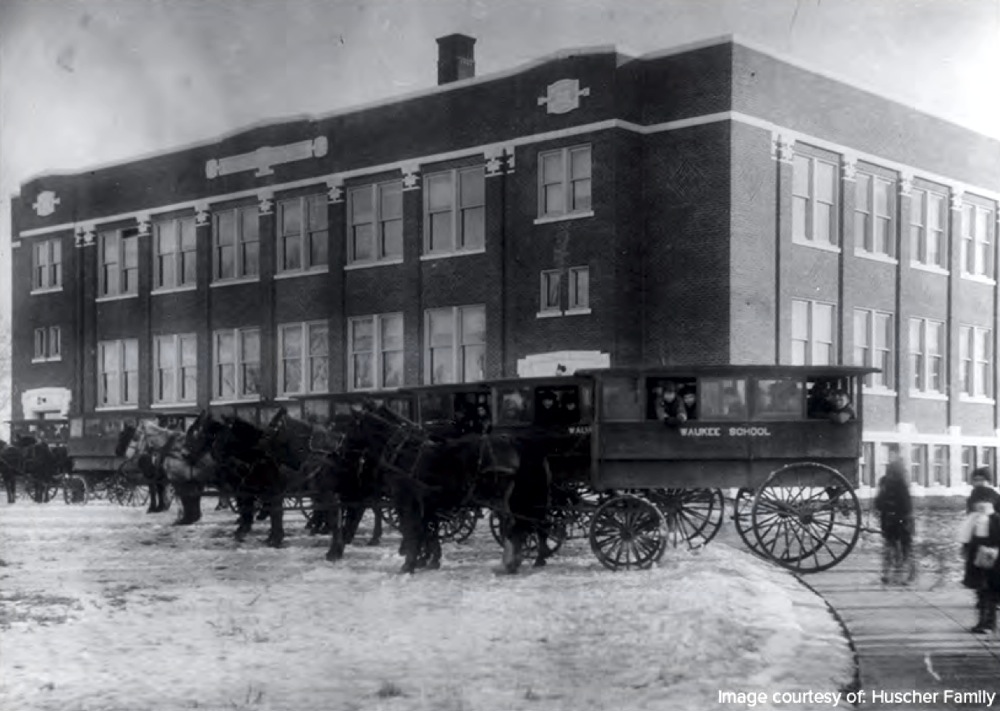 Waukee in the Beginning: Small and Rural
Waukee Community School District was formerly known as Waukee Consolidated District after a petition was signed on July 29, 1916 to merge the Walnut Center, Pleasant View, Floral Valley and Waukee Independent School Districts into the Waukee Consolidated School District. Areas of Boone and Van Meter were also included in the merger. The district was eventually named as we know it today but didn't experience any significant growth until the late 1990's, when the Des Moines metro began to expand further west.
The area's growth from 1992-98 reflected a booming U.S. economy, which increased by an average of four percent with nearly 1.7 million new jobs created, an unemployment rate of four percent, and median household income up by 10 percent.
As a suburb of a growing city, Waukee had an influx of families. During the 1994-95 schoolyear, the WCSD had just three kindergarten teachers for 123 kindergarten students. In total, there were 29 elementary teachers for grades K-5, and 68 seniors graduated that year.
"In 1997, Waukee was still one of the smallest schools in the state," said Varcoe.
But by the end of the decade, student enrollment numbers started to increase by 450 students annually—a trend that's continued, and then some, 24 years later—catapulting Waukee to the seventh biggest school district in Iowa.
"My husband and I moved to Waukee in 2006," said Varcoe. "LA Grant Parkway was a gravel road back then. There were no other buildings, but we purposefully chose to live here because of the area's reputation for good schools. Never in my wildest dreams did I think we'd be up to 500-600 new students a year."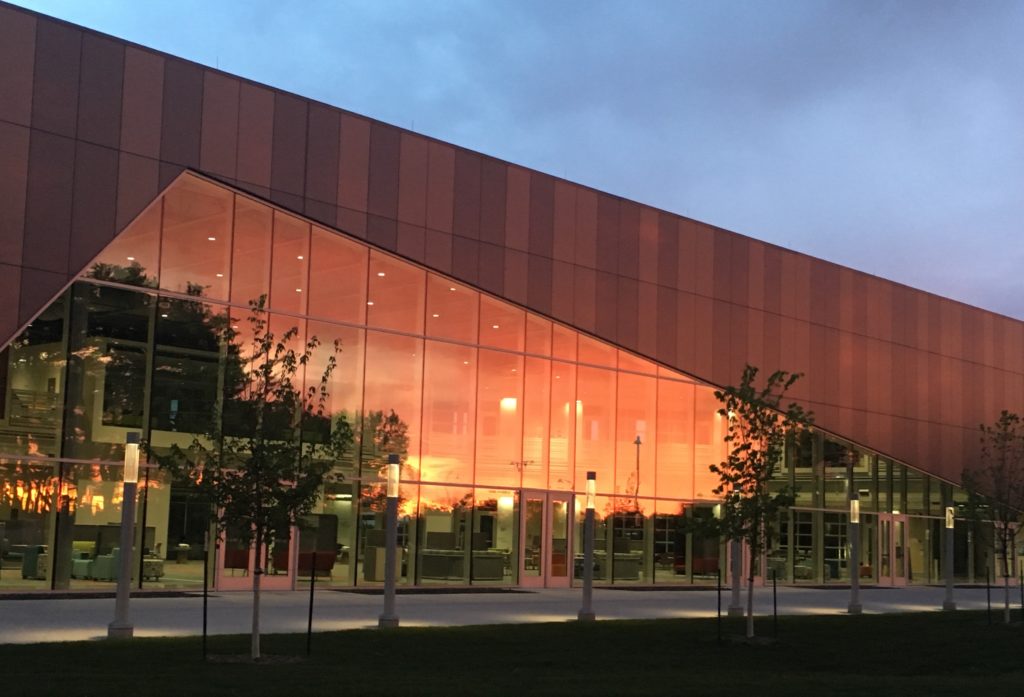 The District Today
Against that backdrop, nearly 11,500 kids will be enrolled in Waukee schools this fall. Radiant Elementary on the west side of 170th Street in Urbandale near Meredith Drive is open for its first year, and construction is in progress for Northwest High School, scheduled to open in 2021.
Despite the extensive changes in the district, Varcoe has been impressed by the consistency in maintaining academic excellence. "I think what I'm impressed by most is how they've kept up with the academic success. My kids will have experiences beyond anything I ever grew up with—work-based, project-based and real-world interactions using technology, etcetera. My kids are doing PowerPoint presentations and coding in elementary schools. These are the types of skills that will land them a job anywhere they go."
Introducing New Leadership
The new leadership team includes Superintendent Brad Buck, Chief Operations Officer Kirk Johnson, Associate Superintendent Brady Fleming and Chief Financial Officer Sarah Kautz.
Buck is returning to Waukee after serving as the superintendent in the Cedar Rapids School District. He was associate superintendent as well as assistant superintendent for school improvement for the Waukee Community School District from 2006-11. Buck also was the director of the Iowa Department of Education and superintendent of the Saydel Community School District.
Varcoe said administrators participated in an all-staff back-to-school event in mid-August that was centered on connectedness, a theme echoed by Buck in recent media statements.
"Our focus was connecting with each other and staff, students and our community. As we grow, that'll be so important, ensuring we have a pulse on what our students' needs are, what staff needs are and what the community's needs are."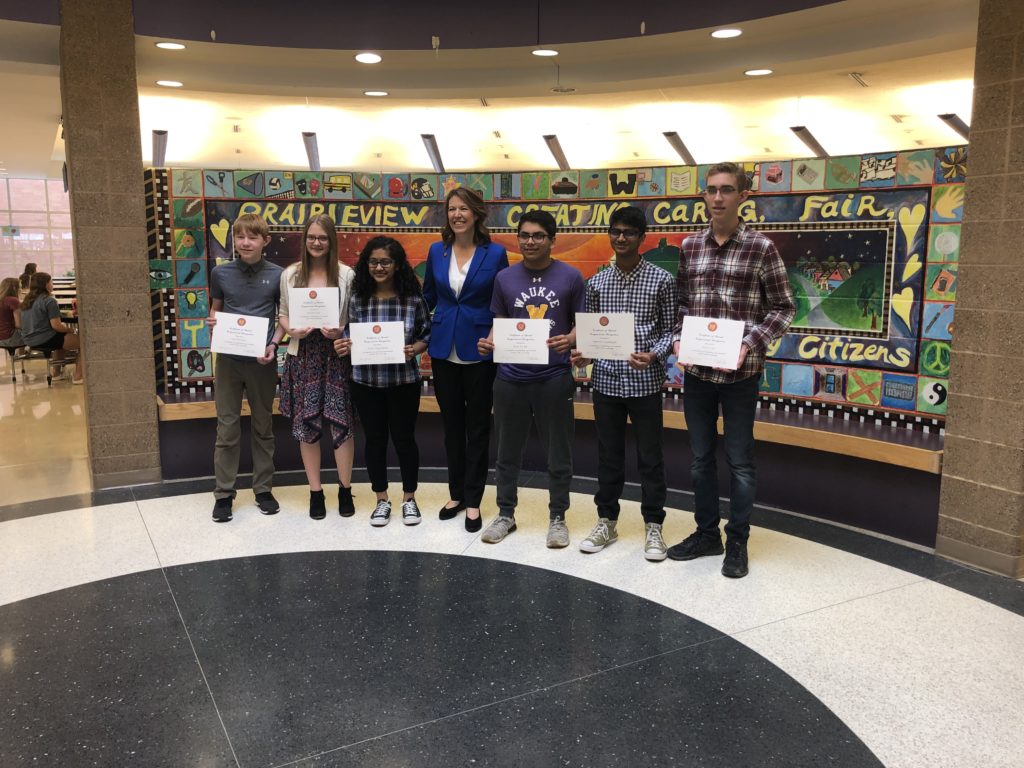 Diversifying
The number of new families setting down roots in the area also has increased the cultural diversity among students. Over the last 10 years, 90 percent of students enrolled were white or Caucasian. Varcoe said new data shows that number has dropped to 76 percent.
"Because our city is growing so much, we're seeing more diversity among our student population as well. It's amazing to have students from all backgrounds together. The district is starting to look like a closer representation of the many different cultures and ethnicities in America's larger cities."

Real World Opportunities
Currently, the high graduation rate in the school district is 99 percent—number one in the state. Iowa's average is 91 percent. Varcoe attributes the top scores to the teachers' commitment to setting up students for success at an early age.
"Starting in elementary, our teachers do a great job of giving students one-on-one attention and delivering on academic indicators. Students are prepared when they walk through the high school's doors on the first day. And once they're there, there's so much that's available to them."
Varcoe said through the high school's advanced placement courses, some students are going to college with at least one year of credits, while others are coming in at a sophomore- or junior-year level.
She said employment and workforce shifts help dictate curriculum for the students, too. Unique to Waukee are programs like APEX, a collaboration between business partners and students that provides real-world experience for high schoolers—another reason why students are excelling.
"We have more than 500 business partners involved in the APEX program from industries like healthcare, business, architecture, accounting and more. Trade businesses also come to us that are willing to pay for students' continued education to bolster their workforce. For a lot of kids, that's very appealing. They won't end up with $100,000 in debt from a four-year college and no job."
What's Ahead for WCSD
The most notable changes happening in the district in the coming years include the opening of a 10th elementary school located off Ute Avenue and Ashworth Road. The yet-to-be-named school will be comprised of students from Maple Grove, Waukee Elementary and Woodland Hills.
Varcoe said the district also will need to add an 11th elementary school, along with another middle school within the next five years. "There's still a lot to figure out. Do we need to reconfigure our current schools in the meantime, or just purchase the land and get going? The Waukee Middle School bubble is growing, and we need to be ready before it bursts," she said.
Waukee school district's enrollment team meets weekly to ensure they are ready.
"We work with a local company to keep an eye on what farmland is being sold, and what type of developments are going there. If it's commercial, that gives us some time to wait to build," she said.
Over the next 10 years, Varcoe said there's potential for Waukee to be one of the three largest districts in Iowa, behind Cedar Rapids and Des Moines. "When you have 40 percent of your land undeveloped, that can be an indicator of growth and the sheer potential that's possible."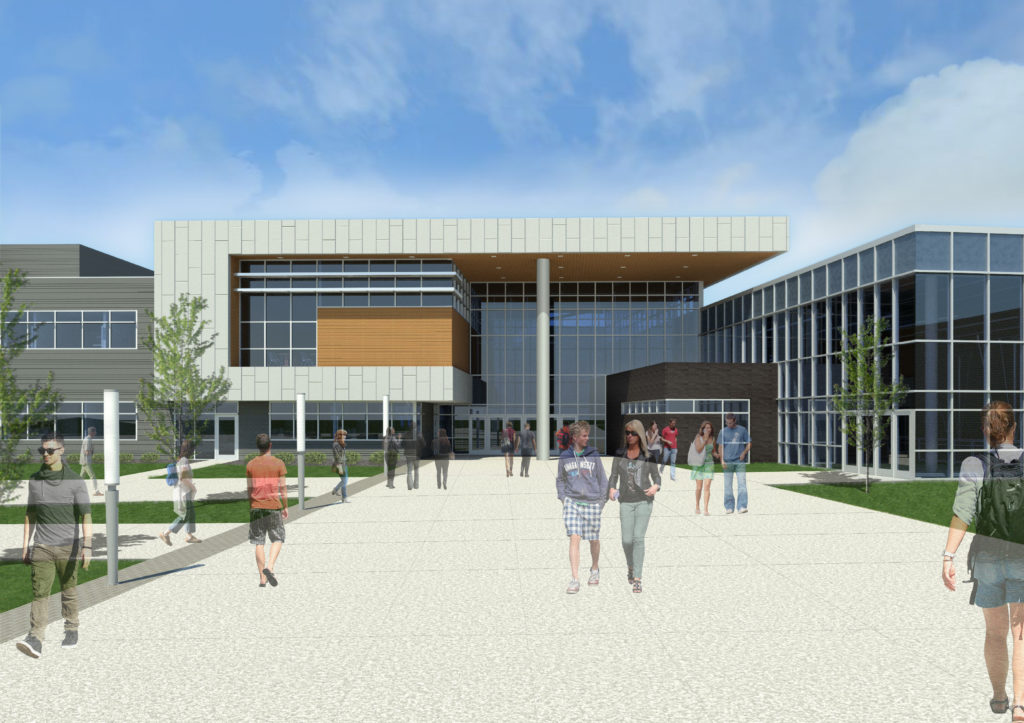 Preschool Programming
Varcoe said Waukee is now in the statewide four-year-old preschool program, but hasn't had the capacity to expand the program in any of their buildings. However, the intent over the next three years is to do just that.
"Right now parents take their kids to an elementary school for preschool, but we need to get some of those preschool students their own facility," explained Varcoe. "We know we need it. We know it's in high demand."
Because preschools require special infrastructure, like tiny desks, chairs, toilets, etc., four-year-olds in the program are able to use kindergarten facilities. "Currently, there's very limited space where we can put them, but many of our preschool classes will take place at Radiant next year," said Varcoe.
Northwest High School
This fall, Northwest High School's mascot and colors will be determined. WCSD administrators sent out a survey to area business leaders and families and will conduct focus groups with parents, community and staff members.
"That will help us narrow down the design options and color pallets, and since current sophomore, freshman and eighth-grade students will be the first class to go to school at the high school, they'll be the first group we get feedback from, too," explained Varcoe.
She also said administrators are doing everything they can to ensure an easy transition for students, especially the seniors leaving Waukee High School for Northwest for their final year. "In 2020, we'll make a huge, fun year out of their last year together," she said. "Homecoming is going to be awesome as the last of one high school."
Varcoe said Cary Justmann, Waukee High School's principal, is "very adamant he will keep everyone as together as possible. He doesn't want there to be an 'us versus them' division between the two high schools. He wants to ensure we're getting everyone together as much as possible."
Varcoe said there will be potential cross-sharing between high school classes and programs of interest for students, so they feel more connected. "To the best of our ability, we'll better align our resources, so the schools don't feel divided. Students at both schools will have the same opportunities and some of the sports teams will remain one, too, like our swim team."
Varcoe said the district's commitment for any growth moving forward is to ensure Waukee keeps a feeling of togetherness that extends to welcoming new families and opportunities. "Waukee is not big when it comes to the city. There's a lot of land and a lot of students, but it still feels like a small community."