A new group of do-gooders has come to town with a glass-half-full kind of name to match. The Waukee Optimist Club launched early this September.
The group is focused on supporting youth throughout the area, with an emphasis on academic, athletic and health and wellness opportunities. 
Optimist International is a worldwide volunteer organization with nearly 2,500 clubs and 65,000 members that serve more than six million children each year worldwide.
Rebecca Butler Mona, a former Optimist International President and member of the Noon Optimist Club of Western Des Moines (one of two local Optimist Clubs partnering to sponsor the new Waukee club), said the organization is always looking for ways to expand its outreach into new communities.
"Waukee is a vibrant, fast-growing community where there's interest and the ability to make an impact," said Mona.
The current Waukee Optimist roster consists of an eight-person board of directors and eight additional charter members:

President: Billie Reed
Secretary:Kathy Mock
Treasurer: Mary Secress
Vice Presidents: Janelle Martens, Jim Adams
Directors: Evelyn Graff, Michelle Scranton, Katie Ritzman
Charter members: Brenda Jackson, Randy Lovell, Cal Oral, Cassie Meylor Lourens, Gareth Lourens, Kathy Ford, Sonja Coobs, Chase Erickson
Billie Reed, Waukee Optimist President, was drawn to the group not only because of its mission to serve youth in her community, but because she strives to be an "optimist" in her daily life as well.
"I attempt to begin every day of my life with a positive attitude and purposely
share that with whomever I come in contact with that day," said Reed. "Being
given an opportunity to brighten the day, and ultimately the life, of youth is
a beautiful thing I'm excited to be a part of."
Reed said the group will "encourage youth to be hopeful and expect good outcomes in their lives."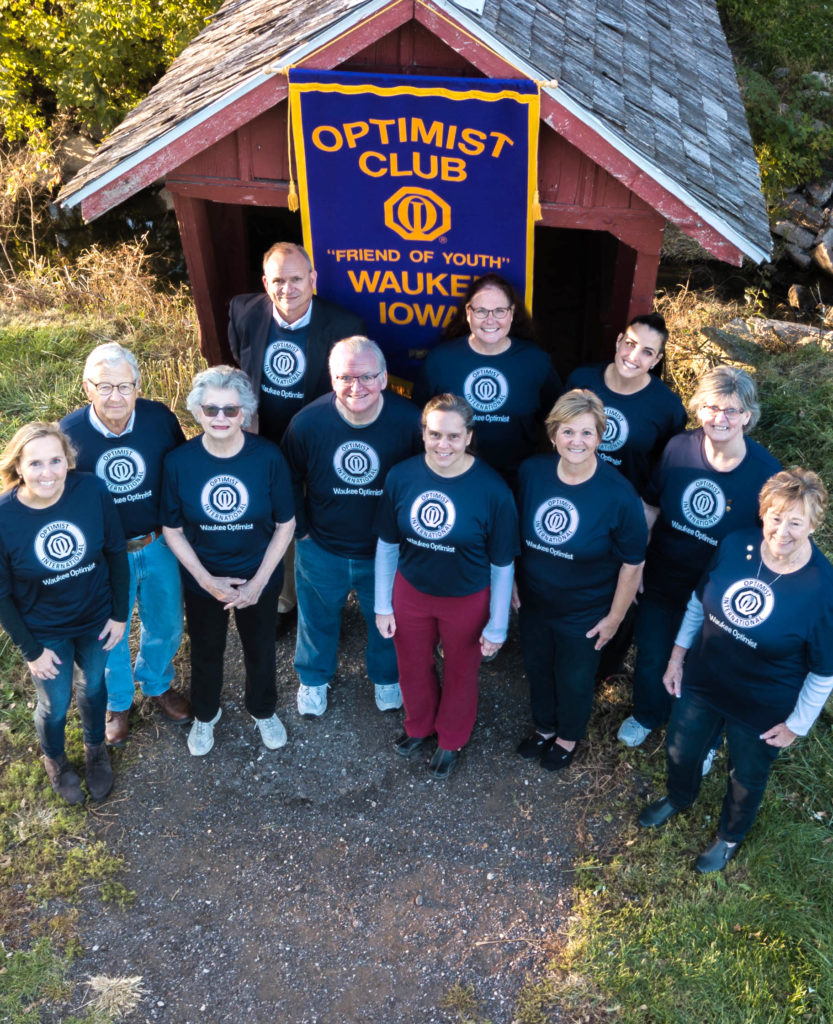 "Their choices make them who they are," she said. "Every child can use encouragement to explore and excel in the areas they're gifted in. We attempt to make those opportunities available. We also encourage youth to be good citizens and give back to their community."
In addition to charters for adult members, 500 Junior Optimist Clubs have nearly 15,000 members. The Waukee Chapter intends to offer its own Junior Optimist club for youth (high school-aged and younger) this fall.
"It's a wonderful opportunity to give high school-aged kids the chance to learn about doing their own community service projects and have different leadership opportunities," said Mona. "They have the chance to be part of something bigger as well, because we have an Iowa Junior Optimist District where they can serve in roles across the state."
On Nov. 12, the Optimist clubs are holding a youth appreciation event that recognizes students across the Des Moines metro. Mona said it's something the group has been doing for about 35 years.
"We reach out to the schools across the Des Moines metro and invite them to nominate two students from every middle school and high school who they view as exemplary community leaders making an impact in their school and their broader community," she explained. "We fully expect to have Waukee students recognized at that event this year. So, we're looking forward to that."
While the Waukee Optimist group is in the early stages of planning volunteering activities, Mona said they have a few projects in mind. "One of them involves working with an elementary school to establish a reading program for kids. Our members would come in and read to the children."
Mona said the idea is similar to a successful model they've deployed at Hillside Elementary in West Des Moines, which has a diverse student population and a higher level of financial need.
"We've also talked about providing the class with a small stuffed animal they could adopt, and we would encourage the kids to read to the stuffed animal," said Mona.
Additionally, Mona said the group wants to offer various health and wellness services throughout Waukee, such as partnering with a local organization to provide backpacks filled with food for children who may go hungry on the weekend. "We had the idea of doing a community garden, too, because even when you provide food in a backpack, it tends to be non-perishable items that don't have the same nutrients as fresh produce," she explained.
Many Optimist clubs also work to provide recreational opportunities, such as playing soccer, for children after school or in the summer. "We want to give kids a chance to be part of a team," said Mona.
While the executive positions at the Waukee Optimist Club are currently filled, it is welcoming new members. "In an Optimist Club, there's a place for everyone to use their gifts and talents to encourage and uplift the youth of our community and find their niche," said Reed.
The club has members ranging from young professionals to parents with school-aged children to those enjoying retirement. Mona said the time commitment is manageable as the group meets monthly and will plan for most projects on more
of a virtual, flexible cadence between meetings.
"We often find it to be true that 'the busiest people get the most done.' Those who have a heart for volunteering and making a difference generally find a way to make time and to prioritize that because they find it fulfilling and also enjoy working with others who share those values," said Mona.
If you're looking for different ways to get involved during the holiday season and beyond, the Waukee Optimist Club meets the third Monday evening of each month at 7 p.m. at Thomas Place, the senior living facility on SE Brick Drive.
You can also visit facebook.com/WaukeeOptimist/ for more info on club activities or to send them a Facebook message. Additional information on Optimist International can be found at optimist.org.