Finding a good cup of coffee in the Metro isn't difficult. Nor is it hard to hunt down tasty desserts. But finding both in one spot, with that certain hard-to-define element that accompanies homemade items, can be a little more challenging. That's where Miss NiNi's Desserterie comes in.
Janine Knop, whose longtime nickname gives the store its name, has had a passion for baking her entire life. Raised on a farm in North Dakota, she "would sit on our three-legged, wobbly kitchen stool observing Mom as she made dozens of loaves of bread, pies, cakes and cinnamon rolls." Knop continued to bake all through school, participating in 4-H for a decade and earning her college degree in home economics education and food and nutrition.
After years of farming near Atlantic, Iowa, with her husband Fred, Knop began to enter her baked creations in food exhibits and competitions at the Iowa State Fair (the largest of their kind in the country). Before long, she wasn't just participating—she was bringing home numerous championship ribbons. According to Knop, this was when she decided to challenge herself by baking professionally.
Knop's desserts could soon be found at Friedrich's Coffee locations around the Des Moines Metro and at Zanzibar's Coffee Adventure, where they have been featured for over 10 years. The menu at Des Moines Golf and Country Club also regularly features Knop's signature creations. The clamor for the desserts increased with time, and in January of 2017, Miss NiNi's Desserterie opened for business in the Hawthorne Center on University Avenue.
Miss NiNi's menu features a diverse array of goodies, many of which were awarded championship ribbons at the state fair. "I create recipes based on unique flavor combinations and design," says Knop.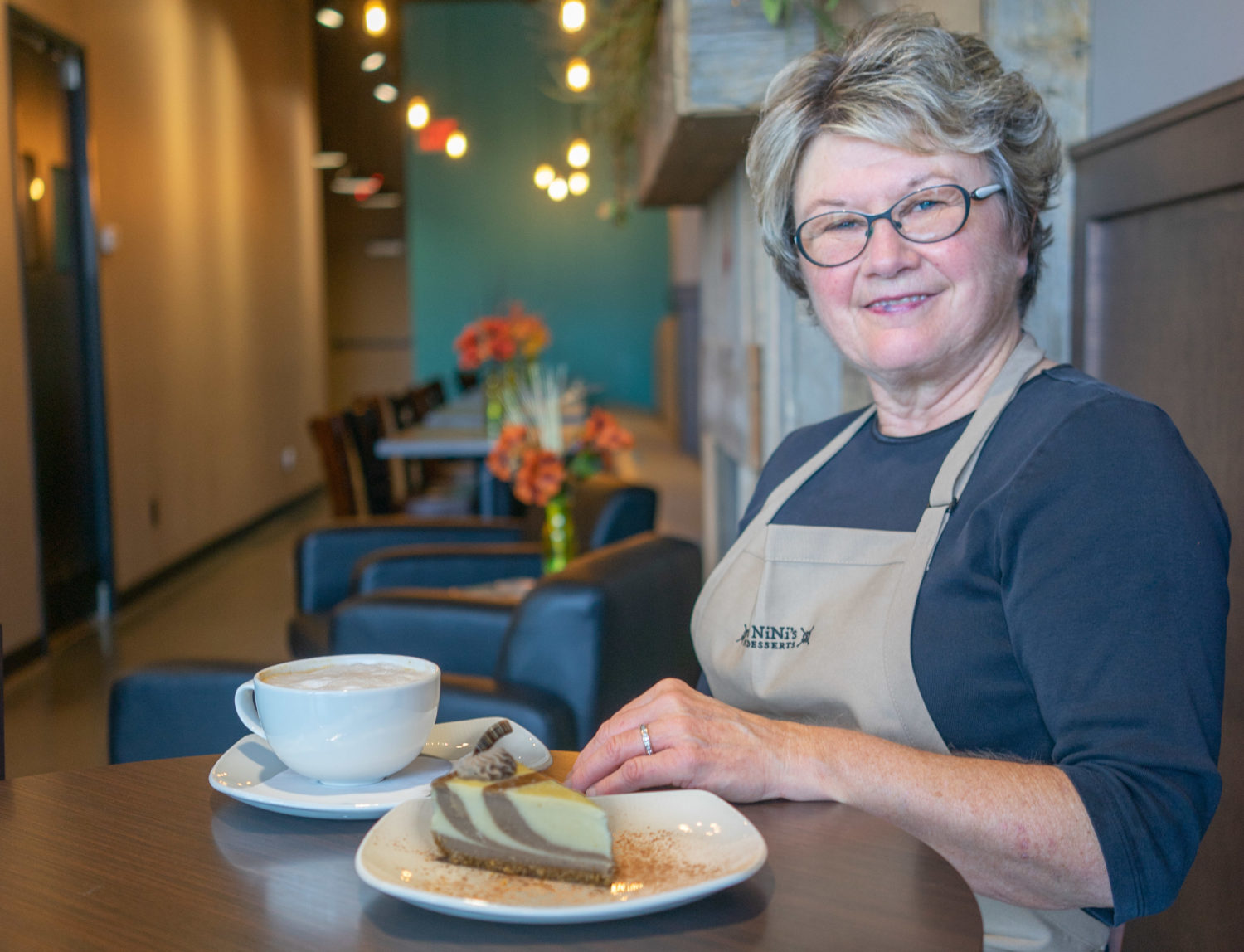 It's difficult to imagine a sweet tooth that couldn't be satisfied at Miss NiNi's. If cheesecake isn't your speed—of which there are 11 varieties on the menu, from Chocolate Raspberry Swirl to Italian Tiramisu—there are also layer cakes, brownies, dessert breads, cookies and coffee cakes available. One highly popular item, the Cupcake-A-Jar, "solves the problem of messy cupcake eating," according to Knop. Cake and frosting are layered in small glass canning jars, which allows the consumer to eat a few bites now and save the rest for later. The jars are shelf-stable for five to seven days, so you can take your sweet time enjoying them.
In addition to the dessert options, Knop says customers tell them their coffee—made with locally-roasted Zanzibar's beans and a sophisticated water filtration system—is the best-tasting in town.
With the holiday season just around the corner, seasonal additions have begun to appear in the dessert case at Miss NiNi's. Among the offerings are pumpkin praline cheesecake, three-layer pumpkin cake with cranberry filling and cinnamon buttercream frosting, decadent flourless chocolate torte with chocolate ganache, and apricot rum cheesecake.
New this year is Miss NiNi's 8-inch Bundt cake, which comes in pumpkin spice, chocolate chunk, and coconut bliss. One seasonal hit from last year, make-them-yourself Christmas cookie kits, will be offered again this season, along with cookie gift trays, which would undoubtedly go over well at any holiday office party or family gathering.
Knop and her baking team focus on creating beautiful, handcrafted desserts with impeccable homemade flavor and texture—qualities that are often absent in the commercial baking industry, Knop notes. Locally owned and operated, Knop says Miss NiNi's "would be incomplete without the tremendous support and dedication of my family and talented baking team!"
Customers who visit the desserterie, located at 9500 University Avenue, Suite 1204, in West Des Moines, have the option of enjoying their dessert on-site or taking it to-go. Hours and menu items may be found at missnini.com.
So if you're in the market for a great cup of joe and a sweet, homemade treat to go with it—and really, who isn't?—Miss NiNi's has you covered.