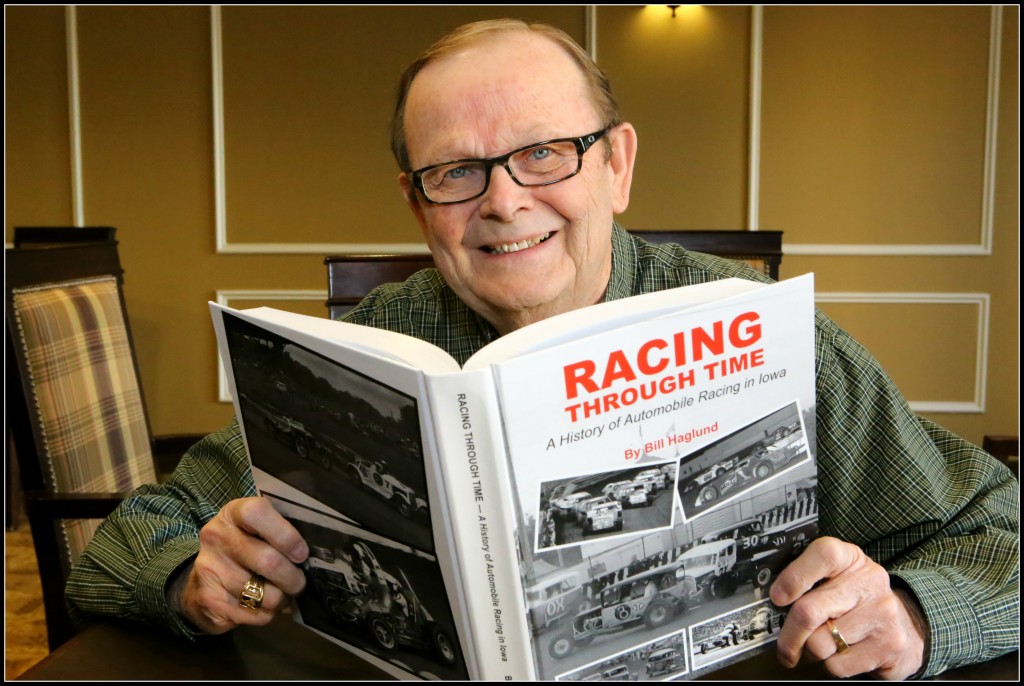 Where are you from originally?
I'm originally from Stratford (north of Boone), but grew up in Alleman (north of Ankeny).
Tell us a little about your family.
My wife Judy and I recently celebrated our 25th wedding anniversary. Together, we have four children—Karin Worth (in St. Louis), Karl Haglund (in Charles City), Lori Konzen (in Grimes) and Brent Long (in Grimes). We have nine grandchildren, ranging in age from 7 to 19.
Tell us about your career.
I started in newspaper work in 1963 as a sportswriter for the Fort Dodge Messenger, and after my Army days, went to work as a sportswriter for the Wausau Daily Record-Herald in Wisconsin. There, I met Dave Marcis, a NASCAR Winston Cup driver. I did some PR and marketing work for him beginning in 1971, and began working as a tire carrier/changer for several drivers in 1974. In the 1980s, I was the editor of Hawkeye Racing News, the executive secretary for the International Motor Contest Association, and a NASCAR Winston Cup gas man. In the 1990s, I became the general manager of the San Antonio Speedway. After open heart surgery, I left the stress of auto racing and returned to journalism as the assistant editor of the Dallas County News in Adel. Later, I served as the sports editor and then editor. I was presented the Master Editor/Publisher Award by the Iowa Newspaper Association in February of 2014 and decided that was a good time to retire. During my time in Adel, I also won three Master Columnist awards, three Best Sports Columnist Awards and many other writing and photography awards.
What do you enjoy about living in Waukee?
My wife and I moved back to Iowa in 2001 and have lived in Waukee since 2003. We live in a senior citizens' apartment and enjoy the company we've found here. We like that Waukee has easy access to any destination. We live between Hickman and University and near the new interchange access.
You recently authored a book about auto racing. Tell us about that.
I've had a lifelong interest in automobile racing. My parents took me to my first race at the Hamilton County Fair in Webster City in 1948, and I've been hooked ever since. I began the research for my book about 30 years ago and wrote sporadically until my retirement. Then I began working about 5-6 hours every day to complete the work. It covers Iowa racing history from 1900 through 2014. It's more than 600 pages and has more than 500 photos. Many people don't realize that Iowa is the nation's "racing-est" state. In fact, Iowa is blessed with more operating race tracks per capita than any other state.
Since the book was published in December, I've had a number of book signing events, and all have been very well-attended. The book has been well-received within the racing community—even more so than I imagined. The book is currently available at the National Sprint Car Hall of Fame & Museum in Knoxville, Kossuth County Ag & Motorsports Museum in Algona and Sardeson Racing in Greenwood, Neb. Several more outlets will be added soon.