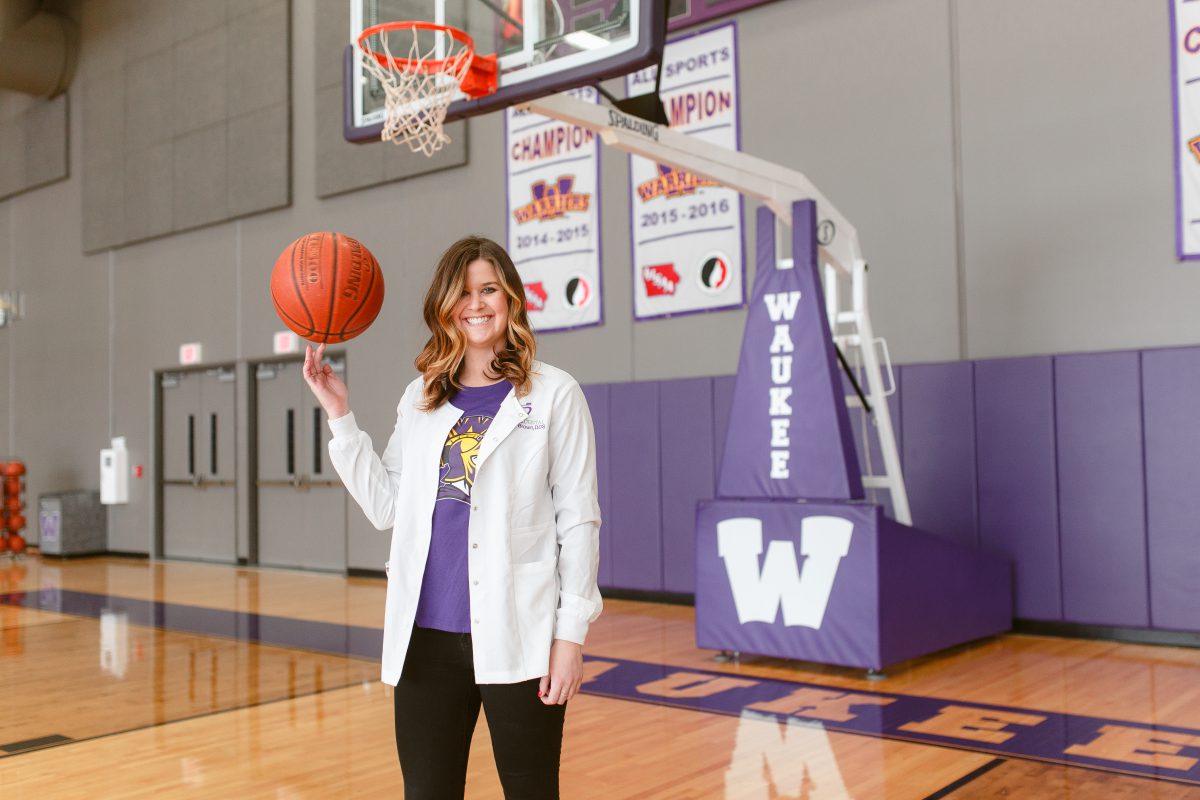 Where did you grow up?
I was born in Storm Lake and moved to Spirit Lake, where I graduated high school.
When did you discover you wanted to be a dentist?  What inspired you?  
After high school graduation, I attended college at the University of Northern Colorado in Greeley, Colorado.  I played basketball all four years while studying chemistry with a pre-health emphasis.
I always had aspirations to be in the healthcare field, but I didn't know which route to follow.  Throughout college, I career shadowed several physicians who suggested I look into dentistry if I was uncertain about becoming a practitioner.
Taking this advice, I shadowed Dr. Corte McGuffey of Bear Tooth Dental in Greeley, Colorado.  He inspired me to explore the dental field more intensely.  Both Dr. McGuffey and my hometown dentist, Dr. Eric Nielsen (a hometown hero in his own right), helped develop my passion.  I would love to return the favor to the aspiring healthcare students of Waukee.  
You're a basketball coach here in the Waukee School District. Tell us about that.
I've been so fortunate to be a part of a tremendous program.  Chris and Sheri Guess have created one of the best high school programs in the state of Iowa.  They are two of the most dedicated coaches you could ask for, and they have a blast while doing it.  Their work ethic and the high level of care they demonstrate are rare in high school athletics.  I look forward to seeing what they accomplish.  
I was also able to work with Jodi Vogt and the junior varsity girls.  We have a lot of talent coming up and we improved tremendously throughout the year.  I'm excited to see what the next couple of years hold for this young and talented group!
Why did you choose to set up your practice in Waukee?
I first heard of Waukee at the 2004 state softball tournament when we (Spirit Lake) played Waukee.  Later, when I was in dental school, I was thinking about where in Iowa I could see myself living long-term, and Waukee sparked my interest.  I love that Waukee feels like a small town in the large metro area.  Waukee has been very welcoming and made me feel right at home.  I look forward to meeting more people and getting to know more about the community, its history and where it's going in the future!
In this issue, we feature local creatives.  Do you have any creative hobbies?
We're so fortunate to live in an area where art is thriving!  I absolutely love to see the murals, sculptures and paintings created by some of the most talented artists in the country.  My creativity isn't as strong I'd like it to be, but I hope to spend more time taking advantage of the classes and events offered by our growing art community.
Some people fear a trip to the dentist.  What would you like to tell these folks who are likely long overdue for a checkup?
We understand!  Going to the dentist is a very common fear.  It's up there with the fear of public speaking—which is my fear!  We'd love to help you get over this fear, and with small steps (or nitrous oxide sedation), you can.  Stop in and meet us sometime.  We'd love to get to know you!  After you get acquainted with us, we can schedule a check-up and talk you through every step of the appointment!