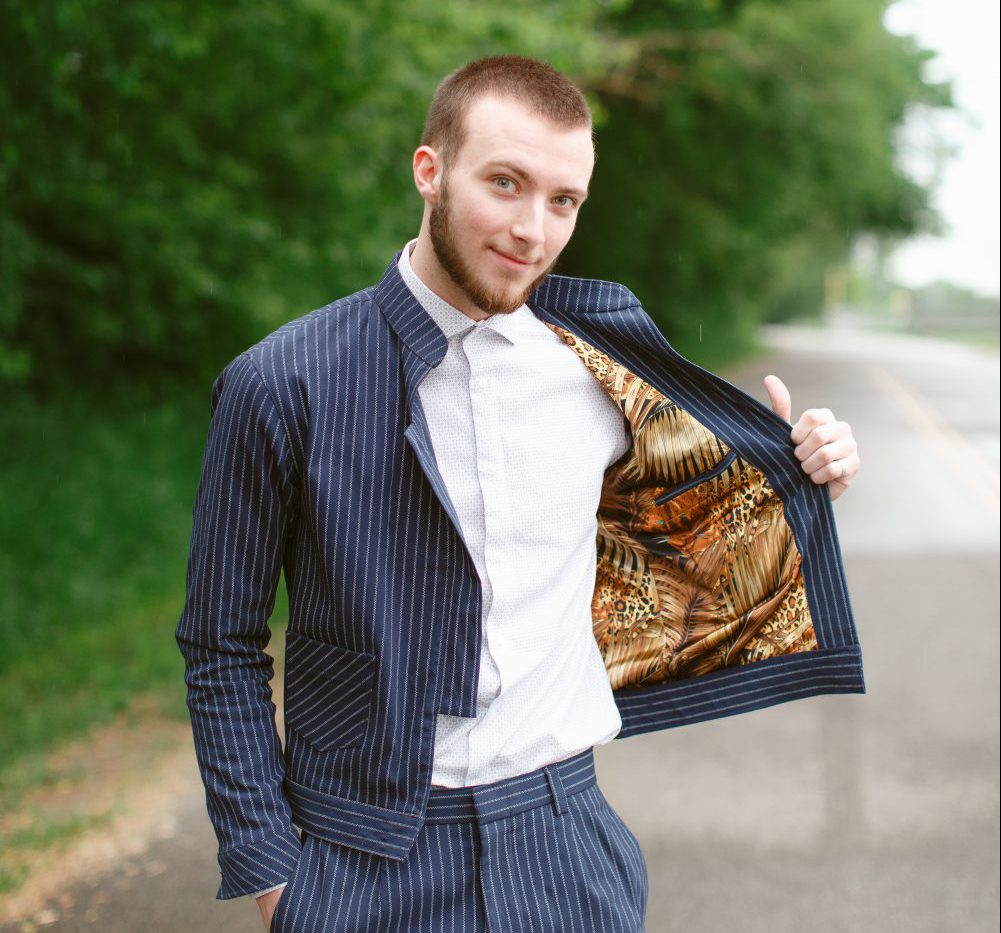 Tell us about your family.
My dad is from Des Moines and my mom is from Huxley. They're two of my biggest sources of inspiration and motivation, because my dad is incredibly knowledgeable and sensible, and my mom always says "go for it." I have two younger sisters, Madison and Sydney, that both attend Waukee High School. It's funny to watch my youngest sister, Madison, grow up because ever since I've gotten into fashion and high-end brands, she has followed along and will now show me the latest release from Gucci or Balenciaga.
We heard that you've launched your own clothing line. Tell us how that came about.
From a young age, I wanted to play baseball in college, and eventually, professionally. However, when I was diagnosed with Crohn's Disease at 16, I had to quit baseball due to the risk of taking a blow to the abdomen and rupturing something.
I used to think fashion was a profession for women only, until I became obsessed with the fit of my clothing and the different fibers and fabrics I was wearing. It was like the saying, "When one door closes, another opens." Since the age of 16, I have tried my hand at four different businesses, three of which were clothing related. My biggest success was a line was called Vero Apparel. We geared our product towards baseball players. At one point, I believe we had over 75k followers on our social media accounts.
However, I recognized that a lot of people were just slapping a cliché saying on a shirt and suddenly they had a "company." I sold my shares from Vero and started Keep On Apparel, which I eventually rebranded as "NEAL."
Do you have any mentors that have helped you along the way?
I have all sorts of mentors—primarily, my dad. He's a business owner himself, so I would be ignorant if I didn't listen to the advice he gives me on the logistical and business sides of things. Another mentor that I look up to is Josh Ansah. He has his own clothing brand and storefront in Valley Junction called Jaytees Apparel. He has all sorts of events in the backyard of his store and gives a lot back to the city. Josh has given me a lot of advice on both business and life in general. I first contacted him in 2013 and just met him in February of this year. The day I met him, he gave me a big hug and assured me we would do amazing work together. I have great respect for him, his wife Melissa and their kids.
Most of all, I credit all my blessings and thought processes to Jesus Christ. Without him, I would be lost and stuck in a job I hate, so I'm forever grateful and give everything to Him.
What sort of styles can people expect from your work?
I dropped my freshman collection in June of this year. The line I'm releasing is Luxury Streetwear. Some of the fabrics I'm using include Japanese denim, silk, and Italian wool. Being the only employee of NEAL, I make every piece by hand, with love. I hope everyone will see how much I've given to this and that they'll give NEAL a chance.
Where can people find your clothes?
You can find me on social media. I'm producing a short movie featuring the pieces that will be released with the help of Jordan Allen. When the pieces are available for purchase, I'll take orders exclusively through Instagram (@_n3al_). I'll also set up some pop-up stores around the state and will post notifications of these on social media.