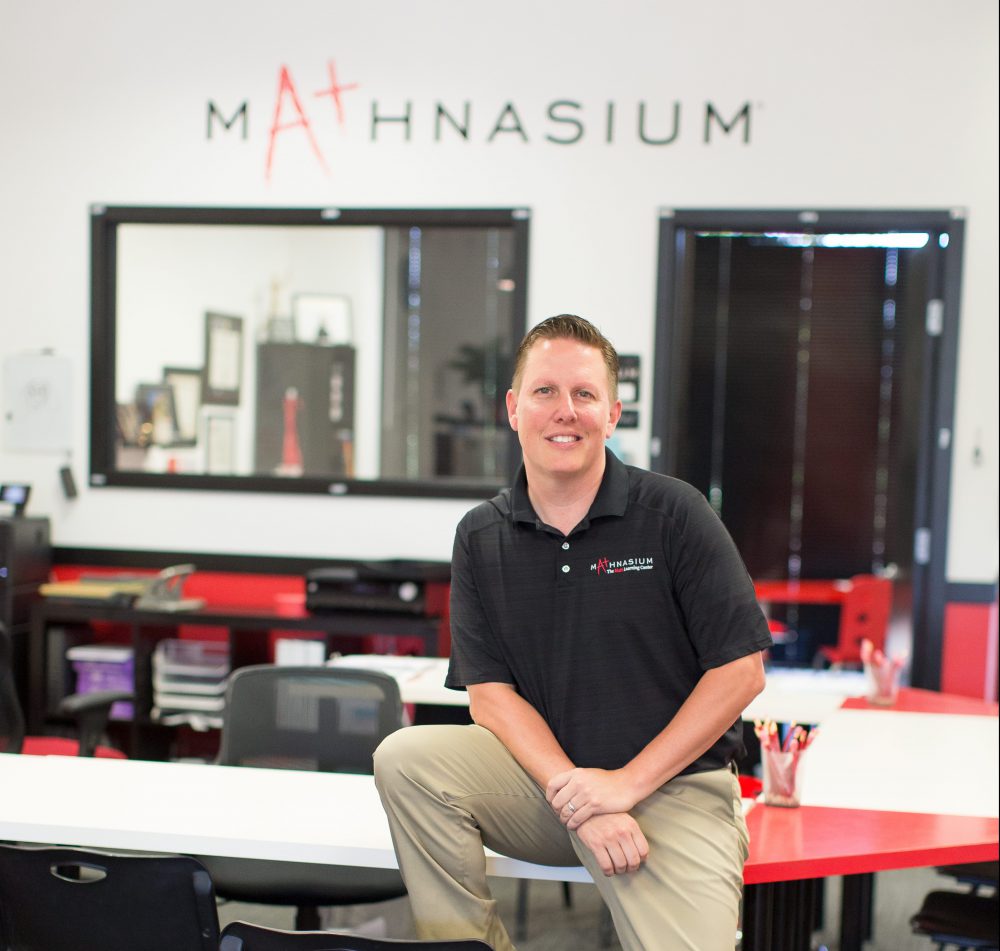 Where are you from originally?
I'm originally from Urbandale and graduated from Urbandale High School.
Tell us a little about your family.
I've been married to my wife Staci for 11 years, and we have two daughters that attend Waukee schools. Abby is 9 and will be in 4th grade and Katy is 6 and will be in 1st grade. My wife is from Texas but we met while we were both living in Las Vegas. I convinced her that Iowa would be a great place to raise a family and that our winters aren't that bad. I lied about the winter part, but we love raising our family here.  
Tell us what you do as the Center Director for Mathnasium of West Des Moines.
My role is largely hiring and training instructors, assessing kids' math skills, designing learning plans and communicating progress with parents, as well as all the sales, marketing and back office aspects of the business. I also get to promote Mathnasium in our community while also giving back. I currently serve on the Waukee Chamber of Commerce Board of Directors and the Waukee Community Schools Foundation Board.
When did your own passion for math really take hold?
I was always good with numbers in school, and math came easy for me. I had taught high school overseas for a couple years and really liked working with kids. I also used math in various corporate jobs and became a Certified Internal Auditor, earning an MBA along the way. So, opening a Mathnasium Learning Center was the perfect entrepreneurial outlet to blend my love of math while also helping kids. I'm fortunate that I get the opportunity to really impact kids' lives and hopefully pass on my passion for math to the kids that attend our center.
What makes Mathnasium different from regular tutors?
We have the resources to find out exactly where kids are in their math skills and provide help filling in missing foundational gaps or challenging kids with higher level material from our proprietary curriculum. Traditional tutors are more of a short-term solution and a quick fix to get through homework. We offer a lasting solution for kids' math deficiencies while also providing a way for advanced students to get ahead. Most kids that have a regular tutor will always need one because they develop a "learned helplessness." In other words, they get too used to having a tutor work through each problem. We focus on building confidence and making math make sense so students can apply concepts and solve problems on their own. We also offer more scheduling flexibility because our sessions are on a drop-in basis. Our student "mathletes" are members that pay a monthly fee—like a gym membership—where kids attend 2-3 times per week. But the biggest difference is that we make math FUN!
How can people learn more about Mathnasium?
We assess kids with no risk or obligation to enroll. You can reach us at Mathnasium of West Des Moines (by Jordan Creek Mall) at 515-440-MATH (6284).