Recently, a scene began to unfold at my house that has been all too familiar over the last couple of years.
Perhaps some of you can relate: My soon-to-be 4-year-old son was watching a cartoon on our tablet. I gave him a heads up that in 5 minutes, it was going to be time to put the iPad away. (Some of you can already see where this is going.) At the end of five minutes, I said, "Connor, it's time to put the iPad away." He glanced up at me briefly, returned his gaze to the iPad, and replied, "No, I don't do that right now." I persisted, "Connor, it's time to put away the iPad. Please turn it off." No acknowledgement from my son this time – he continued watching his cartoon as though I'd said nothing at all. In the interest of giving him one last chance to make a better choice, I said to him, "Connor, I will give you to the count of three to turn the iPad off, or I will do it for you, and you won't see the iPad tomorrow." I hadn't even uttered the word "one" before my son exasperatedly crossed his arms in a defiant pose and screamed, "NO!!!"
The Hulk was awakened …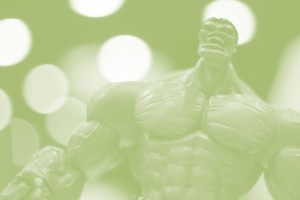 More often than not, once Connor crosses his arms like that, a tantrum of epic proportions is what follows. For the past couple of weeks, however, my husband and I have been working on a different approach with Connor. When I saw him start to get angry, I asked him, "Are you angry right now?" This by itself is an approach – helping him to label the emotion he is experiencing before he's too caught up in the midst of it to think and listen. With his arms still crossed and his lower lip stuck out in a distinctive pout, Connor shook his head to indicate "yes." Then, I said to him, "What should we do when we're angry?" He looked at me as though contemplating the question, and then slowly took in a breath through his nose. He closed his eyes for a few seconds, and continued taking in deep breaths – in through the nose, out through the mouth. With a few additional re-directing statements from my husband and I, Connor was on his way to the bathroom to get ready for bed. NO TANTRUM!
For the last two weeks, we've been working with Connor on deep breathing. We practice it when he's not angry or upset, and talk about how to use it when he is. Last night, that work paid off ten-fold. Connor calmed himself down and was able to move on without all the drama and stress that often characterizes bedtime in our household. We all fell asleep happier that night.
Try It Out
Practicing deep breathing, or 'calm breathing,' as it is sometimes also referenced, with a young child can be challenging. Therefore, we are practicing with bubbles. If your child is like mine, he gets so excited at the sight of bubbles that he quickly blows and blows and blows, without producing many bubbles. In order to really get those bubbles flying, you have to give a long, slow and controlled exhale – the same kind used in deep breathing.
Be sure to explain to your child what you're doing and why, otherwise, it's just play time with bubbles. For Connor, we tell him this before we pull the bubbles out, otherwise he gets distracted by the desire to get his hands on that wand. If you can, illustrate the difference between the quick breaths and the longer ones. Your child will know they're doing it right when they see all those bubbles floating through the air – instant gratification!
Practice Makes Perfect
As with anything else, it takes practice to get really at the deep breathing. Be sure to spend a few minutes everyday until your child gets the hang of it. If you see him start to get the hang of it and actively use it when getting upset, that's probably a cue you can back down the amount of practicing. If some backsliding occurs, increase the frequency. Every child is different, and so is every family, so figure out what works best for you.
I truly subscribe to the 'it takes a village' philosophy, so please share your thoughts and suggestions for helping kids stay calm!
Additional Information
To learn more about deep breathing and other relaxation techniques for kids, check out these useful sites:
AnxietyBC
Kids Relaxation
Fit Jr. – WebMD
photo credit: The 2012 Central Canada Comic Con – Hulk via photopin (license)