Meet Courtney Owen: MMA Fighter, Mother, Member, Y Coach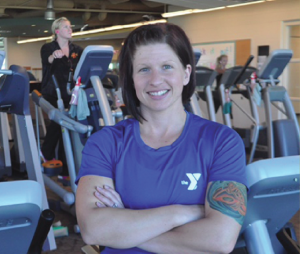 Standing, arms crossed, in a royal blue YMCA staff shirt, Courtney Owen looks like a force of fitness to be reckoned with. Her biceps have been built not only by lifting weights, but by the ups and downs of a fitness journey well traveled.
Now a wellness coach at the Waukee Family YMCA, Owen assists members of all ages with orientation, ActivTrax and fitness testing.  But perhaps most significantly, she listens to and empowers YMCA members on their journey towards positive life change.
"I like all of the people here; you really get to know everyone," Owen said. "Because of my own fitness goals and challenges, it's easy for me to relate with people."
Owen said that she has been inspired by many YMCA members striving to do their best.
"There's a lady that has Multiple Sclerosis who rides a scooter and uses every last ounce of her independence," Owen said. "She comes in and walks about a minute on the treadmill. She falls almost every time, but she gets back up and scoots off to her next exercise.  Members like that help you remember not to take things for granted," she said.
She certainly has not taken getting her body back into shape for granted.
"I had my daughter six years ago, and at that time, I weighed 203 pounds," Owen shared. "I gained something like 60 pounds while I was pregnant."
Following the birth of her daughter, she became "obsessed with working out" in order to take her body back and beyond to a new level of fitness. Owen is a former MMA fighter, the kind that throws packed punches and kicks in the cages. Her last fight was in April 2013.
Before Owen moved to the area from southwest Iowa in the spring of 2013, she was training at a Tae Kwon Do gym. When she moved here, she needed a place to work out and the Waukee Y fit the bill. With a full weight room, a pool, and premiere small-group exercise classes, including Warrior Fit and Boot Camp, the Waukee Y became her second home.
"When a position opened up at the Y, I thought, 'I'm here all the time, why not work here?'" she said.  So she quit her full-time job at an optometrist's office and started working at the Y. She hasn't looked back, only forward – to graduating from the Fire Academy later this month. Owen also works part-time on the Grimes Fire/EMS team.
When you join the YMCA of Greater Des Moines, you gain access to nine YMCA locations, many great programs and services, and a passionate staff of team members focused on helping you reach your goals. Stop in and meet with Owen, or another one of the wellness coaches, and take the first step towards a healthier life.
Waukee YMCA
www.dmymca.org