If your family is looking to shake off the winter doldrums this time of year, here's one way to do it: experience a taste of what earthly life was like millions of years ago.

The Science Center of Iowa

is taking visitors on a journey across millennia with its Ultimate Dinosaurs

exhibit

—a special feature that will only last until April 12th

. The exhibit showcases twelve fully articulated dinosaur specimens, bringing the amazing discoveries across the scientific world right into our own Iowan backyard.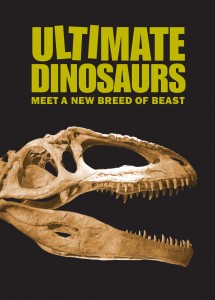 This exhibit may not be familiar to those of us who live in the northern hemisphere. That's because these dinosaurs evolved in isolation from their northern cousins after the great landmass Pangaea split in two during the Mesozoic Era (around 250-65 years ago, if you were wondering). Hailing from the areas of modern South America, Africa, and Australia, and bearing names such as Giganotosaurus, Austroraptor, and Malawisaurus, these specimens inspire wonder in the minds of visitors. The examples of these exotic creatures also give us a fascinating look at how continental drift can have long-term effects on entire species.
Ultimate Dinosaurs combines the (really) old with the new in its use of 'augmented reality' devices to give visitors a glimpse at what these dinosaurs may have looked like when they roamed the southern hemisphere millions of years ago. Visitors can make their encounter with the dinosaurs breathtakingly vivid by holding up iPads to virtually 'layer' the exterior appearances of these creatures over their skeletons. There is also a multi-user game in which players use iPads to try to place modern continents into their proper Pangaea formation. Of course, these modern tools can only help to frame the amazing specimens themselves.
For those wanting to dive deeper into the world of dinosaurs, the Science Center has even more to offer. The film Flying Monsters is playing in the Science Center's Blank IMAX Dome Theater. This film gives an in-depth look at pterosaurs, which were flying dinosaurs with wingspans of up to 40 feet.  The museum also has live supplemental programming in which museum staff present activities and discuss ideas with kids and their families. Visitors can build model 'pterosaur gliders,' solve puzzles representing how scientists put fossils together, and learn more about study of paleontology itself. Such a wealth of activities ensures that little ones stay busy and that kids and parents engage in learning together.
The exhibit is also open during SCI's monthly special admission nights: Mixology Night for the 21+ crowd and the reduced-admission Family Night. Whether you want to bring all the kids or unwind with a drink and some live music, you'll be able to bask in the awe of Ultimate Dinosaurs' prehistoric specimens.
So, what are you waiting for? It's not often that Iowa becomes home to dinosaur fossils. If you're looking for wonder (and maybe a little adventure for the kids), check out the amazing creatures at SCI's Ultimate Dinosaurs.