Tucked away behind the home of longtime Waukee resident Roger Schlaefer, is a three-acre habitat called Songbird Park.
Roger, a retired Lutheran minister, spends a healthy portion of his days tending the wildlife habitat that's certified by The National Wildlife Federation. "I have no idea what I'm doing," he jokes, although the beauty of his backyard refuge contradicts his modesty.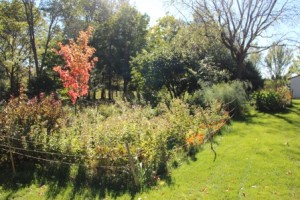 When the city of Waukee bought the pie-shaped piece of land 27 years ago, the plot was hard to use at the time, so they allowed Roger to tend to it. "When I started, you could see straight to the school," Roger says. There were just three trees on the property, and the city provided the industrial mower to tend to it.
Now the park is abundant with trees, and birds flit in and out of birdhouses hanging from branches and tucked among the leaves. Flowers of all kinds bloom in beds scattered around the land. "It takes four or five hours to mow, and I have to do it at least once a week," he explains.
All of his hard work pays off. Apple, peach, and pear trees grow close to the house, while Elm and Ash trees flank the back edge. Deer, rabbits, opossum, and all sorts of winged creatures are frequent visitors to the park. A couple of years ago, Roger even found a white-winged dove, a rarity in these parts, that stayed for a few days after a big storm. Visitors come to enjoy the peaceful scenery, or hunt for the three geocache spots in the area.
Songbird Park is located behind Roger's residence at 1070 1st Place, in Waukee. Visitors can access the park by finding the concrete steps on the north side of the residence.
Read about more parks and trails in the Waukee area in our story "Parks & Recommendations".