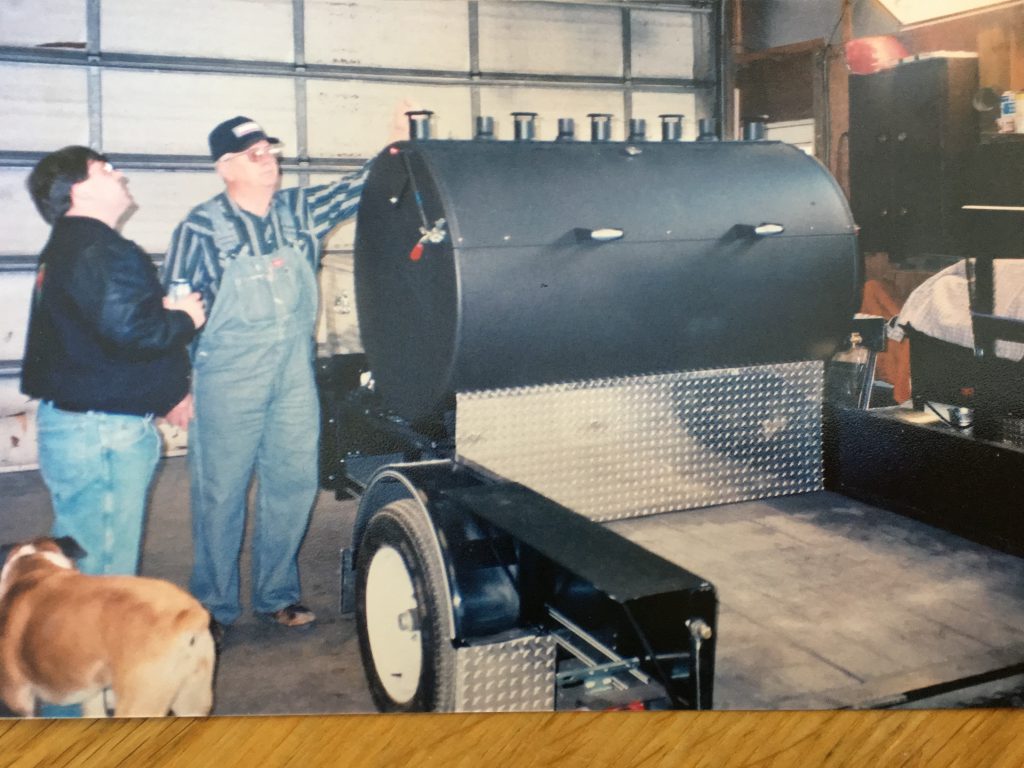 By Sue Ellen Kennedy
Longtime Waukee resident Guy Blair is a man of many talents with an interesting life story.
In 1942, when he was in second grade, his family moved from Earlham to the Cunningham Farm. Later, they moved south of Norwalk for a year and he attended a one-room country school. Guy remembers the teacher being in charge at the school and the older students helping the others—the third graders would help the second graders, and so on.
Guy's family moved back to Waukee when he was 12 or 13. When he was 14, he worked at Waukee Motors part-time on Saturdays, performing various service department tasks. Waukee Motors was owned by Nile Earp at the time and was located where Classic Floral sits now.
Young and ambitious, and wanting to earn money, he quit school and started working for Harold Burger running a farmland tiling machine. A tiling machine digs a trench to lay down drainage systems for farm fields. It removes excess water from the soil below the surface.
In the winter of 1951, with his seasonal job ending, Guy was approached by Waukee Motors to come back and help in the service department. By 1959, he had a family of his own and wanted to provide more for his family. He left Waukee Motors and started working as a mechanic at Iowa Jeep.
When Iowa Jeep changed locations, Guy rented space from Burt Witte in Beaverdale and opened his own business. When the lease ran out, he leased Phillips 66 on Forrest Avenue in Des Moines.
One day in 1961, he looked out from his Phillips 66 and saw Walt Hinkson sitting in the parking lot. Walt was there to offer him a full-time job back at Waukee Motors, which was owned at that time by Walt Hinkson and Jake Keller.
In 1967, Guy decided to go back out on his own and opened Guy's Auto Service on the north side of the railroad tracks in Waukee. Because he was the only mechanic there, he eventually burned out.
In 1974, he sold the business to John Weir and accepted an opportunity presented to him by Lewis Baer—pulling an anhydrous ammonia applicator. He then began farming in 1978 and eventually retired in 2004.
In 2003, he began building barbeque grills, building a commercial portable grill for Mark Anderson. Over the years, he has built 40 to 50 small grills. All of his orders have been exclusively from word of mouth. His grills are unique in that they cook the food using hot air instead of direct flames. The result is healthier food and more tender meat.
In 2005, Guy completed a two-year project to meticulously restore a 1957, 450 International Tractor.
Guy was a volunteer Waukee firefighter for 21 years. He's also been a member of the Lion's Club, a Mason and a Shriner. These days, Guy enjoys time with his family and friends, but mostly he enjoys his "man cave."
Guy and his wife Jan have been married for 62 years and have been blessed with two children, Kevin and Shelly.
When asked if they miss anything about our community no longer being a small town, Jan said she does miss "not knowing everyone." The growth has brought many amenities to the area, however, and when asked which amenity they most appreciate, they both agreed that the variety at the grocery store is very useful, as it allows one-stop shopping.
When asked if there's one thing about the community he doesn't want to change, Guy said, "The hardware store. Hopefully someone steps up and that is never lost. The hardware store downtown would be really missed."
Thank you for your time, Guy and Jan Blair! It was a pleasure getting to know you both!
For more information on the Waukee Area Historical Society, call 515-782-0025, visit waukeehistory.org or like our Facebook page.
WAHS Mission Statement
To preserve, honor and recognize the City of Waukee's proud history as it continues to build the foundation and values for good living for future generations.