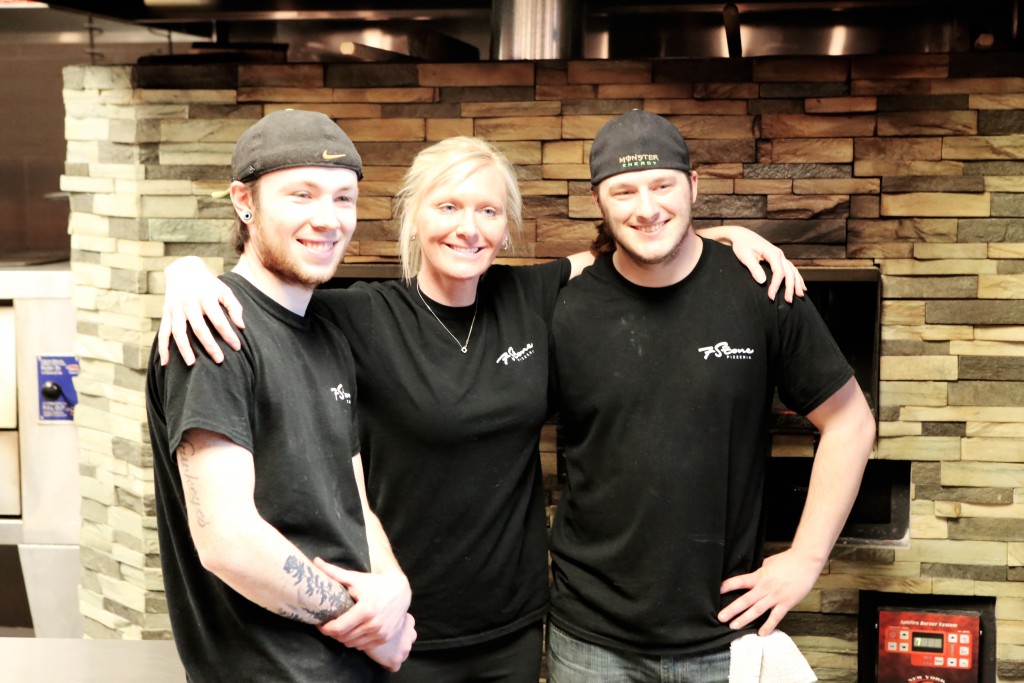 Where does the name "7 Stone" come from?
I wanted a name that had personal meaning and reminded me of the journey it took to get here. I started in the pizza business on a whim, at a small local franchise in Cedar Rapids/Marion, Iowa on "7th" Avenue, so that's where the "7" came from. The "stone" came from realizing that I really enjoyed making a good pizza and having a great time with great staff and customers while doing so.
7 Stone Pizzeria is family-owned and –operated. Tell our readers how a family's passion for pizza became a full-time job.
The idea for 7 Stone came after being part of a franchise for 10 years. Two years ago, things fell into place that allowed me to branch out on my own. Anyone who has ventured out on their own can probably relate that it truly is a family affair. I have two employees whom I call my "kids." They've become family and have made 7 Stone possible. Brett has been my lifesaver for eight years and Jacob (JB) for four years. Their ideas and incredibly long work hours allowed us to recently celebrate our one-year anniversary. There aren't enough thank-you's that could be said.
How did you choose the Waukee/West Des Moines area for your business?
It was a fairly easy decision. I really like the area, and we wanted to be a "family and friends pizza night" place where people can relax or grab a drink while they wait for take-out. We've met some really great people and families.
We heard you have a unique way of crafting your pizzas that readers won't find just anywhere. Can you tell us about that?
We do our own take on a thicker crust, which we call the 7 Stone. It's a cross between a thin crust and a Chicago style. We also do a wood-fired thin crust, which was a new thing for us at 7 Stone. It took a few months to get the kinks worked out, but we finally got the hang of it. Our sauces are homemade and they come on top of the pizza, though we have started offering it on the bottom, as more of a traditional New York pizza.
Knowing you probably have a fan club, do they have a favorite pizza?
We offer several specialty pizzas, of which our taco, vodka pie, buffalo chicken and House 7—our version of a supreme—are most popular.
---
7 Stone Pizzeria
Find them: 9350 University Ave. #18, West Des Moines
Hours: 11 a.m.-2 p.m. and 4-9 p.m. Monday-Thursday, 11 a.m.-9 p.m. Friday and Saturday, 11 a.m.-8 p.m. Sunday
Info: 515-987-7768 or facebook.com/7stonepizzeria