As a former server, I've worked in a number of restaurants around the Des Moines and Ames areas—some of them infamous, some of them, not so infamous. I've picked up life lessons from each of those experiences, such as how to uncork a wine bottle, how to carry five trays of wings at one time, and how to balance three glasses of beer in two tiny hands. But it wasn't until I worked at Table 128 that I learned what happens when food is cooked from the heart.
Even at first glance, it's clear that owners Sarah and Lynn Pritchard leave no detail overlooked in their establishment. In fact, it was their high standards (and their disagreement over them) that brought them together.
When they first met, Lynn worked at a locally-owned bistro in the Quad Cities as the Executive Chef, and Sarah was dining with a group of friends. "The appetizer wasn't as fresh as the entree, so I sent it back," Sarah told me. Lynn, of course, thought his dish was perfectly executed. "He was back in the kitchen, going, 'Who is this lady sending back my food?'"  His curiosity got the best of him, and he came out from the kitchen to meet this mysterious woman with chutzpah. "It was love at first sight," Sarah laughed as she recalled the memory. They've been married for ten years now.
The Pritchards craft the menu of Table 128 together. "We try to get a sense of what's going on in other communities so we can bring it back and create it in our own way," says Sarah. "It's important to look outside as well as inside our own communities because it gives us a chance to be creative."
They also pride themselves on offering a variety of menu options that are both healthy and flavorful. "You can have healthy, rich, and delicious food. For us, healthy is wholesome and well-balanced meals," says Sarah. Every dish is balanced with protein, carbs, fats, and flavor profiles, and dishes range from lean and light to decadent and rich. Their winter menu features entrees like beef tenderloin with roasted beets, spanish chorizo, a poached egg, and a rich red wine demi-glace. Or, on the lighter side, guests can choose scallops with sweet potato puree, roasted root vegetables, spinach jus, and smoked almond gremolata.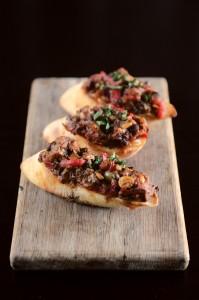 The Pritchards make a point to know their farmers so they can provide the best available food for their customers. "We try to create an environment where something good is made even better when it's sourced and cared for properly," Sarah says. They work with 20 vendors on a national and hyper-local level. "Flavor doesn't have to be lost when you make healthy eating choices," she says. They focus on making their food from scratch and avoiding preservatives and chemical enhancements.
Open for lunch and dinner Monday through Friday, and dinner only on Saturday, the restaurant provides a warm and inviting atmosphere that works just as well for a business lunch as it does an intimate dinner. The bar is well-stocked with the classics (and the obscure), a creative wine list, and cocktails mixed by their mixologist, the ever-inventive Blake Brown. And if you didn't save room for one of their amazing desserts, one can always snag a perfect salty-sweet chocolate chip cookie on the way out the door.
I met the Pritchards during a hard time in my life—you know, the "my guy left me, I ain't got no job, and my dog died" type of blues. They were wonderful from the start. I wandered in and out of working for them as time allowed, and as their need for servers fluctuated. Later, when I had less time to pick up shifts because I was gaining more writing work, I was surprised to find myself disappointed.
I realized that when you go without home-cooked meals for a length of time, you tend to forget what they're like. It's not until you sit down, fork in hand, looking at the creation in front of you, that the drought of the soul becomes apparent. In those cases, it doesn't matter what it is or how it looks—it's the feeling you get when you know it was made from the heart. Eating at Table 128 is like eating a home-cooked meal made with love. Only this time, your mother has some serious culinary skills.