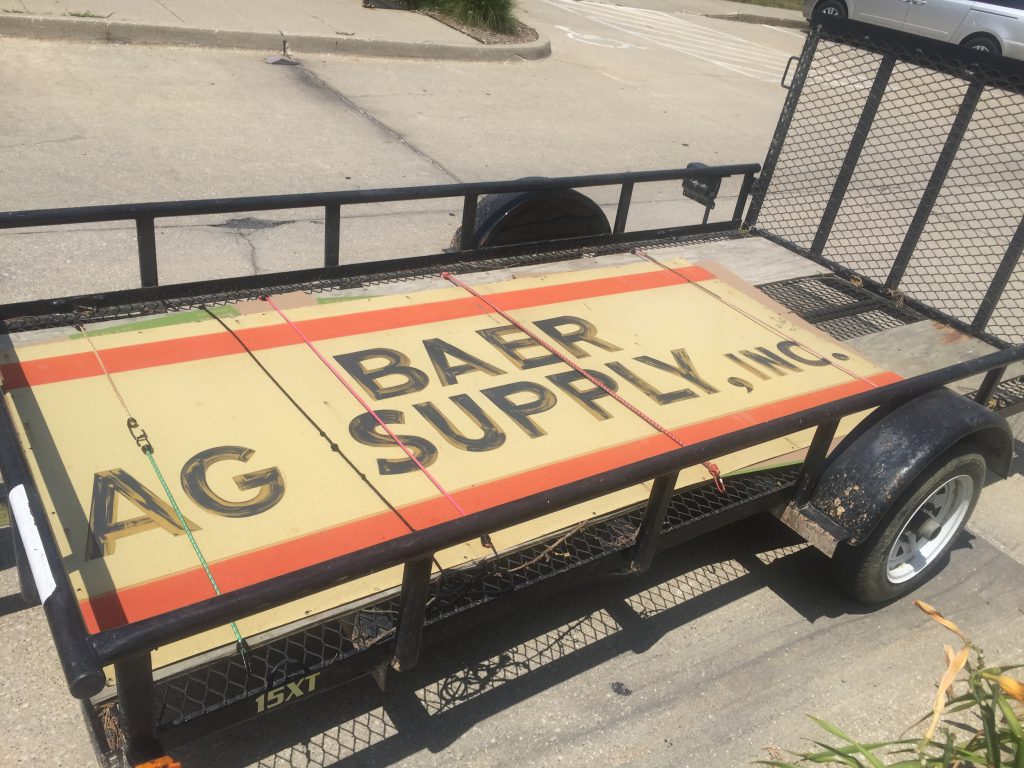 In 1946, Leo Francis Garland and his son, Francis E. "Pat" Garland, purchased the property at 6th Street and Hickman and built their own company—LF Garland and Son Grain Company. Leo's son-in-law, Joe Wiltgen, later became a partner as well.
The families' children and grandchildren spent a lot of time both working and playing at the grain elevator. They delivered water, coal and other merchandise around town, and when there wasn't work to be done, they'd join other neighborhood kids behind the elevator to play baseball, wiffle ball or football, or in the wintertime, to play in the snow.
"Half the town would be down there," says Chuck Garland. "In the winter, elevator snow would be piled high and all us kids would build tunnels and slide."
Meanwhile, in the 1960s, Lewis Baer started a fertilizer and chemical plant on the north side of Hickman (where Shottenkirk Chevrolet sits today). The plant, called Baer Ag Supply, offered custom spraying, as well as the sales and storage of fertilizer, lime, chemicals and seed.
As the company expanded, Baer took on several partners—Al Scholes, Jay Hoskinson and Bob McIlrath—yet remained the majority stockholder. McIlrath came on board in 1973, when Baer purchased Dexter Fertilizer, a liquid fertilizer and chemical business located in Dexter.
In 1976, Baer Ag Supply's expansion continued with the purchase of LF Garland and Son's elevator across from them on Hickman. The grain elevator operated under the name Waukee Grain and Feed until 1983, when it was changed to Baer Ag Supply, Inc., to tie all of the operations together.
In 1978, grain storage and drying capacity were added. In 1982, the company also added a new central office and scales. During peak times, Baer Ag Supply employed 21 full-time employees at the Waukee and Dexter locations, as well as additional part-time seasonal employees.
Baer and his partners expanded their service territory to include as far south as Cummings, north to Ankeny and past Dexter to Stuart. In 1997, Heartland Co-op acquired Baer Ag Supply's grain elevator facility on the south side of Hickman and the fertilizer plant in Dexter, and then leased the fertilizer and chemical plant on the north side of Hickman.
After the widening of Highway 6 (Hickman Road) to four lanes, the remaining fertilizer and chemical facilities on the north side were eventually sold to Doug Telke in 2001, who used it for general storage, as well as lawn mower sales and operations. He eventually sold the property to Shottenkirk in 2008.
Heartland Co-op sold the remnants of Baer Ag Supply's buildings and land to Kum & Go. In June of 2017, preparations were made to demolish the old buildings and begin new construction of a Kum & Go Marketplace. The Waukee Area Historical Society acquired Baer Ag Supply's company sign. Kum & Go presented the sign to the society on August 6, 2017 at the Waukee Public Library.
More About Lewis Baer
Lewis Baer was born in March of 1921 on the Baer family farm in Cedar County. He attended school at Tipton Junior College and Iowa State University, and met his wife, Avalon Seiberling, while attending school at Tipton. They were married for nearly 64 years.
At Iowa State, Baer's class started the AG ED 450 farm. He taught high school agriculture and sponsored Future Farmers of America in Keota and Waukee. He was also very active in our community, serving on the school board and town council, as well as being an active member of Waukee United Methodist Church. He was passionate about soil conservation practices and once served as president of the Iowa Fertilizer and Chemical Association.
Lewis Baer passed away on September 29, 2007. He is laid to rest at Resthaven Cemetery in West Des Moines.