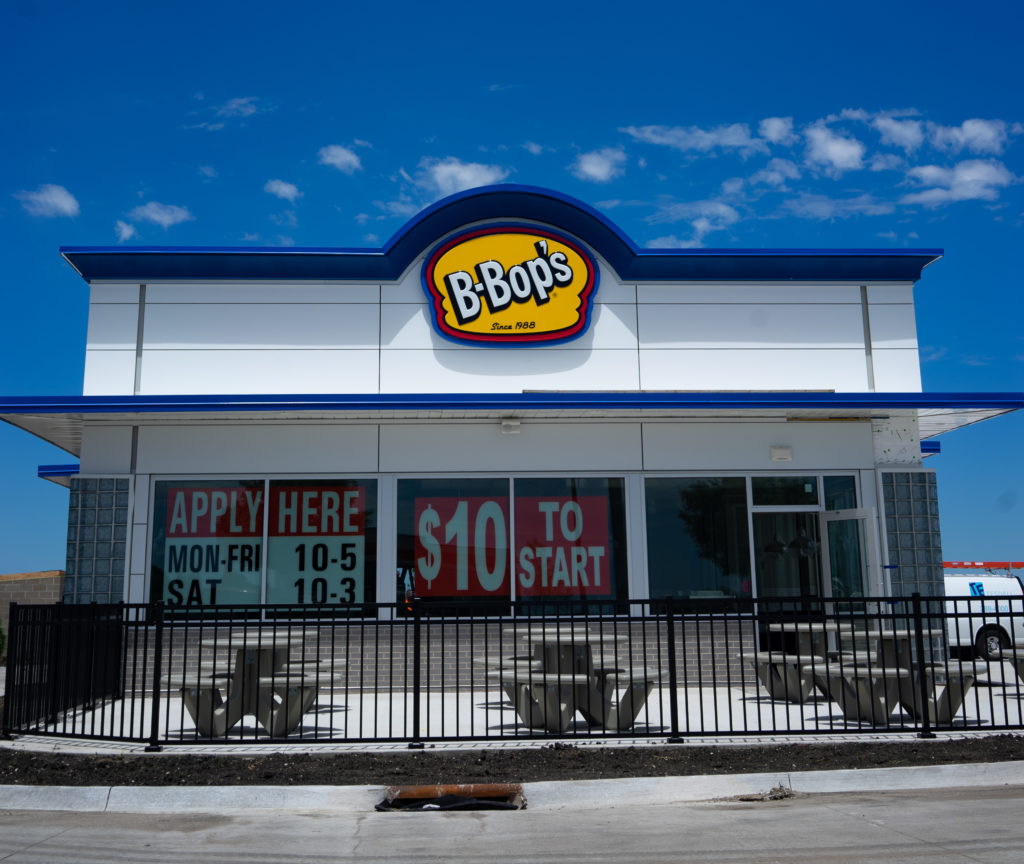 Des Moines fast food institution B-Bop's has been delivering fast food with a retro flair to central Iowa residents for decades. Now, Waukee residents will have a B-Bop's location right in their backyard, as construction nears completion on the franchise's newest location.

Construction began in the fall of 2018 on the 2,200-square-foot restaurant, which will be located at 855 East Hickman Road, near the Waukee Hy-Vee. The location will offer seating for 60 inside, as well as eight tables on the patio and, of course, a drive-thru. The layout will be very similar to the B-Bop's location on Stagecoach Drive in West Des Moines. With the addition of the new store in Waukee, B-Bop's will have a total of nine locations in Iowa, joining the existing stores on Fleur Drive, Southeast 14th, and East 14th in Des Moines, as well as their locations in West Des Moines, Altoona, Ankeny, Urbandale and Ames.

B-Bop's is a much-loved fixture in the metro fast food landscape, but its owner got his start one state over. B-Bop's owner Bob Johnson embarked on his career in the fast food industry with the Mr. Quick franchise in Bollingbrook, Ill., in 1970. He began as an assistant manager, a position he held for eight months. Impressed with Johnson's ambition and skill, Mr. Quick's corporate office offered him the opportunity to become a franchise partner in the business. Johnson accepted this offer in 1973, moving to Newton, Iowa, and opening a Mr. Quick there. He later opened stores in Fairfield and Muscatine as well. In 1983, Johnson and his partners changed the restaurant name from Mr. Quick to Sizzlin' Sam's.

During the mid-1980s, as Johnson continued to open businesses, he took note of a new, burgeoning concept: the double drive-thru. These were popping up throughout the Sun Belt states and encountering great success, and Johnson was interested in the possibility of opening one himself. In 1988, Johnson found a building at 1500 East Euclid Avenue in Des Moines that he felt would be an ideal location for a double drive-thru. Within six months, the first B-Bop's was opened on that spot, and the rest, as they say, is history. (The original Euclid location has since been demolished—a new B-Bop's was built around the corner on East 14th Street to replace it in 2016.)

It's fair to say that B-Bop's is known just as much for its atmosphere as for its food. The old-school vibe inside each location, with the carefree music of an era gone by and the distinctive, colorful décor, take customers back to what many consider a golden, simpler time. The beloved local chain, with its simple, tried-and-true menu, has won Cityview Magazine's Best of Des Moines award in the Best Burger category for an astonishing 26 years in a row. B-Bop's has also been a runner-up for Best French Fry in Cityview's annual poll for the past five years, and its quarter- and half-pound burgers and fries also earned it the 2016 runner-up for Best Hangover Food.

With the new store in Waukee set to open soon, residents will soon be able to satisfy their craving for a classic burger with a side of fries and a soundtrack that will take them right back to the olden days. B-Bop's represents just the latest exciting addition to the boom of new restaurants in Waukee!