Now that the holiday season is over and the kiddos are back in school, you may be tempted to think that fun won't return until springtime. However, Waukee Parks and Recreation has an answer to the winter blues: Waukee FamilyFest, an event where kids can play while their parents mingle with other young families. Local businesses from the Waukee community will also be there to spread the word about their wares and services. The event will be held on Saturday January 17 from 9:00am-12:00pm at Point of Grace Church in Waukee.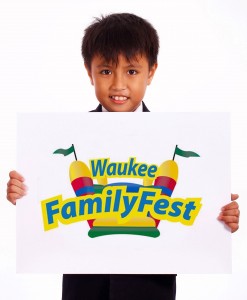 At the third annual Waukee FamilyFest, inflatable playgrounds, games, and prizes sponsored by local businesses will be the order of the day for kids, while parents will be able to enjoy getting to know others in the Waukee area. Danae Edwards, of Waukee's Parks and Recreation, says that the idea for the event was prompted by a desire for the growing Waukee community to come together in the midst of cold weather: "The Park Board and Parks & Rec Staff wanted to create an event for kids and families to get out of the house during the winter. Let everyone burn off a little energy and congregate with their friends." According to Edwards, the Parks and Recreation department created this event in order to help create a stronger community in Waukee: "We are trying to help promote our Waukee businesses to all of the new families that move to town while giving our residents a chance to get to know other families."
Edwards also acknowledges that the event serves as a gathering opportunity for Waukee's many new residents, saying, "Waukee is full of new, young families that would like the chance to get to know one another so this is a great opportunity to meet other families and to get to know some of the smaller mom-pop businesses in town."
Edwards points out another perk of the event: "It's great for businesses and families alike because it is free! Businesses can participate at the event free of charge while promoting their business and hopefully drawing in clients/customers."
So, there you have it: a fun, free, kid-friendly event where everyone may gather indoors during Iowa's bitterly cold January. Whether you're new to the area and want to meet other families while checking out the Waukee business scene or you're a longtime resident hoping to free your cooped-up kids from your house on a Saturday morning, look no further than the Waukee FamilyFest to meet your needs.
View the event's

webpage

to find additional information, including the event's contact person and the address for Point of Grace Church.