Grand Prairie Parkway: New Gateway to Waukee Alleviates Traffic and Opens Doors for Development
After 15 years of planning, budgeting, designing, and constructing, the $50 million Grand Prairie Parkway roadway and interchange project was completed and opened to the public on Dec. 1.
City of Waukee officials, staff, and business leaders gathered on its opening day with counterparts from the City of West Des Moines and the Iowa Department of Transportation to celebrate the accomplishment of the collaborative project.
Former U.S. Congressman Tom Latham, who played an integral role in securing federal funding for the roadway, spoke at the gathering. "This is going to change the whole community—the whole region. It will have a tremendous impact," said Latham. "I'm so glad to see what we worked on for years and years finally completed and being used."
Waukee Mayor Bill Peard admits it was an emotional day for all invested in the project. "I've served as either Waukee Mayor or on the Waukee City Council since 1998. Bringing this new gateway to Waukee has been a high priority during that time. Waukee city councilmembers, legislators, staff members, and I worked very hard to make Grand Prairie Parkway a reality," he said. "To say I was proud as I first traveled on it would be an understatement. It was a monumental day for the City of Waukee."
The 2.25-­mile Grand Prairie Parkway has already seen its share of users since opening day. Early traffic counts from Foth Infrastructure & Environment show 8,000 drivers traveled the corridor on day one, and usage is expected to grow.
Another study has already shown decreased traffic on previously burdened roads like Jordan Creek Parkway and Hickman Road.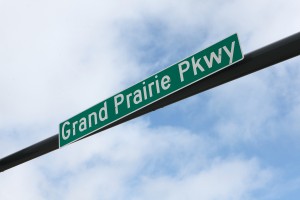 While some were nervous about the new diverging diamond interchange design, most drivers seem to be catching on quickly. "The design of the diverging diamond is a game changer—smart and efficient—and it is our first new option for heading to work," said Waukee resident Tom Buckmiller. "Hickman and especially
University have been so congested during the commutes recently. Grand Prairie Parkway is a great alternative with fewer traffic lights, less traffic, and less stress."
Waukee resident Missy Welch agreed. "It shaves about seven minutes off my commute to work," she said. "Plus, I'm looking forward to seeing which businesses and other things pop up along the way."
She's not the only one. "Some may look at this as the end of a project, but this is only the beginning," said Peard. "This opens up Waukee to the world, and we're already receiving positive feedback from developers. Over the next several years, the Kettlestone area will start to take shape and should really improve Waukee residents' access to jobs within the city, as well as to fine dining, new retail, personal services, and more."
While drivers get used to the new roadway and interchange, they can anticipate the continuation of South Grand Prairie Parkway as a new direct connection to West Des Moines, as well. Construction is currently underway for the roadway portion south of the I­80 overpass. City of West Des Moines officials anticipate a completion date of late fall 2016.
Up Next: Widening Alice's Road
Even before the addition of Grand Prairie Parkway, the widening of Alice's Road was on the radar of City of Waukee officials. It is now a priority in the Waukee City Council's five­year Capital Improvement Plan.
Phase One of this multi­year project will include the widening of Alice's Road from University Avenue to SE Olson. Based on the financing structure of city bonds, funding for Phase One will become available in the spring of 2018.
Phase Two will include the portion from SE Olson Drive to Hickman Road, with funding becoming available in the spring of 2019. A trail underpass is also planned to be constructed just north of SE Olson. The entire project is estimated to cost $15 million.
Alice's Road will remain open during construction. It is the city's goal to have ongoing communication with citizens about the timing of this project and any traffic inconveniences.