The air has changed. Leaves are rustling on the ground, fallen, clearing the space for kitchen smells to gently waft throughout Waukee. A hint of homemade apple pie dances with the scent of a savory butternut squash soup.
Unfortunately, for some Waukee families, these delicious scents are not as common as the stress of built-up bills and empty cupboards. This is where the Waukee Area Christian Food Pantry enters the picture, opening its welcoming doors twice a week to provide emergency food supplies and personal items to those in need. Local churches combined forces to make the pantry – an entity of Waukee Area Christian Services (WACS) – a reality in October of 2005.
WACS Director Melissa Stimple (pictured above) has been with the organization since its inception. After nine years, she's still inspired every day by witnessing the difference the organization makes in people's lives.  "Every day is like the first one all over again," Stimple said.
How the Pantry Works
Food and personal items are donated to the food pantry through local churches, individuals and businesses.  The products are then redistributed to individuals and families in need.
The pantry is available to those living within the Waukee School District and/or those recommended by one of the eight partner churches involved in WACS.  "We serve all types of people, from seniors to everyday families to single mothers," Stimple said.
New clients go through a brief screening process, fill out a short information form, and provide proof of residence and photo identification. A week's worth of groceries is then dispensed upon approval, allowed once per calendar month. The groceries include enough items to prepare three meals per day.
To keep things as convenient as possible for its clients, appointments are not required and all goods and services are available on a first-come, first-serve basis.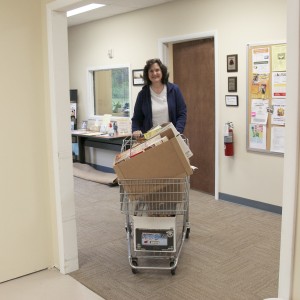 Full Service Agency
Waukee Area Christian Services (WACS) did not mess around when they claimed the word "services" in their name. Its Free Clinic offers necessary services to all ages, including sports physicals, minor illness and injury care, diabetes testing and chronic disease management.  Free Clinic hours are Mondays from 5:30 PM – 7:00 PM.  Open since 2009, its mission is to serve the under-
and uninsured.
Stimple mentioned that there is currently an opening for a Clinic Medical Director that needs to be filled by an interested MD, DO or Nurse Practitioner.
WACS has also created The Fruitful Vine Garden, a community garden that was first planted in 2010.  This garden is not your typical backyard plot. Rows and rows of fruits and vegetables grow on the Westview Church grounds for the WACS to distribute through the pantry. Volunteers, including the Dallas County Master Gardeners, keep the plants in tip-top shape and additional hard-working hands are always welcome during its three weekly shifts.
"This is the garden's fourth year, and so far we've harvested tomatoes, cucumbers, kale, turnips, squash, green beans and beets, along with some other fresh produce," Stimple said. "We're looking forward to harvesting asparagus, blueberries and strawberries
next year."
The WACS also offers prayers for those who ask for them.  Stimple said that clients have attested that this human-spiritual connection is a meaningful aspect of the organization, as well.
Here Come the Holidays
The pantry is now gearing up to prepare boxes of Thanksgiving meal ingredients for needy families. The boxes include items such as a full turkey or ham, stuffing, canned green beans, boxed or fresh potatoes, corn muffins and fruit.
For Christmas this year, WACS will be taking the reins from the Waukee Police Department and handling the gift donations that the police have traditionally handled for the past 20 years.  "This year, we will be putting together Christmas gifts and food boxes for the families we serve," Stimple said.
"If you would like to 'adopt' a family, or if you are a family in need, contact us," Stimple said. "We'll accept as many families as possible."
Everyday Needs
While the pantry welcomes holiday-centric donations, Stimple said that basics, such as cereal, soup, canned goods and peanut butter, are needed year-round.  These donations make a significant difference for the 100 families that use the Pantry every month.  While the pantry recently installed large industrial refrigerators and freezers to store perishable items, Stimple does recommend calling ahead to make sure adequate space is available before donating items that require cold storage.
"Monetary donations are also always welcome," Stimple recommended. "Such donations allow us to purchase gift cards and items that we need."
How to Donate
Donations – especially baby and personal needs items – are always greatly appreciated. Simply drop off goods during the pantry's normal hours (Mondays from 4:00 PM – 6:00 PM and Thursdays from 9:00 AM – 11:00 AM), or make a donation at one of the partner churches (listed at waukeechristianservices.org) or local businesses, including Dahl's, Fareway, Waukee City Hall and the Waukee Police Department.
Stimple said that while the services offered through the non-profit are made possible by generous volunteers and donors, more help is always needed.  So give a little time, give goods, and/or lend a helping hand.  Your contribution will help to make the upcoming holidays that much warmer for our Waukee neighbors this year.
1155 SE Boone Dr, Waukee, IA 50263
Phone: 515-987-5523
Web: waukeechristianservices.org