Dishing up a Tasty Future from Waukee High School
Amidst clean countertops and polished cutlery, the tastes of future careers are being created in the Waukee High School kitchen. Like a recipe, the teenage students enter the class as singular ingredients. They emerge from the class steaming with knowledge and able to interact in the bigger world, making up the diverse dish that is the culinary arts.
The class is called ProStart, and much like a trade school, it's an intense exposure to a career field. Being a ProStart student is like pulling back the veil on the extensive world of flaming pans, white aprons spackled with sauces and all of the numbers that go into making a restaurant, venue or catering company run as smooth as butter.
Those Who Can, Teach
Laura Calvert is the friendly face behind ProStart. A Waukee High School alumna, she returned to her old stomping grounds four years ago to combine her passions for teaching and cooking. "I've always naturally gravitated toward the culinary arts," Calvert said. "I've really gotten passionate about helping students realize that no matter what they want to do, they can be successful. It's exciting see the light bulb go on."
She teaches ProStart and also Culinary I and II, the prerequisite courses for the program. From there she can tell which students would benefit and enjoy ProStart. Calvert is not just good, but great at teaching the tricks of proper dicing, dough rolling and dressing mixing. In 2013, she was named Iowa's 2013 ProStart Educator of Excellence by the Iowa Restaurant Association Education Foundation.
What is ProStart?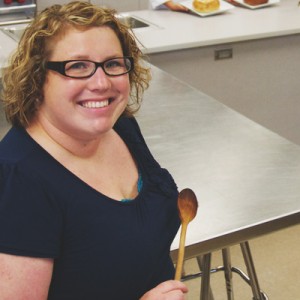 ProStart unifies the food service industry with the classroom. Consider ProStart the fresh-faced look of family and consumer science (FCS) class, zoomed in and taken up a notch. It features a college-level textbook, hours in the field and competition. Run by the Iowa Restaurant Association, it is sustained by the National Restaurant Association Educational Foundation.
Waukee was in front of the trend as the third school to implement ProStart program back in 2007. It's now in 23 Iowa schools.
When ProStart students graduate, they receive another mark of education to frame on the mantel: the ProStart National Certificate of Achievement. To earn this coveted signifier of competency, students must pass the National Restaurant Association's Year One and Year Two exams and complete 400 hours of work experience.
In the spring, nerves run high as practice begins for the Iowa ProStart Student Invitational. Students take to the culinary competition in teams of four. Armed with just two butane burners, they are tasked with creating a three-course meal in one hour. The meal must include an appetizer, a main dish (including a protein, grain and vegetable) and a dessert. Calvert said that the students practice this task many times before going into competition.
If that's not intimidating enough, there's also a knife skill technique contest. The judges' panel is comprised of local chefs who donate their time, tips and expertise. Just like in the real world, there is a flipside to the creative wonderment of cooking. Cue the management portion of the competition. Teams present a business plan to a panel of "investors" (local food service business owners and managers) to prove that they are the best investment. The high school proposals feature floor plans, interior design plans, marketing plans, concepts and budgets.
First place winners advance to the National ProStart Invitational to compete against other high schoolers nationwide; Havel's 2014 spring semester students swept the state competition and represented Iowa at the national event in Minneapolis.
Unlike fruits and vegetables, you cannot grow money in an organic garden, so the class caters local events to raise the funds necessary to attend competitions. "We've done the Waukee Rotary silent auction event, the Waukee High School music department's Festival of Peace, parent-teacher conferences, Waukee Chamber luncheons…we really have done a lot of things," said Calvert.