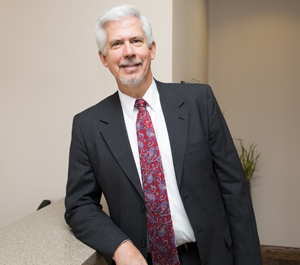 Where are you from originally?  
I grew up on a farm near Conrad.  After graduating from Iowa State University, I entered the working world as a banker in Atlantic.
Tell us about your family.  
My wife Dianne and I moved to Waukee five years ago.  Our daughter, Shae, is married to Brad Niggemeyer, and they are the proud parents of our wonderful grandson, Micah.  Shae teaches at Woodland Hills Elementary in the Waukee school district.  Our son, Will, is a chef, and he lives in Steamboat Springs, Colorado.
What do you do for a living?  
I joined the team at Actis Wealth Management on January 1, 2015.  Actis is an independent financial planning firm, and it custom tailors solutions for business owners and individuals.
I spent most of my career as a community banker in Atlantic and Oelwein.  After I left banking, I co-founded an agricultural biotech startup, which has been tabled.
What do you like to do with your free time?  
I enjoy family time, networking events, cheering on Cyclone athletic teams, golf and reading.
What are some of things you like most about working and/or living in the Waukee area?
I describe Waukee to friends as "small-town friendly, with all the amenities of living in the city."  I think the City of Waukee has done an outstanding job of managing Waukee's rapid growth, and that we have an exciting future ahead of us.
If you could pick just one favorite Waukee hotspot or landmark, what would it be?
It's hard to pick just one, but I've met many great people via my membership in the Waukee Chamber of Commerce. Also, we're thrilled to have Louie's Wine Dive open in Waukee.
Any plans for when the snow thaws and Spring finally arrives?
Golf! I'm heading to Nevada with some friends for an annual golf trip in late February, and then I'll be enjoying the great course at Sugar Creek in Waukee as soon as the weather allows.
It's the time of year that many of us dread. Do you have any sage advice for the struggle that is tax season?  
Be prepared. Tax preparation is much easier if you keep track of tax items throughout the year.  To assist in your preparation for future years, work with a trusted financial planning firm such as Actis Wealth Management.