With the current nationwide focus on the relationship between the public and the police, community policing initiatives may now be more important than ever before. The 20-officer Waukee Police Department is striving to be a leader in that arena.
Waukee Police Chief John Quinn, who has been at the helm since March of 2014, said the concept of community policing originally came about as a way for police to work with community members to identify crimes being committed and to address resident concerns, but it has evolved to serve an even higher purpose.
"Today, community policing has transformed into policing operations and programs that deal with the department's interaction with community members," said Quinn. "It's about building trust and confidence by providing open, honest and transparent public safety services."
Under Quinn's leadership, the Waukee Police Department adopted a community-focused mission. The department has implemented numerous programs that engage all ages of the Waukee population:
Bicycle Patrol: Officers on bicycles provide outreach and support on the city's trails and parks via bicycles.
Body Cameras: Waukee's on-duty police officers wear body cameras that activate each time officers have contact with the public. The cameras hold both officers and citizens accountable for their actions.
Citizen Police Academy: This series of ten, three-hour classes gives citizen participants a working knowledge of the police department's practices, policies and procedures.
Community Event and Neighborhood Presence: Officers make a point to be present and visible at community events, such as the Easter Egg Hunt, Celebrate Waukee and Fourth of July festivities. They also make friendly stops in neighborhoods throughout Waukee.
Public Safety Day: The Waukee Police and Fire Departments feature public safety-related activities such as a child safety seat checks, child IDs and fire hose demonstrations at this annual event.
Safety City: The police department hosts week-long courses for incoming kindergarten students. The children learn about street safety, pedestrian rules, stoplights, safety belts, 911, bus rules and more.
School Resource Officer (SRO) Program: The SRO program places police officers within Waukee Community School District buildings to develop relationships with students and parents.  
Senior TRIAD Program: TRIAD, a partnership between law enforcement, senior services and seniors to reduce criminal victimization of the elderly, meets once a month for lunch and conversation.
Shop with a Cop: Each December, the Waukee Police Department takes low-income children shopping for holiday gifts for themselves and their family members.
Thanksgiving Baskets: The department also purchases baskets full of Thanksgiving food for needy Waukee residents. The residents choose from ham or turkey meals.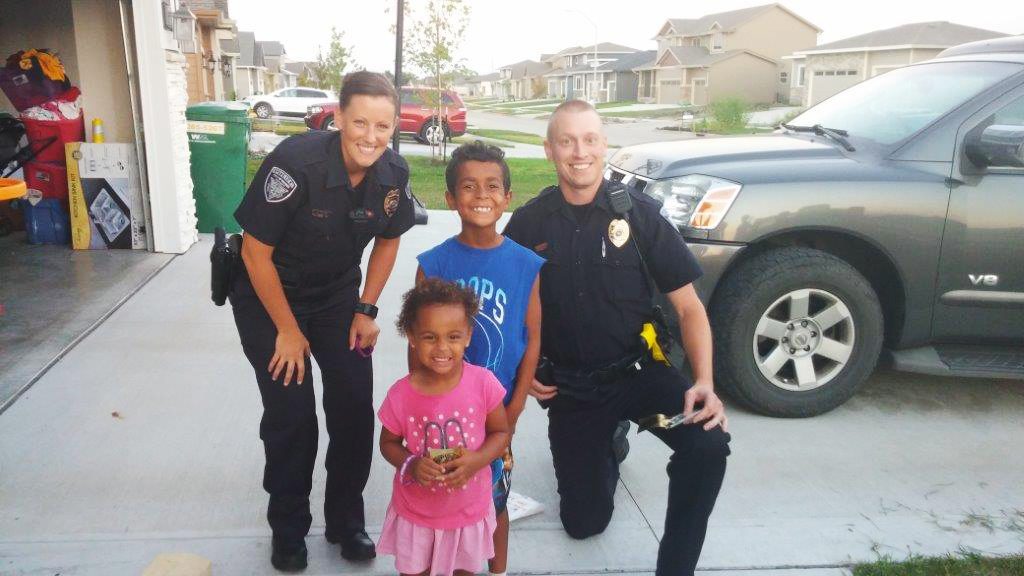 Waukee's School Resource Officers are some of the most recognized faces in town. Officer Brian Murra spends his days during the school year with students and parents. During the summer, when he's not dealing with calls or traffic stops, you can find him handing out badge stickers at lemonade stands or tossing a football around with kids at Centennial Park.
"We really aim to build relationships with Waukee youth, and I think we'll see the impact of our positive relationships carry over into their adult lives someday," said Murra. "With the SRO program specifically, we are also there to provide a safe learning environment."
Waukee school leaders say the SRO program has made a huge impact. "The officers have helped educate our students about a variety of safety concerns our youth face in today's world," said South Middle School Principal Doug Barry. "They have a proactive presence to help steer our students toward making positive choices in our school and community."
Moving to the opposite end of the generational spectrum, you'll find Waukee police officers at the TRIAD program. This engagement luncheon initiative has grown to almost fill the Waukee Community Center each month. Topics discussed with the participants include the officer hiring process, tips on avoiding identity theft and even an annual bus tour to see the new development being built in Waukee.
The most valuable information is about scams and the new things going on around town," said one TRIAD attendee.
Age aside, the Waukee Police Department aims to provide a safe and comfortable community for all residents. While they've added several new programs recently, there's no sign of stopping.
"I helped develop and implement the Citizen Police Academy, and I'm excited now to work on launching a Crime-Free Multi-Housing Program that will address crime prevention in rental properties," said Sgt. Jeremy Long.
Chief Quinn said he's proud of those in the department taking community policing so seriously. And while the main goal is to benefit the community members, he said it's helpful to put the lives of officers into perspective for the public as well.
"The citizens can see that the men and women of the Waukee PD are fathers, sons, mothers and daughters themselves, just the same as them," said Quinn. "I hope the public sees how humbled and honored the officers are to protect and serve the citizens of Waukee."
Please visit www.Waukee.org/Police for more information about these programs.