As an association of businesses, organizations and individuals, the Waukee Area Chamber of Commerce is dedicated to promoting growth and prosperity in our local economy.
Members have the chance to give back to the community and gain exposure in the marketplace by volunteering on one of our seven committees: Membership, Community Development, Ambassadors, Government Affairs, Economic Development, Waukee YP and Scholarship.
The Waukee Area Chamber of Commerce offers opportunities to highlight and promote business at meetings, events and in communications. Our members are able to share business news, job openings and updates in the weekly Waukee Chamber Business Report. Each business member is listed in our official Waukee Chamber Directory & Community Guide and in our membership directory at www.waukeechamber.com.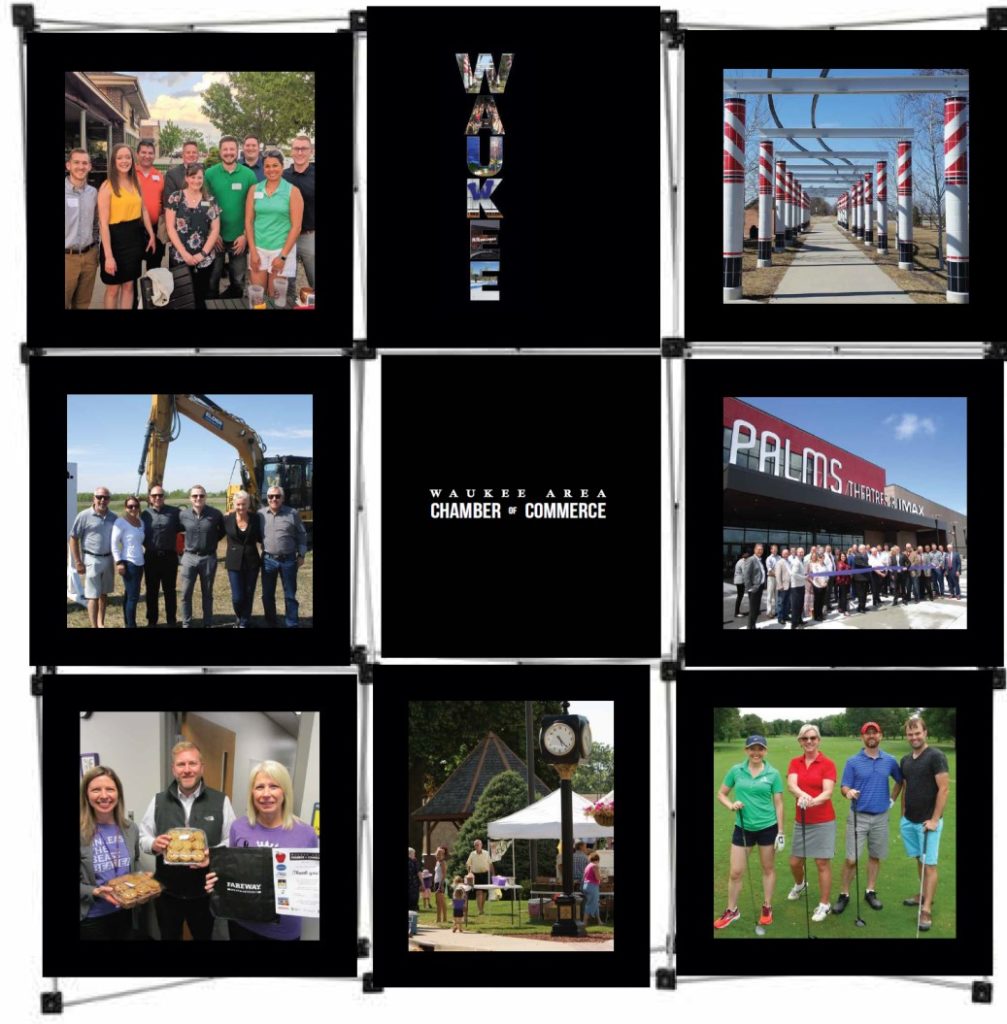 Waukee Support Local
Local business is a critical part of the Waukee community, and businesses need our support during this time. Waukee Support Local is a Facebook group serving to promote business in the Waukee area. Business owners are invited to post business news, alternative hours, curbside pick-up, virtual service offerings and more. Waukee Support Local is created by the Waukee Area Chamber of Commerce, but is open to all Waukee area businesses.

Virtual Opportunities
The Waukee Area Chamber of Commerce is hosting in person events virtually.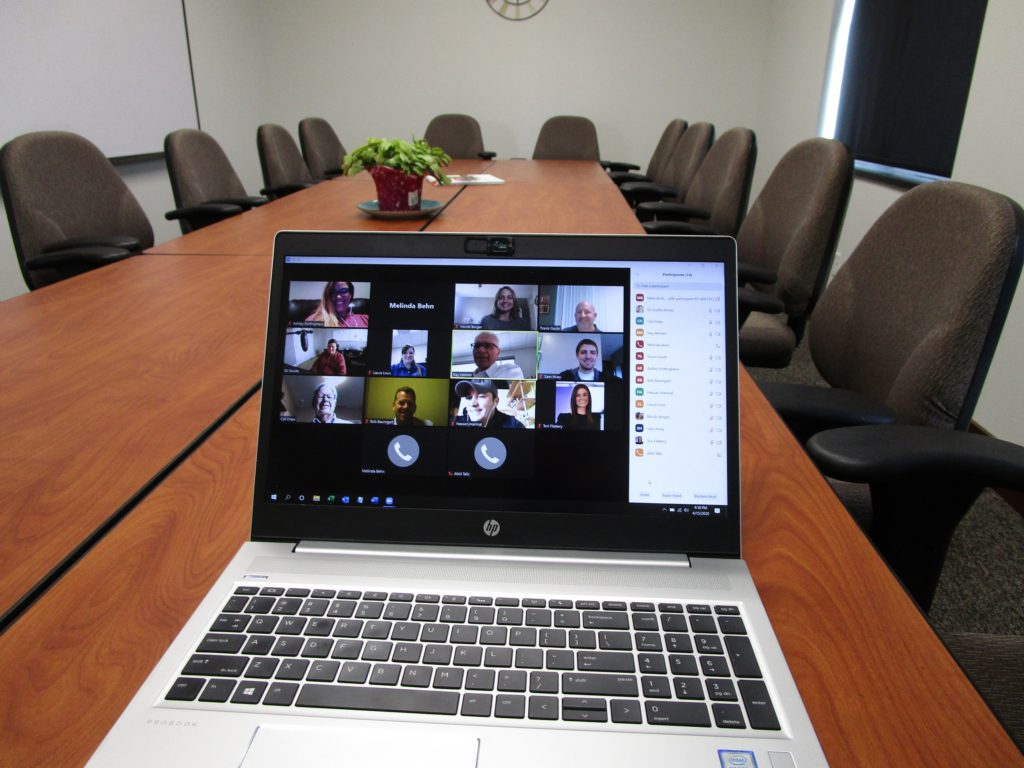 Good Morning Waukee offers business members the opportunity to hear from a local speaker from the comfort of their own desk through ZOOM. Guests will dial in and connect from their computer to speak with others and learn from a local speaker followed by a question and answer session.

The Virtual Waukee Chamber Networking Luncheon will allow guests to purchase lunch to go from a restaurant in Waukee and then connect on ZOOM to introduce themselves, provide a 30 second commercial and hear from a featured business speaker.

The Chamber will also be holding our Business After Hours as a Virtual Happy Hour on ZOOM. Guests will introduce themselves and their business, separate into break out rooms to discuss business topics and return to the group.
Waukee YP will continue their Casual Coffees on ZOOM. This is a great opportunity for young professionals to provide an introduction, connect with others and learn from a local business speaker.

All Waukee residents and businesses are invited to join us for the virtual meetings offered each month. Learn more and register today at www.waukeechamber.com!
Grateful for the Support of Community
Fridley Theatres: The Palms Theatres & IMAX sold over 500 large curb-side popcorns to go on a single Saturday!
Mi-Fiber: It's been very encouraging seeing communities come together in an effort to support local businesses. It shows the kindness and support that our cities are known for.
Rock Valley Physical Therapy: We had a goal of implementing telehealth in 2020, and the COVID crisis has sped this process up. We are currently working with a patient who lives across the state whose local PT clinic closed. He was referred by a friend from Waukee who was seeing us. These types of word-of-mouth referrals are what gives me assurance that we will come through this stronger than ever!
Fresh Mediterranean Express: We are so grateful for the amazing support we have received from the community. They showed up on day one and have continued to show up throughout the crisis.
Meier Family Chiropractic: The blessing of technology to be able to connect with those we otherwise wouldn't be able to. My wonderful patients who understand the value of natural healthcare like chiropractic!
Miller, Fidler & Hinke Insurance: Iron sharpens iron. The power of the Chamber is in the connections and the true value comes from the peer to peer experience sharing, especially during times like today.
Waukee Hardware: We are most grateful for our customers supporting us and that all our employees are staying healthy since we are in contact with so many people.
Gilcrest/Jewett Lumber Company: I am grateful that we are allowed to remain open for business and provide continued employment for our employees. . . and equally proud of them for their dedication and sacrifices that they have to make. I'm also quite proud of our state, its leadership, and all Iowans for locking arms and fighting the fight together.
Marco's Pizza: Once a week we take pizza to people who are on front lines – firemen, doctor offices, ICU, urgent care, or day cares that are supporting those fields. We have even had a few people order pizza for those groups as a way to thank you.
Focus Eye Care: On a bright note, it is amazing how a simple act can have huge reward for a small business. We asked our Facebook friends to simply invite all of their friends to like our page and within 5 hours we had over 500 more likes! It is amazing to see people band together and support each other during such a challenging time. When we come out of this I hope that everyone has learned how important personal connections are and the good we can do for people in our community.
Home Instead Senior Care: My business still operates 24 hours a day. Home Instead brings nursing home care services directly into people's place of residence. This allows them to stay safe and independent at home.
Ankeny Sanitation: Some meetings done over lunch or in person, have been reduced to Zoom meeting or conference calls, but because of all these restrictions we have gotten the chance to speak on a more personal level with our customers.
Country Lane Lodge: Life can throw you a curve ball and this is one of the most challenging many of us have experienced. At Country Lane Lodge we are trying to take this time to get caught up on projects around the property and take a little time to get things done at home. We are especially grateful to our clients for working with us as we want to host the special event in their lives…soon we hope!
GIT Insurance: Here in Waukee, I've seen and heard many stories of people really trying to support local businesses. This is so refreshing and I'd hate to see any economic growth halted for the long term. There has been a reduction in traffic accidents and many of our great auto insurance carriers that we represent are giving refunds or credits to provide some relief. This is a nice gesture and hopefully it helps.
Vocal Arts Unlimited: I see so much good going on around me. People are stepping up to serve and reaching out to others. I see an anticipation within myself of exciting things to come. I am embracing growth and creating new programs and business content; and planning a vibrant next experience for myself and my associates that will help us all survive and thrive. I see a new reality that can be powerful and rewarding for those who will embrace their inherent capabilities and natural gifts and talents; and recognize that they have great worth and have the capability to determine their future condition.
Willard Garage: We received a note from Helen, a customer, over the weekend. Dropped in our key drop box, it read: To Brian and Peggy and everyone; We LOVE you………… Thank you to Helen, that was an amazing unexpected blessing, it really struck a nerve in a beautiful way amidst all the fog of how uncertain and upside down so many things feel right now.
Waukee Dental: So many amazing acts of kindness shine through during these times, due to being in the healthcare industry my favorite stories are those donating personal protective equipment and those making cloth masks at home to donate to healthcare providers. I thank everyone who is out there providing assistance and needs in any way!