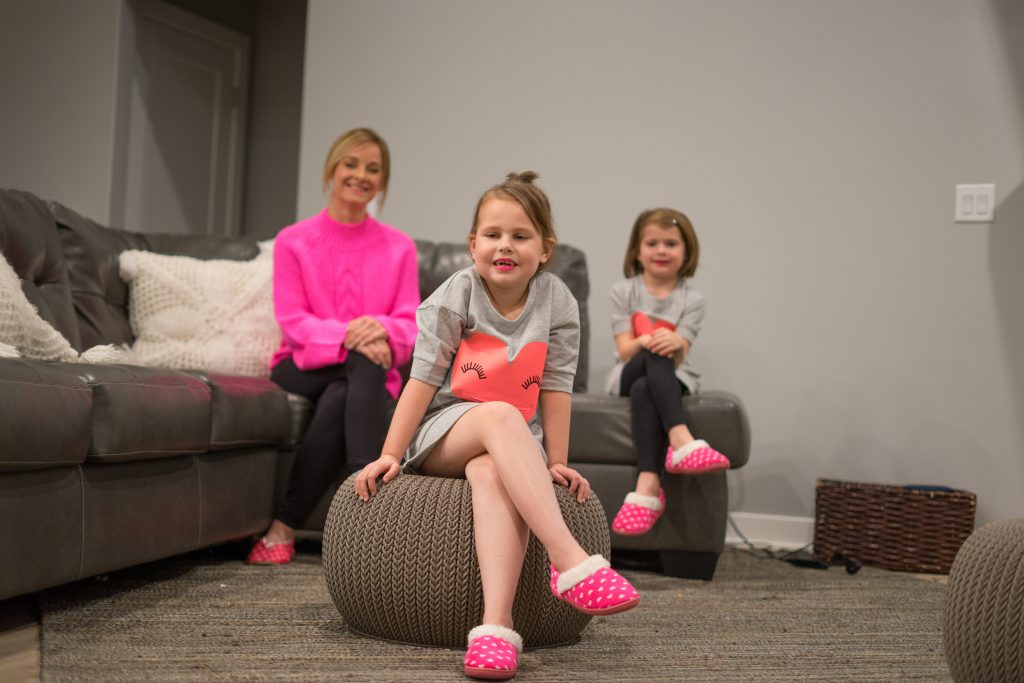 Ella Goering isn't your typical 8-year-old. With a mature, caretaking personality, you can find her reading and crafting alongside older children or adults, unless she's taking care of younger children. Then, she's a mother hen. In her wise, young years, Ella's faced more than most anyone will encounter in a lifetime: she has a brain tumor.
"Ella fell at school in kindergarten and hit her head pretty badly," said Ella's mom, Sherri. "Shortly after the fall, she began getting headaches. After seeing several doctors, they determined she had a concussion and time would be the best medicine. Ella would still get headaches about once a month after vigorous activity, but usually laying down for a bit would help."
The family managed the headaches for almost a year, and then they started to become more frequent. Different doctors told the family it was anything from the flu to migraines. Yet, Sherri knew something more was going on. In December of 2015, Ella had an MRI.
"We went in that morning for the MRI and had actually planned to spend the rest of the day Christmas shopping," said Sherri. "As Ella was coming out of sedation, the radiologist and nurses came in to talk to me in a private room. I immediately sensed something was very wrong, but I couldn't have imagined what they were about to tell me. Thank God my dad was there. I thought I was going to faint when they told me Ella had a large brain tumor."
The official diagnosis was medulloblastoma, an aggressive, cancerous brain tumor. The tumor was at the base of Ella's spine, causing a blockage so the fluid couldn't flow to the spine, which caused the headaches and visual trouble. Ella, Sherri and family were transferred to Iowa City, where Ella was scheduled for surgery to drain the excess fluid from her brain and to remove the tumor. However, Ella didn't come out of surgery as planned.
"Ella woke up unable to talk, walk, swallow and more. After a week, we found out she developed posterior fossa syndrome (PFS). It was the scariest time of our lives," said Sherri.
Ella and Sherri were sent to MD Anderson in Texas for proton radiation, where they spent 91 days in the hospital doing radiation, chemotherapy and intense therapy to regain Ella's abilities. Ella's father Jerrod stayed in Iowa with 4-year-old Adelle.
"Being thousands of miles from everyone and everything we knew was heart-wrenching, but we knew it was going to offer the best treatment option for the type of brain tumor she had," said Sherri. "We were incredibly grateful for technology, so we could see our family. Ella's best friend, Kendall, called almost every single night. Kendall would do the talking for both of them, since Ella couldn't speak. That friendship would inspire anyone to call their friends and catch up."
Slowly but surely, Ella started making progress. Each new development, from swallowing to squeezing a hand for yes/no communication to regaining her voice, was a big win. Yet somehow, her cancer grew during treatment. When the radiation and chemo were complete, Sherri and Ella made their way home to Iowa. Without a doubt, the entire journey changed their family.
"If not for deep faith in a plan larger than my own, I'm not sure how I would've made it through each day. God told me to trust Him," said Sherri.
In an act of complete surrender in faith, the family focused on quality of life, stopping treatment to allow Ella to experience life to the fullest. That next December, the family's prayers were once again answered.
"I learned of a ketone supplement that could help her," explained Sherri. "I did a ton of research and contacted the company. I took it myself before giving Ella the recommended dose for children the next day. I was across the house when I heard loud belly laughter. I knew it wasn't Adelle's laugh, and I ran to find Ella laughing hard with happy tears rolling down her cheeks."
The ketone supplement continued to benefit Ella. She regained some of her strength and her schoolwork began to improve, too. Since then, her MRI's have been stable, and Sherri said they don't talk or think too much about the cancer itself.
"Our minds can't orchestrate the series of events that God's plan entails," said Sherri. "Living in a surrendered place has opened us up to what I perceive as miracles. I'm not saying I don't worry or fall into trying to control life, but when I realize I'm doing it, I surrender and let it go."
"If you see us out and about, feel free to smile and say hello," she continued. "Ella does use a walker, so it helps when parents talk with their kids about why that is, instead of having others stare or ask condition-specific questions."
Sherri posts updates on her Facebook page, facebook.com/ellagoering. These days, the forum is filled with walking practice and sleepovers with new friends from school.
"I pray no one has to face anything like this, but life is happening for all of us," said Sherri. "Everyone has a story, and I hope what you take from ours is to let go and let God. God has everything figured out, and as hard as it can be, we need to step out of the way and let Him work."