Between the houses aglow in colorful lights to the holiday tunes playing in every store, there will be plenty of holiday spirit swirling in Waukee's winter air this year. Responsible for a healthy helping of cheer and goodwill is the Waukee Rotary Club.
The Waukee Rotary Club has been serving Waukee since 1999 by exchanging ideas, building relationships, and taking positive action. "Service above self" is a foundational concept for the leadership group, with not just one, but five avenues of service—club, vocational, community, international, and new generations—around which its work is centered.
The Club will initiate Operation Warm yet again this year after its great success in 2014. Craig Thompson, Waukee Rotary Club president, offered up statistics indicating the past and prospective impact of the program. Last year, 8,650 Waukee Community School District students were assessed for need of a warm winter coat. It was found that 342 students would benefit from donated coats. The Rotary Club raised enough in donations to order enough coats to help all students identified, as well as 29 additional kids, for a total of 371 youth served.
Because so many kids were assisted with a winter coat last year, the number of identified students is fewer this year—175 kids—but the need is no less important. Waukee is one of the more than 160 Rotary Clubs that partner with the non-profit Operation Warm.
Waukee Rotary Club Community Service Chair Joyce Wheeler said the Club has programs throughout the year, but the holidays are a special time for giving back to the community.
"Coats are a necessity we are providing for needy school children. Everyone needs a warm coat for these Iowa winters!" she said.
In keeping with the idea of keeping fellow community members warm, Rotarians will decorate a tree for the Waukee Public Library's annual Festival of Trees. But forget the glitz of lights and the gleam of ornaments—the boughs will be hung with cozy hats, scarves, and mittens to be donated to those in need.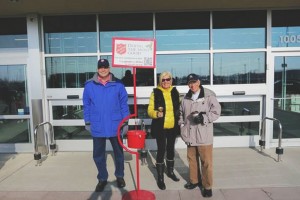 Another act of service will likely be heard before it's seen. Club members will be ringing bells next to red kettles to collect change for the Salvation Army. Beginning in November and running through Christmas Eve, with the exception of Sundays and Thanksgiving Day, expect to hear the bells ringing outside of the Fareway and Hy-Vee stores in Waukee. If you pass by a ringing bell and red kettle, know that donations stay in Central Iowa and assist Iowans with meals, utility and rent help, transportation, and diapers and formula for new parents. (Remember, you, too, can help ring in Waukee! Visit registertoring.com to sign up for a shift.)
The Club will also be purchasing gifts for about 12-15 children through the Blessing Tree program based at the Waukee Area Christian Services Food Pantry.  
As the season of gift-giving quickly approaches, with all of its stresses and joys alike, the Waukee Rotary Club will be working hard to ensure that everyone in our community can enjoy the most wonderful time of the year.