Each year, a dozen Waukee area leaders enroll in the Waukee Leadership Institute (WLI), a program that provides leadership development through training, networking, mentoring and roundtable discussions.
Last year's class, led by former Executive Director Randy Yontz, was the tenth class to complete the eight-month program.
In addition to class time, each WLI class is tasked with completing a group project for the betterment of the community. After much discussion, the Class of 2016 voted to increase the amount of bicycle parking available in public areas of Waukee.
"We had so many ideas on the table, but it came down to wanting a project that was both impactful for the community and practical for us to complete," said Kelsey Cervantes, a 2016 graduate and marketing assistant at McGowen, Hurst, Clark & Smith, P.C. "As we thought about what's happening in Waukee now and what we believe will happen in the future, bike racks stood out as a way to support the growing biking culture in Waukee and Greater Des Moines."
The group worked with the Waukee Parks & Recreation Department and the Waukee Park Board to determine where additional bike racks might be needed in the city. The team identified Centennial Park, Windfield Park, Ridge Pointe Park and the Waukee Trailhead of the Raccoon River Valley Trail as potential sites.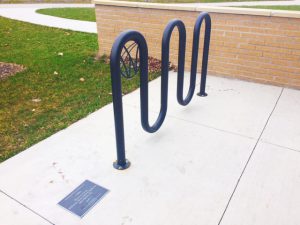 After putting together early concepts of the bike racks and informational brochures about where they might be located, the WLI Class of 2016 set forth to raise $4,000 to cover the production of four racks. The team ended fundraising work with a total of $5,375 and covered the cost of five racks.
"We started knocking on doors, and to no surprise, the support was overwhelming," said Devin Boyer, a 2016 graduate and commercial relationship manager at Bankers Trust. "Within a couple of days, we already met our initial fundraising goal. We are lucky to live in a community that has such supportive corporate organizations and citizens."
Donors include: Waukee Rotary Club Foundation, Cy and Meighan Phillips Family, Bankers Trust, Shottenkirk Chevrolet Waukee, Westview Church, McGowen, Hurst, Clark & Smith, P.C., Shive-Hattery, Inc., David and Diane Leonard and various WLI Class of 2016 members.
The black powder-coated steel bike racks were custom-made by Anova Site Furnishings, and each features a laser-cut City of Waukee logo. The racks were installed this fall with concrete and labor provided by the Waukee Parks & Recreation Department. Centennial Park has two new racks, Windfield and Ridge Pointe Parks each have one new rack, and the remaining rack will be installed at the Waukee Trailhead upon the completion of upcoming improvements and the completion of an art installation.
"The Park Board was really excited when they first heard of the class members' project idea to create and install bike racks. It was something for which there was a growing need," said Matt Jermier, Waukee Parks & Recreation Director. "The custom bike racks represent the city well and will be useful for residents and visitors for years to come."
Be sure to check out the new bike racks when you venture out to the parks this spring! For more information about the Waukee Leadership Institute, visit WaukeeLeadership.org.