Spend Quality Time Together at Waukee FamilyFest
After the busy rush of the holidays, peaking with the midnight ball drop of New Year's it's about time to take a sigh of relief. Mid-January is the optimal time to refocus on the self and the family. Things can get lost through the festivities of December, so as the tinsel and tree come down it's time to recenter with fun (and better yet, free!) activities for the entire family.
Thankfully there's the perfect organized opportunity to get in some fun and quality family time this weekend. On Saturday, January 16 from 9 a.m.-12 p.m. the new Lutheran Church of Hope – Waukee will open its doors to the community for the Waukee FamilyFest.
Danae Edwards, City of Waukee recreation supervisor, explained this is the fourth annual year for the event.
"The Park Board wanted an event during this time of year that was free for families since we just got done with the hustle and bustle of the holiday season," Edwards said. "We have other events going on throughout the year but we were lacking during the first couple months of the year."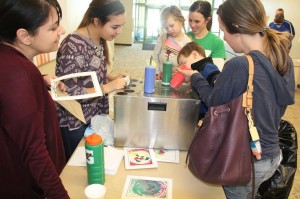 Like the years past the FamilyFest will provide delicious cookies and drinks. After munching down on cookies kids can jump their hearts out on the large inflatables. New this year will be a hired balloon artist at the ready to create magical shapes out of seemingly ordinary balloons. There is always a wide variety of vendors and this year will be no different. The roster is long including the Iowa Barnstormers, Iowa Animal Rescue League, Avon, and Happy Feet Des Moines. The local businesses will provide a free game, craft, or activity for the children. Some will also have information and promotional materials on hand as well.
"We encourage all of the young families in Waukee to come and enjoy this free event," Edwards said. "Kids of all ages are welcomed to attend, but I think the kids that will enjoy it the most will be school-aged kids."
Spend Saturday morning sharing some laughs, connecting with community vendors, and spending some quality family time together.
Where: Lutheran Church of Hope – Waukee, 305 NE Dartmoor Dr, Waukee, IA 50263
When: 9 a.m. – 12 p.m.
Price: Free
Web: http://www.waukee.org/FamilyFest