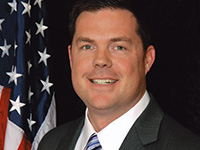 Waukee City Council Member Rick Peterson announced his resignation from the City Council at the Monday, Jan. 3 regular meeting. Peterson has accepted a position with the Iowa Economic Development Authority, and thus is resigning to avoid any potential conflicts of interest.
"It has been an incredible honor and privilege to serve the residents of Waukee during this time of unprecedented growth for our city," Peterson said. "I look forward to this next chapter in my professional life, as well as finding other ways to serve my community."
Peterson took office in January 2014 and has lived in Waukee for seven years. He also was serving as Mayor Pro Tem at the time of his resignation.
"I'm so proud to have been able to serve alongside Rick," said Waukee Mayor Bill Peard. "He has been a very conscientious Council Member who has shown the passion he has for Waukee through all of his actions."
At a special meeting planned for Wednesday, Jan. 11, Mayor Peard and Waukee City Council Members will lay out a plan of action for filling the newly vacated seat. Mayor Peard will also appoint a new Mayor Pro Tem.