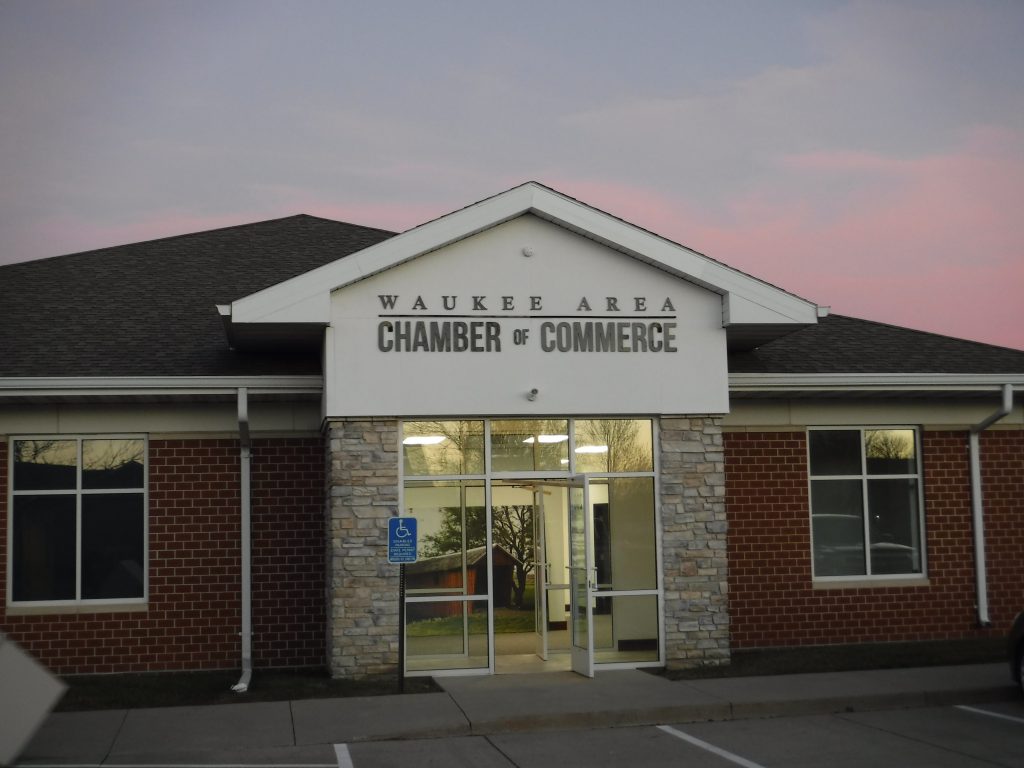 The Waukee Area Chamber of Commerce celebrated the Grand Opening of our new Chamber office at 208 W. Hickman Road on Tuesday, Dec. 12, 2017.
The Chamber Board of Directors and staff would like to express gratitude to our business sponsors who invested in the buildout, our Board members who served on the committee to lead the project, and all of our dedicated volunteers and partners who contributed to the creation of our new 1,600-square-foot office.  The space offers natural lighting in a large front welcome area, two offices, a board room, a storage room and a kitchenette.
The Chamber concluded two three-year leases at 236 W. Hickman in November of 2017.  The Board of Directors located open space at 208 W. Hickman in February of 2017.  Request for proposals were issued to members, and ultimately, the Board chose Remodelworks! to manage the build out project.  The Chamber is the first tenant in this location and had the opportunity to design the floor plan and remodel the open space to fit our office needs.
Many Board members provided additional services and contributions to the space, including Kevin McCormick of Fareway and Ray Meister of First American Bank.  
We look forward to serving the Waukee businesses and community members in our new space!
For more information, please reach us at 515-978-7115, info@waukeechamber.com or www.waukeechamber.com.
Chris Norton to Keynote Waukee Area Chamber of Commerce 2018 Annual Dinner
The Waukee Area Chamber of Commerce will welcome Chris Norton as the keynote speaker of the 2018 Chamber of Commerce Annual Dinner & Silent Auction on Thursday, Feb. 1 at the West Des Moines Marriott.
Norton suffered a severe spinal cord injury playing college football and was told he would never walk again. He defeated all odds and walked across the stage of his college graduation, which has been viewed over 300 million times across the world. Norton calls us to focus on response instead of situation—to be defined by attitude rather than circumstance. He shares a compelling story filled with laughs, tears and life changing moments that give audiences hope and a new perspective. He demonstrates how attitude, effort and purpose can navigate the most challenging obstacles.
The Annual Dinner & Silent Auction celebrates the accomplishments of the past year and conveys to membership the organization's goals for the coming year.  In addition, outgoing Board members are recognized, and the Member of the Year and Ambassador of the Year are announced.
The silent auction and networking will begin at 5:30 p.m.; the dinner and program will begin at 6:30 p.m.; awards will be announced at 8:00 p.m.; and Chris Norton's keynote address will begin at 8:30 p.m. For more information, visit waukeechamber.com or call 515-978-7115.