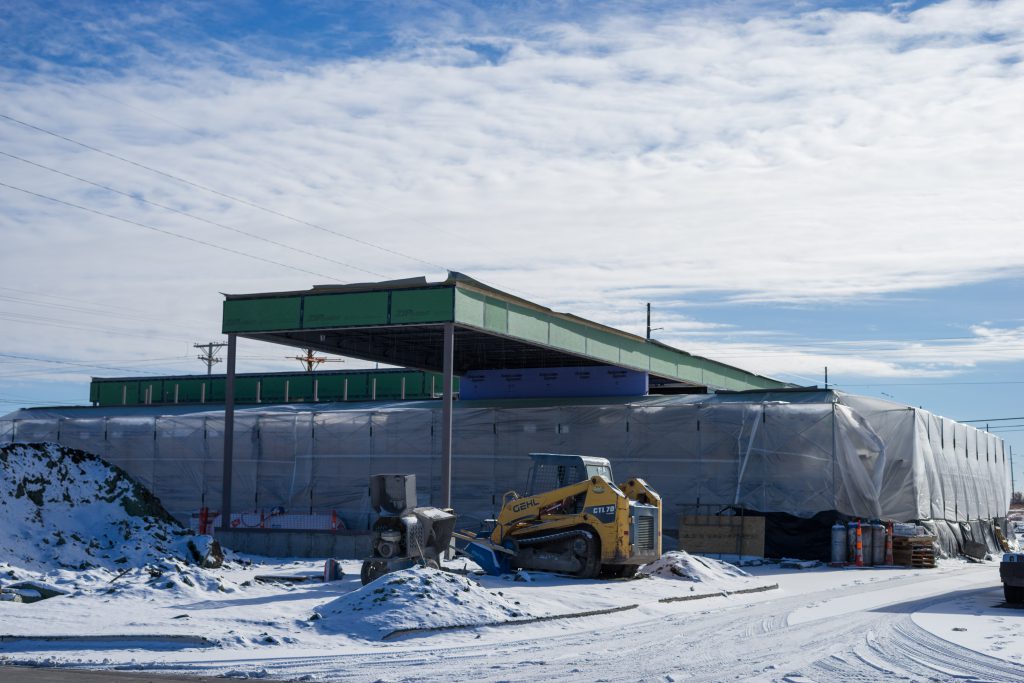 By Kellyn Pappas
It would be the understatement of the year to say there's construction going on in Waukee.  You can't drive a city block, it seems, without encountering a new development taking shape.  One of these, currently under construction north of Hickman Road and west of the Waukee Hy-Vee, will eventually be known as The Shoppes at Prairie Crossing.
Construction began on the 7,150-square-foot retail and restaurant space this past fall.  Divided into five bays, with a drive-through available at one end, the center is scheduled to be finished in the spring of 2018.  The popular Tex-Mex eatery Panchero's is among the businesses who have signed leases for the space, according to Aimee Staudt, Vice President and Director of Development at Knapp Properties, who is the developer and listing broker for the Shoppes.
"We anticipate a mix of franchise and small, independent businesses," said Staudt.
Just over 50 percent of the center is currently leased or in lease negotiations at the time of writing, so interested businesses may still have time to snag a spot for themselves.
To help manage the traffic flow, there are plans for the eventual creation of a signalized intersection along Hickman Road, directly to the south of The Shoppes.  There will also be plenty of parking space to support the center, with 64 parking stalls planned for the development.
Across the street, on the southwest corner of Hickman Road and Alice's Road, progress is being made on another large development.  The Waukee Marketplace sits on approximately 12 acres and will encompass 55,000 square feet across eight buildings, with room for nine to 12 businesses.  According to Richie Hurd, Vice President at Hurd Real Estate Services, who is developing the site, automotive retailer AutoZone and ever-popular coffee chain Starbucks are both set to move into the development.  Site plans for the buildings that will house those two businesses have been approved by the City of Waukee, and both buildings are currently under construction, according to Brad Deets, Development Services Director for the City.  Construction on those is set to finish in the spring of 2018.
There is still space available at Waukee Marketplace for lease or build-to-suit.  The dates for finished construction on the rest of the center will vary.  The majority of the remaining square footage will be spread across six free-standing buildings.  There's also space available in a proposed multi-tenant building and a 2,300-square-foot end cap that is available next to Starbucks.
Hurd commented that, like The Shoppes, Waukee Marketplace will consist mostly of nationally branded businesses, but a handful of local businesses will be featured as well.  There are 475 parking stalls planned across the site to accommodate what will surely be a busy area.
Given the prime location and the high traffic volume near both of these developments, the remaining spaces at both sites will likely be snapped up quite quickly.