A dear friend of mine had a problem.
She'd recently been promoted to Director of Food and Nutrition at a large hospital in Illinois. Members of her new team were complaining that people were rude, and the hospital was a terrible place to work. This was perplexing to her because that was not her experience at all. My friend decided to spend some time observing the team to figure out what was going on. She discovered that most people, including those complaining about rude people, were not doing something that my friend does naturally when greeting another person: Smiling.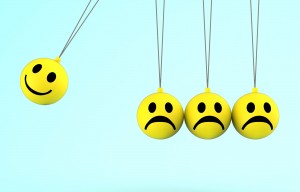 On the heels of this new discovery, my friend formed a hypothesis: If you smile at someone else, they will likely smile back at you. When people are smiling, they are generally perceived as friendly and kind, rather than rude.
To test this hypothesis, my friend enlisted the assistance of her daughter to take on something we now refer to as The Smile Project. The methodology was simple – Smile as you greet people (even just passing them in a hallway), and tally how many smiles you get back.
I remember my friend texting me about her early progress that day. She jokingly commented that she wears a suit and has a Director title, so she was killing in this contest. While she was kidding, I know that to genuinely be the perspective of many – outward displays of friendliness and respect (like smiling) are reserved for the 'head honchos' or 'the boss.' By the end of that day, however, I am happy to report that her daughter wound up 'beating' her mother by tallying more smiles. While it's true that my friend found herself in meetings all afternoon and ultimately lost track of counting, the point was still made that smiles usually lead to smiles, regardless of a formal title or position of authority.
I loved the Smile Project for two reasons: First, I live and breathe 'employee engagement' as an organizational development professional for a large manufacturer in Des Moines. My friend's problem resonated with me because it is something I hear about every day, and her approach to focus on 'me first' is important. Too often, when we are not seeing what we expect or want to see, we blame others. In actuality, the best place to start problem-solving is within ourselves. Ask the question, "What am I doing that is contributing to the problem?" If you can't find any opportunities to improve, ask for feedback from a trusted source that will be honest and candid with you. Second, I loved that my friend was teaching this important lesson to her daughter, who was in kindergarten at the time. The two of them had a great conversation about perception, personal responsibility, and even leadership.
Try the Smile Project for yourself. If you have kids in your life, make it a family activity. Pick a day and see how many smiles you can tally, then talk about the experience together. What happened when you smiled at people? How did it make you feel? How do you think it made others feel?  Let us all know what you learn. 🙂