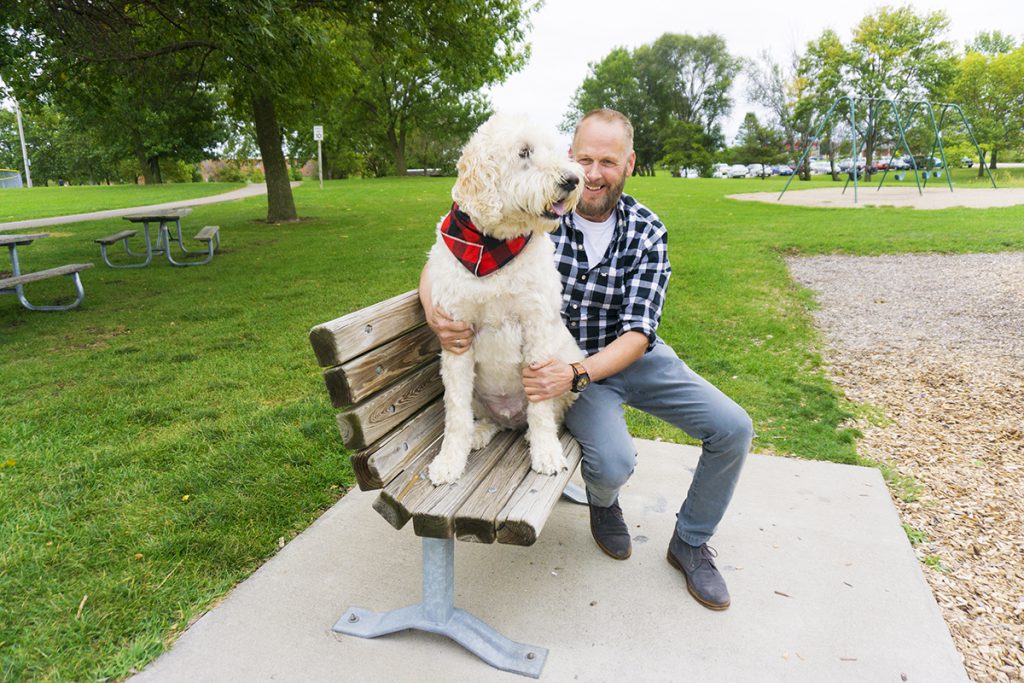 Dogs are known as man's best friend, and for Waukee resident Paul Mohlke and his 6-year-old labradoodle, Moose, the title couldn't be more fitting. Not only do they share the typical owner-pet bond, but these two are committed to community outreach through animal therapy.
Their story began about seven years ago, when Mohlke became ill and ended up in the hospital. It was during his hospital stay that he first experienced what a therapy dog could do.
"My sisters knew I had always liked dogs, but with my work and my schedule, I wasn't in a position to have one of my own," said Mohlke. "During my time in the hospital, my sisters asked the staff if the therapy dog could come to my room. As soon as the dog came in, everything changed, and I instantly knew I wanted to have this same impact on people."
Every day for the remainder of his hospitalization, Mohlke was able to see the therapy dog, and it was because of those visits that he began researching dog breeds and the process of training a therapy dog.
Roughly a month later, he was leaving a Walgreens when he noticed a dog sitting behind the wheel of the car parked next to his. Not knowing the breed, he stayed in the parking lot until the dog's owner returned. He learned the breed that captured his attention was a labradoodle, a mix between a Labrador and a poodle. Not long after, he connected with a family that raises labradoodles in rural Northeastern Iowa.
"I let them know I was planning to train a puppy for therapy work," said Mohlke. "Two days after our first conversation, they reached out saying someone returned one of the puppies due to conflicting emotions about losing a dog not long before. The next day, I went to meet the puppy, and once I saw him, I knew Moose was the one."
Coincidentally, Mohlke learned the family who returned Moose also had plans to train him for therapy work. It's as if Moose was destined to be a therapy dog.
The duo started therapy dog classes when Moose turned 2 years old. Mohlke used a center in Urbandale to help with the training, and he and Moose worked together one night a week for an entire year. At the end of 12 months, Moose took a test through Therapy Dog International.
"Moose has a great personality and loves people, so he was easy to train," said Mohlke. "But, the testing felt a little like how I imagine American Idol contestants must feel. After the testing, all of the handlers, along with the dogs, were brought into a room, and Therapy Dog International selected some of us to move to another room, while the rest stayed. That's how Moose earned his certification, and it was extremely rewarding."
With a formal certification in hand, Therapy Dog International connected Mohlke and Moose with places in Central Iowa looking for therapy dogs. The first place they were sent was the VA Central Iowa Health Care System (VA), and four years later, you can still find them meeting with veterans there for two hours on Saturday mornings. Additionally, every Tuesday, they visit the students and staff at Orchard Place School.
Mohlke explained that these two sites are very different, but the variety works well for them. He gets to interact with veterans at the VA, and Moose loves the kids and the attention they give him at Orchard Place.
"Sometimes, it doesn't take much to impact someone's day—you can just do the littlest thing, and it makes all the difference," said Mohlke. "I've had kids ask, when Moose and I are getting ready to leave, if they can just give me a hug, and the students make cards for Moose on his birthday every year. I've also received a letter from the daughter of a veteran who passed away, telling me how our visits meant everything to her father. Things like that make it all worth it."
Mohlke and Moose were named "Volunteers of the Year" for Orchard Place this past year for the service they provide. Perhaps it's partly because, as Mohlke explained, Moose is extremely perceptive during their visits, finding and sitting with the people who need him most.
"On a recent visit to the school, Moose gave particular attention to one girl," explained Mohlke. "He kept licking her and making her laugh. Her teacher told me that she wasn't having a good day, and somehow, Moose just knew."
While "working" does leave Moose enjoying recovery naps at home afterward, Mohlke believes Moose loves his job. "His tail just wags all the time," he said. "Moose really likes it because, just like us, he enjoys having a purpose and a job to do."
Moose even has a baseball card that Mohlke makes himself and hands out to the people they meet. The front features a smiling headshot of Moose, bandana around his neck, and on the back, people can learn more about the friendly labradoodle, including his favorite toy (squeaky tennis balls), his favorite treats (hot dogs and string cheese) and his favorite activities (chasing rabbits and squirrels, along with visiting people, of course).
Mohlke explained that he's looking forward to retirement, so he and Moose can visit even more organizations that request therapy dog visits, such as hospices and hospitals.
"I've found that Moose has the ability to help anyone, regardless of their role," said Mohlke. "I've had nurses run us down in the hall, asking to see him because they've missed him so much. And now, a lot of the kids we see say that when they grow up, they want to do this. It's rewarding to know they'll know what a program like this is and what it means to experience it firsthand. Life is more than just work and having a job. When I was in the hospital seven years ago, I asked myself, 'What's my purpose?' And, I can honestly say both Moose and I have found ours."