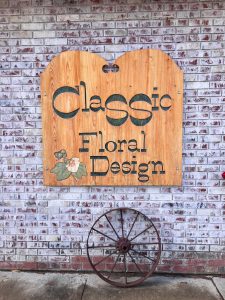 Lyn Schafer and Classic Floral: The Heartbeat of the Downtown Triangle and Our Community
By Sue Ellen Kennedy
Lyn Schafer was born in Portland, Oregon, and her family moved to Iowa in 1962.  She has also lived in Washington, California, Virginia, South Carolina, Illinois and Connecticut.
After returning to Iowa with her children and managing a flower shop in Des Moines, she heard about a flower shop for sale in Waukee that was owned at the time by Rick Husery.  In 1990, she bought the store—Classic Floral and Gifts.
A single mother since 1983, Schafer raised five children and fostered four others.  She worked very hard to help reunite the foster children with their families. Her children are Andrea (47), Erin (44), Michael (42), Jason (38) and Savannah (22). Three of her five children, as well as her four foster children, attended Waukee schools.
Classic Floral is not only a business, but also the family's home. In 1992, Schafer bought the building and later had the north side of the building converted into a home for her family, including their rescue dogs.  Classic Floral has been a family affair ever since.
Schafer has fond memories of her grandchildren hunting for chocolate eggs in the flower shop every Easter.  Bernice Johnson, an employee, recalls finding the missed eggs several weeks after and tossing the stragglers in the fall. Johnson also fondly recalled that Brandon, the oldest of Schafer's eight grandchildren, would hide his toys in the flower shop when he was very young, and she would find them while she was working.
Johnson has been a friend and loyal sidekick for 25 years, even helping watch the grandchildren when Schafer had to leave to make deliveries.
"If there's an obstacle in Lyn's path," said Johnson, "she finds a way around, over, or through it."
When city hall, the post office, and the library moved from downtown, it was expected that the downtown area would fizzle out. The downtown businesses rallied together and there was no one more passionate about keeping downtown alive than Schafer.  She had the vision to see what it could be again and understood the importance in keeping it alive.
Schafer has also been a staunch advocate for the Downtown Business Group.  The original members of the group were Schafer, Jerry Wright, Larry Cranel, Sheryl Humphry, Chet Chedester, Joe Stork and Bill Vasilonikolidaks.
The Downtown Business Group works closely with the city of Waukee in the promotion and preservation of our downtown Triangle business area. "It takes a group to accomplish what we have," said Schafer.
Today, the Triangle Business District boundary starts at the south side of Highway 6 including Kum and Go, to the south side of Locust to the east side of 4th to 7th Street.  The boundary currently encompasses over 30 businesses.
As president of the Downtown Business Group, Schafer was instrumental in establishing the Waukee Farmers' Market, which takes place every Wednesday from the first week in June through the end of September. Though she will no longer be involved after this September, her hard work will be continued for many years by the group.
In addition to the Farmers' Market, the Downtown Business Group helps with the Winter Festival every year, and gives out bananas to BACooN Ride participants.
When asked about her current vision for our downtown district, Schafer said she would like to see a quilt shop and a bike shop. "These would fit best in our business district and would bring more traffic to our area," she said.  She added that these businesses would also fit into downtown's small-town feel.
Schafer has received several accolades over the years, including Waukee Citizen of the year in 2002.  But the beaming look of gratitude she expressed when she showed me her 2017 City of Waukee Proclamation in Recognition of her retirement was priceless.  It was a heartfelt thank-you for demonstrating her commitment, lending her expertise and using her passion to promote the Waukee Triangle Business District.
"It's never been about me, it's been about and for the community," said Schafer.
For 28 years, Schafer has been the sole owner and operator of Classic Floral. On Labor Day of 2018, the shelves will be emptied, the cooler bare, and at closing time, a long-time staple in our community will be no more.  We are sad that a buyer for the business could not be found, but the truth is, Classic Floral would not be the same without Lyn and Bernice. We understand that it's time for you both to go, but dang it, we don't like it. Good luck to you both as you begin these new chapters in your lives.
"Lyn and Classic Floral have been the heartbeat of downtown and the community. Her leadership and guidance will be missed. Thank you, Lyn." –Geoff Warmouth
FOLLOW & LIKE US ON FACEBOOK!

SUBSCRIBE TO OUR NEW YOUTUBE CHANNEL!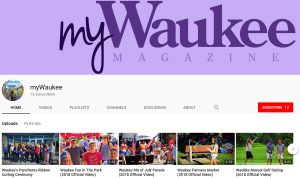 FOLLOW US ALSO ON TWITTER AND INSTAGRAM!