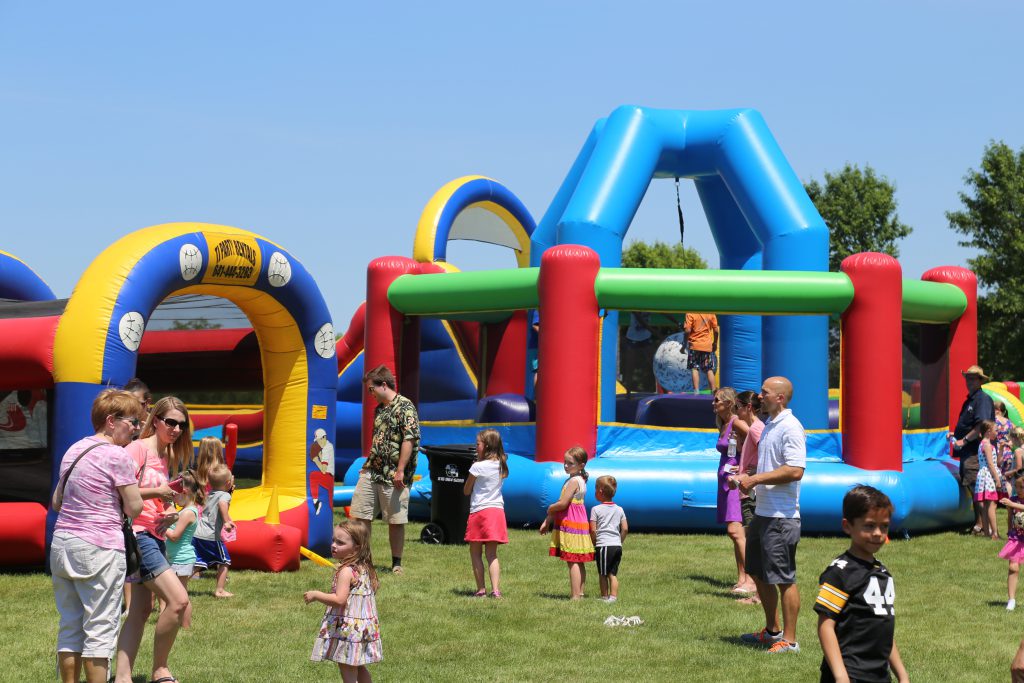 Summertime in Waukee is shaping up to be another one full of fun in the sun, exciting annual events, family activities and more!  Residents and visitors of all ages can find something entertaining and enriching in the City this summer. Here are a few highlights.  Be sure to mark your calendars, and check Waukee.org/summertime over the next few months for updates and more information.
Summer Reading Program
Registration Starts May 1
"Rock & Read" at the Waukee Public Library this summer!  Children of all ages, teens and adults can read or listen to books and earn prizes from June 1-July 31.  This year's theme is focused on music, though you don't have to be musically gifted to participate. There will be many fun programs and events held throughout June and July; be sure to check the library website for events that require registration.  These activities are made possible with generous support from mi-fiber, LLC.
Movies in the Park
Friday, June 2 and Friday, July 21
Join Waukee Parks & Recreation for free screenings of Hollywood's biggest hits under the stars at Centennial Park!  Bring lawn chairs, blankets and snacks.
Friday, June 1 – Turbo (PG)
Dusk (Approximately 8:45 p.m.)
A freak accident might just help an everyday garden snail achieve his biggest dream: winning the Indy 500.  PLUS – join Iowa State University as they present the Insect Zoo in conjunction with the movie from 2:30-4 p.m. and also from 6:45-8:15 p.m.
Friday, August 10 – The Greatest Showman (PG)
Dusk (Approximately 8:45 p.m.)
See the original movie musical inspired by the life of P.T. Barnum, starring Hugh Jackman.
Celebrate Waukee
Saturday, June 2
The Waukee Community Festivals Committee is gearing up for Celebrate Waukee!  Saturday morning festivities begin with the Waukee Club of Rotary's Pancake Breakfast and a 5K run.  Activities continue at Centennial Park where attendees will find a wide range of activities for all ages, including a 3-on-3 basketball tournament, inflatables, food, drinks, live music from bands Dick Danger and 5 Below, fireworks at dusk and more!
Waukee Downtown Farmers Market
Wednesdays from June 6-September 26; 4-7 p.m.
Presented by the Waukee Triangle Businesses, the Farmers Market is held in the Downtown Triangle every Wednesday evening during the summer and features local food vendors, fresh produce, handmade items and live music.
BACooN Sizzles Waukee             
Friday, June 15
The Waukee Community Festivals Committee invites bacon lovers to unite! BACooN Sizzles Waukee is the pre-party and community event held at Centennial Park the night before BACooN Ride 5: Ride for the Cured!  Residents, friends, bacon enthusiasts—everyone is welcome to enjoy delicious bacon delicacies from vendors, a beverage garden and live music from Pie in the Sky.
Fourth of July Celebration
Tuesday, July 4; 3-10 p.m.
Each year, Waukee Parks & Recreation hosts an all-day celebration of our nation's independence.  Activities start at 3 p.m. with a parade from Triangle Park to Centennial Park. After the parade, bring your friends and family to Centennial Park for inflatables, live music from the band Mud Dogs at 5 p.m., food vendors and a great fireworks show after dusk (usually beginning shortly after 9 p.m.).  Note: The Boys Scouts will also host their annual Fourth of July Fun Run at 8 a.m.
Waukee Arts Festival
July 13 & 14
Sponsored by Stivers Ford Lincoln and held at Centennial Park, the Waukee Area Arts Council's annual event will kick off on Friday evening this year with a free concert by The Nadas from 6-9 p.m.!  On Saturday, enjoy 90+ artists and exhibitors, a Waukee student art exhibit, food truck vendors, kids' activities, a beverage garden and live music. Artist booths will be open Saturday from 10 a.m. to 5 p.m.
Saturdays in Centennial
Saturdays in July from 6:30-8 p.m.
Join the Waukee Area Arts Council for these free concerts held in Centennial Park:
Saturday, July 21 – The DM Project (Singer/songwriter)
Saturday, July 28 – The Host Country (Fusion of folk, rock and blues)
These concerts are sponsored by Stivers Ford Lincoln and the Waukee Public Library.
Waukee Public Safety Day
Tuesday, August 7; 5-8 p.m.
The Waukee Police and Fire Departments will join forces again for Waukee's Public Safety Day.  The popular annual event will feature activities and demonstrations including tours of the Waukee Public Safety Building, the chance for kids to use a fire hose, the opportunity to try Fatal Vision Goggles (which simulate what impaired driving feels like), and a child ID station.  Meet members of the departments and feast on grilled food and ice cream.
The Waukee Ten
Saturday, Sept. 15; 7 a.m.
Just Go Faster welcomes runners to take a 10-mile run through Waukee in the Second Annual Waukee Ten!  The race route boasts 10 beautiful miles of fast flats, challenging climbs, cheering neighbors and a triumphant finish at the Waukee Stadium.  If you are preparing for a half-marathon distance, there's no better test of your fitness than this race! This event is open to anyone, and it will offer a 5K route, as well.  
Do you have an event you'd like to submit to the "Summertime in Waukee" calendar? Visit
Waukee.org/summertime
for more information.