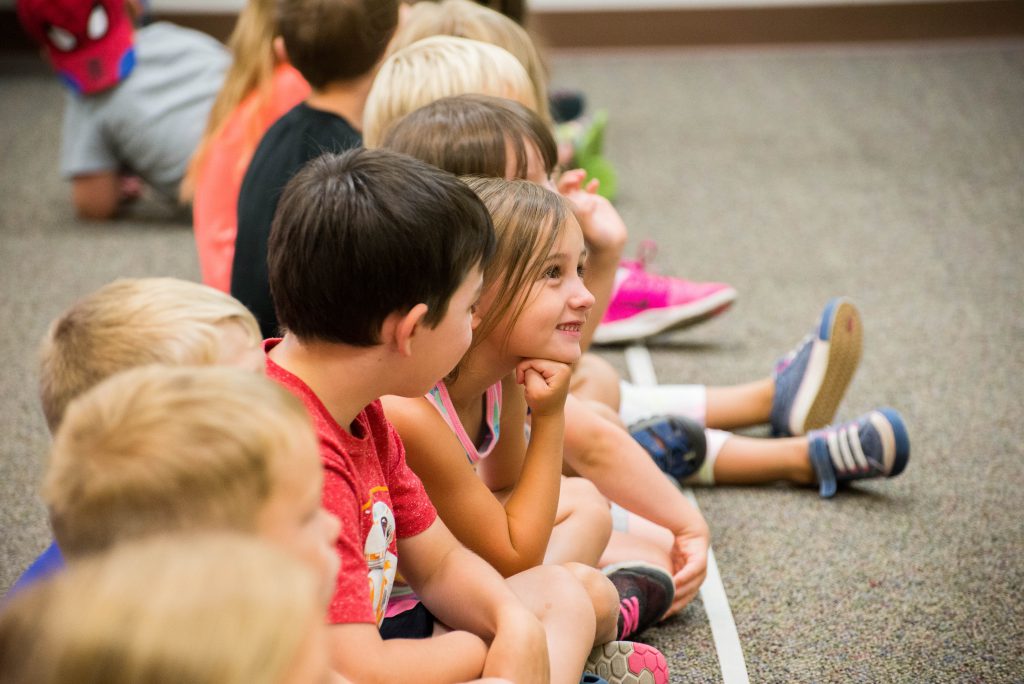 By Leah White
May is a great month for relaxing and revving up for summer at the Waukee Public Library! Join a book club or come to one of our many storytimes! We will also have some great special programs this month for all ages!
Then, before we know it, it will be June and the Summer Library Program will be here! This year's theme is "Rock & Read" and will run from June 1 until July 31. Everyone is invited to participate!
Here are some FAQs about the Summer Reading Program:
When does registration open?
Registration opens May 1, but reading for the Summer Reading Program doesn't begin until June 1.
Register online at waukelibrary.beanstack.org.
How do I register?
You can register online at waukeelibrary.beanstack.org or in person at the Waukee Public Library.
Who can participate?
All ages!
How do I earn prizes?
READ! Magazines, audiobooks and eBooks count, too!
DISCOVER! Adults can attend library activities for bonus entries!
To find out more about the library's Summer Reading Program, visit www.waukeepubliclibrary.org/summer
UPCOMING EVENTS FOR ADULTS
EASY AS PIE
SATURDAY, MAY 5 – 1:00 p.m.
Learn the basics of making a delicious pie from Lana Shope, Iowa State Fair and American Pie Council award-winning baker, and owner of Pies and Pastries by Lana. Participants will learn about the magic of making and baking pie! Samples will be served and a drawing will be held to take home the pie Lana prepares during this class. Registration is required and will open three weeks before the event.
LOCAL HISTORY SERIES: INTERURBAN RAILROAD – PERRY TO DES MOINES
SUNDAY, MAY 6 – 1:00 p.m.
Presented by Rod Stanley
TAI CHI FOR ARTHRITIS AND FALL PREVENTION
MONDAY, MAY 7 – 10:30 a.m.
Tai Chi is a holistic form of exercise that has been shown to help improve balance, increase flexibility and reduce stress. Whether you have balance deficits, arthritis or are simply seeking a healthier lifestyle, tai chi will help you reach your wellness goals. This class will specialize in arthritis and fall prevention, and can be done while standing or seated. This beginner-friendly class requires no prior experience. Wear loose, comfortable clothing and flat-soled shoes. Registration is required and will open three weeks before the event.
SMARTPHONES FOR SENIORS
THURSDAY, MAY 17 – 10:00 a.m.
Are you getting the most out of your smartphone? Come learn about it and see some of the informational, educational, utilitarian and FUN features you may be missing and are sure to enjoy using.
PLANTING A HOME VEGETABLE GARDEN
SATURDAY, MAY 19 – 2:00 p.m.
Iowa Master Gardener Carly Kelty-Greenfield will teach you everything you need to know about starting and maintaining a vegetable garden at home. Learn about selecting a site, seeds and transplants, preparing the soil, and garden care during the growing season.
BACKYARD BBQ
SUNDAY, MAY 20 – 1:00 p.m.
ON THE LIBRARY LAWN
Take home all the skills you need to achieve BBQ greatness! In this class, Joe Osbrink of the Iowa BBQ Society will go over techniques to smoke chicken thighs, St. Louis spare ribs and pork loin. Trimming, seasoning, grill prep, fuel usage, types of wood and common mistakes will be discussed. Attendees will be entered into a drawing for an annual membership to the Iowa BBQ Society and samples will be served!
MAGICAL MYTHICAL TOUR: IN SEARCH OF THE BEATLES
SATURDAY, JUNE 9 – 1:00 p.m.
Fans, fellow musicians and even their critics were captivated by the Beatles' formidable energy and held spellbound by their maturing dialogue on love, hope, vulnerability and peace. University of Iowa music historian Donna Parsons has spent the past 13 summers tracing the sites that influenced their songs and the venues where the Beatles honed their craft and built their fan base. Come learn more about this iconic band's road to stardom!
FOOD PRESERVATION 101
TUESDAY, JUNE 26 – 6:00 p.m.
Don't know what to do with your excess garden or farmer's market produce? Want to learn how to preserve food safely at home? Mary Krisco of Iowa State University Extension and Outreach will teach safe home food preservation methods including canning, dehydrating and freezing. Great for beginners, but even seasoned home food preservers will benefit from new recommendations, techniques and recipes. Attendees will receive handouts and some tasting samples will be provided.
UPCOMING EVENTS FOR KIDS
STEM LIT WITH IOWA STATE UNIVERSITY EXTENSION
THURSDAY, MAY 3 – 4:30-5:30 p.m.
Kids in grades K-5 are invited to hear a story about a STEM (science, technology, engineering and math) topic followed by a related experiment. This session's topic is popping popcorn. Registration is required and will open three weeks prior to the event.
DALLAS COUNTY TODDLER FEST
SATURDAY, MAY 5 – 10:00 a.m.
DALLAS COUNTY FAIRGROUNDS, ADEL, IOWA
The 5th Annual Dallas County Toddler Fest will be at the Dallas County Fairgrounds. Families with young children are invited to stop in for a morning of fun. Each child attending will receive a free book, and there will be many educational crafts and activities provided by local businesses at no charge. This event is organized by all 12 Dallas County libraries and is sponsored by 4 R Kids Early Childhood Iowa.
BEDTIME STORIES WITH THE WAUKEE POLICE DEPARTMENT
THURSDAY, MAY 10 – 6:15 p.m.
Special guests from the Waukee Police Department will share bedtime stories and talk about being a police officer with young children and their families. If there is no emergency in progress, attendees may get a close look at a police car! Registration is required and will open three weeks prior to the event.
READING ROCKS IN WAUKEE
FRIDAY, JUNE 1 – 10:00-11:00 a.m. & 4:00-5:00 p.m.
Drop by the library to paint a rock and sign up for Summer Reading. This is a come-and-go event. Then put your rock on display somewhere around the community because Reading Rocks in Waukee!
BUGS AND BOOKS
FRIDAY, JUNE 1 – 2:30-4:00 p.m. & 6:45-8:15 p.m.
CENTENNIAL PARK
Everyone is welcome to sign-up for summer reading and get up close and personal with the exciting world of insects and arthropods in this free come-and-go event at Centennial Park in Waukee. The Insect Zoo from Iowa State University is a hands-on, interactive and fun experience that will explore the basics of arthropod form and function. Learn why insects are important to us as you interact with live and preserved insect displays. The library will be sharing insect stories and taking registration for the Summer Reading Program. This program is brought to you in partnership with the Iowa State University Extension & Outreach and Waukee Parks & Recreation.
FAMILY PAJAMA STORYTIME
THURSDAYS IN JUNE – 6:15 p.m.
Families with young children are welcome to wear their PJs and listen to songs and stories followed by a craft.
INSTRUMENT PETTING ZOO
THURSDAY, JUNE 14 & THURSDAY, JUNE 21 – 9:30 a.m. AND 10:30 a.m.
SATURDAY, JUNE 23 – 9:30 a.m.
Youth entering grades K-5 are invited to attend one class to listen and learn about the violin and the cello with Amanda from the Des Moines Symphony Academy. After listening, children will have a chance to handle the instruments. Each class session is the same. Registration is required and will open three weeks prior to the event.
FRIDAY FAMILY FUN TIME!
FRIDAYS IN JUNE – 9:30 & 11:00 a.m.
Families are invited to visit the library and enjoy a variety of entertainment from a talented series of special guests. Programs are recommended for 4-10 year olds and their caregivers. Registration is required for these events. Walk-ins will be admitted if there are unclaimed tickets. Groups of larger than eight people should contact youthservices@waukee.org to determine space availability. Registration is required and will open three weeks prior to the event.
STEAM WITH MUSIC
FRIDAYS IN JUNE – 4:15 p.m.
Youth entering grades 1-5 in the fall are invited to enjoy science, technology, engineering, art and math activities with music. Registration is required and will open three weeks prior to the event.