When the temperatures drop and Iowa's unpredictable weather rolls in, metro golf enthusiasts now have a place to practice their swing at Broheim's Indoor Golf and Pub in Waukee.
"The golf off-season is our season," said Jon Goes, co-owner of Broheim's with his twin brother, Justin.
The NE Carefree Lane establishment opened its doors on Feb. 3.
In addition to a full bar stocked with domestic and craft beers, Broheim's has five PGA-sponsored golf simulators where single players or groups can play up to 66 different courses. Each simulator is 16 x 16 feet, and is surrounded by lounge chairs and couches. Each simulator can be rented for $45 an hour.
There's also miniature golf, skee-ball and a big screen gaming system available for customers.
Hours are 10 a.m. to – 2 a.m. daily. The latest tee time is 10 p.m.
Goes said his passion for golf began in 2004 when he relocated to Urbandale from Lincoln, Neb., to help run the family business, Renaissance Granite and Quartz.
He continues to serve as general manager at Renaissance during the day and heads to Broheim's every evening and weekend, where his brother—a musician by trade —manages the bar and carries out the day-to-day operations.
"He's the hipster; I'm the golfer," Goes joked.
His wife, Lacey, a consultative dietician, also helps with marketing for Broheim by managing its social media pages.
Goes credits his friends for getting him into the sport.
Once he and his friends moved away after going to college together in Nebraska, they used golf as a way to get together to do something they all enjoyed.
"You're outside. You're with your friends. You've having fun. You're getting away. You're clearing the mechanism. You don't have to think about anything except what you're doing on the golf course. All the stress and pressures of the day just fade away," he said with a smile.
Part of their "buddy weekends" involved creating fake tournaments. Whoever won the tournament trophy got to take it home, with bragging rights included, until they got together again.
They all took turns creating tournaments. Goes called his the ABC Classic for "Anheuser-Busch Classic," which he also says is their best-selling beer at Broheim.
But when the weather got cold, the men had nowhere to go. That was until Goes' friend said there was a pub with golf simulators in Nebraska, and they should have a winter tournament there.
He recalls walking into the business and saying, "I could do this, and I could do it way better."  
His wife, however, wasn't keen on the idea right away.  "It took about six years of convincing her," he said.
The Des Moines market was prime for it. The catalyst was when the Longview Golf Centre—the Urbandale driving range under a giant dome—closed its doors for business.
"That's when my wife agreed there was a void in the market, and we should start our own golf and pub business," Goes said.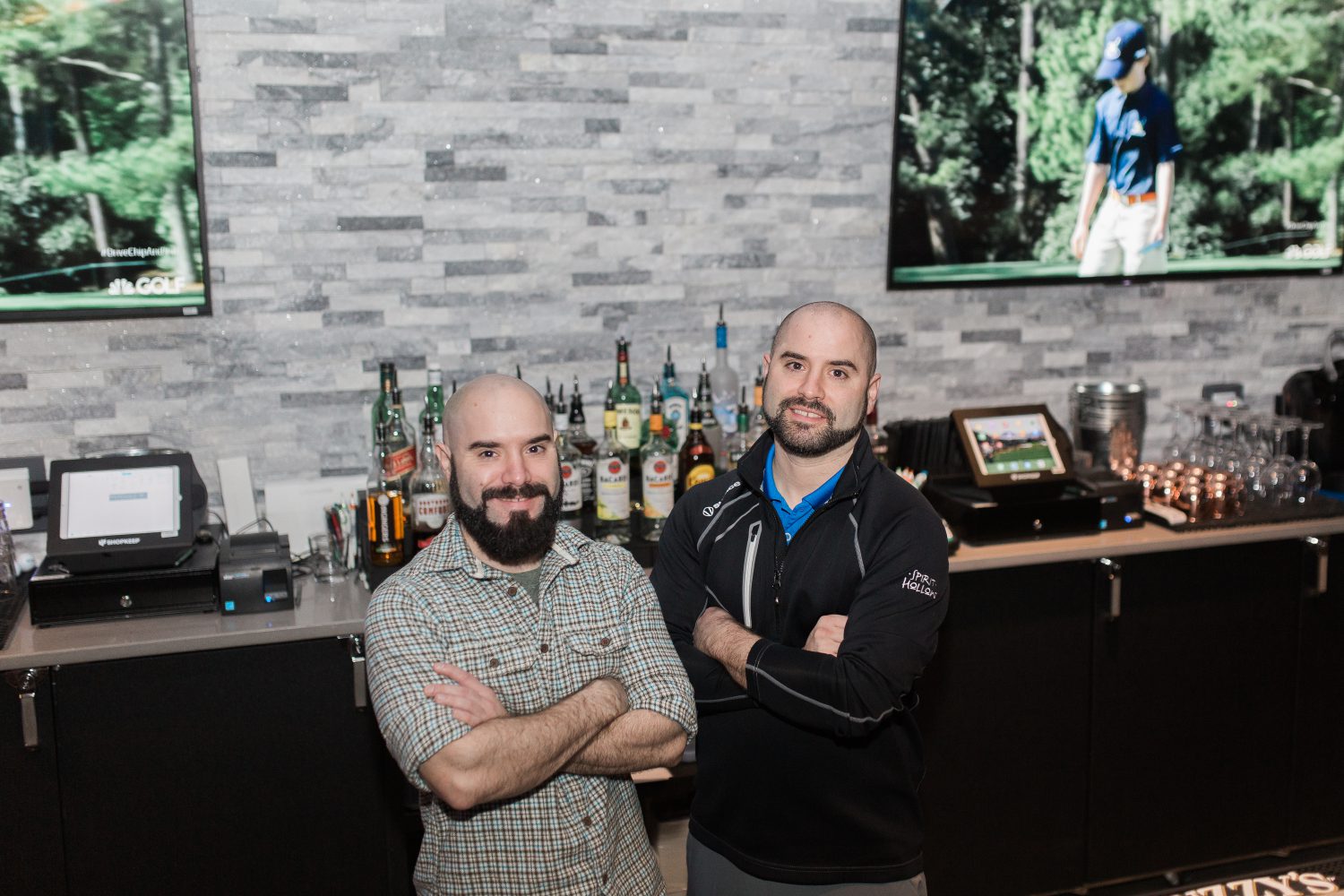 The name for Broheim's Indoor Golf and Pub is a play off the Solheim Cup. Goes and his friends are hyper-competitive and sometimes wouldn't speak to one another after their tournaments. After one tournament dispute in particular, the Solheim Cup was on TV. They got the idea to call their next tournament the Broheim Cup in the spirit of brotherly love.
And the name of the future golf and pub was born.
Goes also decided they needed to do Broheim right.
"The simulators in my bar are all top-of-the-line. They're the same ones on Golf Fix on the Golf Channel. Famous golfers play on these," he explained.
Area golf pros like Wade Pettit and Eric Peyton also help improve the games of young gulf enthusiasts during private lessons taught on the simulators at Broheim.
While food isn't yet sold at Broheim Golf and Pub, customers can order food into the bar. Goes said surrounding restaurants like Saints Pu —about 20 feet away from his golf pub—will deliver.
In time, Broheim will have snacks, a popcorn machine and a hot dog roller— similar to what you'd see on a golf course.
When deciding on a location, Goes said Waukee was a no-brainer.  "Waukee made sense, because it's the fastest growing city in the state," he said.
As part of his role as general manager at Renaissance Granite and Quartz, Goes looks at housing starts to see where the market is growing, so he knows where their product is most likely to sell. Knowing that families in Waukee typically have some disposable income was another determining factor.
Goes said while Broheim Golf and Pub is a family establishment for parents who want to let their kids test out the simulators, minors do need to be out by 9 p.m.
"I've had a couple parents come in and take advantage of the screen-on-screen on the simulators, so their kids can watch TV while they're playing. A few dads even loaded their Netflix account," he said.
Goes has been proactive about ensuring Broheim shows support for social and community causes. They've donated gift cards to Waukee Teacher Approval and have allowed auctions to be held at the pub to raise funds for the Veteran's Memorial in the Waukee Triangle as well as events for private charities for families fighting cancer.
With the Solheim Cup coming to West Des Moines in August, Goes is hoping to find a way to partner with the women's professional golf tournament.
"In the golf world, the Solheim Cup is huge," Goes said. "I don't know if the city of Des Moines recognizes the economic boost that's going to occur. It's the biggest tournament to ever come here."
Goes plans to take full advantage of having his key demographic down the street by advertising Broheim's around lodging and restaurants in the area.
"After (spectators) are done watching golf, they can come in to play a round and have some drinks," he said.
And Goes plans to be among those watching. "Oh, I'm absolutely going," he laughed.
For more information on Broheim Indoor Golf and Pub, visit broheimsgolf.com.
---
Broheim's is running a special on drinks through myWaukee Deals! Click here to sign-up for our FREE local offers mailing-list to access the Broheim's deal, along with many other local business offers around the city of Waukee.