Call them 'Keepers of the Cloth' or 'Savants of the Stitch.' Whatever you call them, the team at Langel & Woods Clothiers clearly feels an intrinsic obligation to create confidence. Custom suits, shirts, ties, and everything in between—the whole look—is only the outer shell of what they truly craft.
When a handsome suit steps into a room, it says something about the man wearing it. The person inside the well-fitting suit is not simply wearing the fine fabric—he's presenting the intention of leadership and integrity.
Men's fashion has less room to make grand gestures in comparison to the vivacious variances in women's trends. With men's clothing, it's all about the details. Choices in collars, cuffs, links, and lapels weave into the total package of the attire. Too much, and it may lack serious intention. Too little, and the look may go completely unnoticed.
Since 1990, Langel & Woods Clothiers has been helping customers create the perfect looks for their own needs and tastes. Many local leaders have this shop to thank for helping them feel and exude confidence in their business environments and other formal settings.
Three creatively gifted minds make up the expert team at Langel & Woods—Pat Langel, Tony Woods, and Hal Wilson.
Owner Pat Langel learned the craft of tailoring at Norman Hilton, where he worked for eight years. "This is the same Norman Hilton responsible for putting Ralph Lauren in business—also Halston—and still gets most of the credit for making Burberry what it is today," he said. "I was the head of Hilton's custom clothing division. I worked with the greatest tailors and designers in the world back in the 80s and 90s."
Langel's client portfolio includes President George H. W. Bush and an array of celebrities and professional athletes.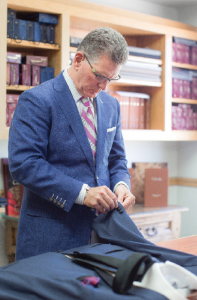 Co-founder Tony Woods is an expert in building meaningful, long-lasting relationships with customers. A native Iowan, he sharpened his skills at several local shops, including Badowers, Mr. B's, and Reichardt's.
Rounding out the team is Hal Wilson, who keeps up on the latest fashion trends and mixes them with well-worn traditional cuts to create custom looks. His background includes working with brands across the country, such as Giorgio Armani and Mario's.
The shopping process at Langel & Woods is a bit different from what you will find at other retailers.
The team begins with some of the best fabrics in the world. They then use their world-class experience and immaculate measuring skills to collaborate with industry-leading tailors to create handsome formalwear, suits, sport coats, and accessories.
"We take measurements to the tailors and relay exacting specifications through verbiage and pictures," said Langel.
"There are not many true tailors left in the country," he added. "It's a long, arduous apprenticeship. There are very few tailors in Des Moines," he said.
Langel & Woods operates by appointment to ensure the customer receives individualized attention. Dropping by the store without an appointment is not generally recommended, as the team is often out on home or office calls.
On average, a full suit takes about five weeks from conception to completion and costs around $1,000. The shop does not take deposits and does not charge the customer until the customer says the product is just right. Financing the purchase interest-free for three to four months is also an option.  
For some, the thought of selecting a fabric from a wealth of swatches and adding special detailing, on top of getting measured to ensure a custom fit, can be overwhelming. That's why Langel & Woods also carries five or six competitively priced clothing lines at any given time. Although these items aren't custom made, they can be altered to a similar made-to-measure quality.
If you're interested in a custom suit but don't know where to start, the experts at Langel & Woods will be happy to guide your decision-making process based on factors such as your work environment, social needs, and personal taste.
"We are as good as any clothier in the country," Langel said with conviction. "We will put our skills up against any of them. We like to say we offer 'New York, Chicago, or San Francisco clothing at Iowa prices, with Iowa customer service.'"
Dennis Linderbaum, President of UnityPoint Health Foundation, said he bought his first custom suit at Langel & Woods in 2005.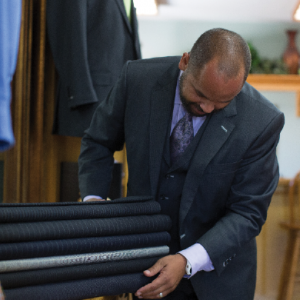 "I buy my business suits there, as well, if there's a very special occasion," Linderbaum said. "I rely on their judgment for custom shirts that are made just for me, and for ties, as well. Tony has worked with me long enough that he knows what I like and don't like. I trust him because he knows what he's doing."
Linderbaum mentioned that he doesn't even have to shop for suits anymore. He just speaks with Woods, who readies the latest options for Linderbaum's style.
The face of the customer for Langel & Woods is virtually anyone that wears a tie to work.
"Anyone who wears business clothing to work should visit with us. We will likely save you time and money, plus make you look great," said Langel. "We're a quiet company that grew to our present size mostly through word of mouth."
To make an outstanding first impression, first make an appointment:
Where: 139 4th St. #200, West Des Moines, IA 50265
Phone: 515-223-5347
Web: www.langelwoods.com