Words
:
Mackensie Smith
Photos
:
Laura Wills
On the edge of Waukee—past the strip malls, high school, and fancy fitness center—there is an Eden of organic produce farmed in the rich Iowa soil. Marked with a simple sign, Clarion Sage is run by two nature-nurturing souls that have planted their stakes in the rewarding and challenging field of agriculture.
Owners Jenn Miller and Cody Kilgore explain that there are historical roots behind the farm's curious name. Miller's grandfather was raised on a family farm in Clarion, and returned there after serving in the Navy during WWII.
They combined that nod to family history with the herb sage, which was one of the first seedlings planted on the farm. The homonym of the word "sage" also represents the wisdom of the farm's growing methods.
Two Heads Are Better Than One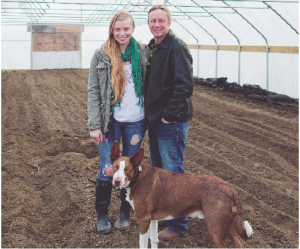 A Windy City native, Miller became a food blogger and columnist while working on gardens and community supported agriculture (CSA) around the world, in places like California, Costa Rica, and Iceland.
Originally from Missouri, Kilgore worked for 20 years in agriculture before moving to Iowa.
The two met while trying to create a thriving urban garden to provide veggies in the inner city of Des Moines. Both are vegetarians, and Miller eats a gluten-free diet. They both love the empowerment that comes from growing their own food.
The pair has operated Clarion Sage since August 2012, when Miller was presented the opportunity to rent the land from a colleague through the Iowa Food Cooperative. She wanted to lease the land to young farmers who would use it sustainably. After extensive planning and plotting, Kilgore said that 2014 was a year of establishing Clarion Sage as a viable business in Waukee.
Growing Methods
The couple uses innovative techniques to produce a rich mix of veggies, fruits, and herbs. While they rent six acres, they currently grow on one half-acre.
Instead of rows and rows, as one would see on a typical farm, this farm has beds and beds (84 to be exact) of 25-ft by 5-ft gardens. This is a bio-intensive method for growing and assists in soil preservation.
They have learned that certain plants, planted together, increase the growing performance of the plants.
"The soil we are growing in has been untouched for a couple of decades," said Kilgore. "We pay a lot of attention to the soil and soil structure—to the microorganisms and eco-diversity of the soil."
The farming team hand-digs the beds to an extreme depth to promote deep root systems of 18-24 inches and to maintain looseness to the soil. The deeper the roots, the healthier the plant.
Seeds start in the germination room, which allows the farm to expand its season to 25 weeks. Rich varieties of produce, like onions, tomatoes, celery, Brussels sprouts, and red cabbage will sprout to seedlings before being transferred to the high tunnel greenhouse—also known as the "hoop house," due to its main frame.
A microclimate forms within the high tunnel, meaning plants like tomatoes can grow earlier in the spring and later into the fall. While not heated, the area within the high tunnel is, on average, 30 degrees above the outside temperature. Kilgore said they have had spinach and kale grow year-round.
Miller said they save many of the seeds from the grown plants.
"We grow and then collect seeds for replanting, because those seeds have been conditioned for growing in the environment," she said.
CSA Sensation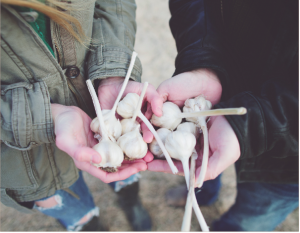 Planted with intent and cared for by the attentive eyes of Kilgore and Miller, the juicy, crunchy, healthy goods are parceled into packages for families who have signed up to receive the weekly packages. By definition, CSA is community-supported agriculture. Clarion Sage works this definition both ways. The farm supports the community's health and pocketbooks through exceptional, flavor-bursting agriculture; the community in turn supports the continued production of good food through the cost of participating in the program.
Beginning in May, participants can have a cooler stocked full of fresh goodness starting at $25 per week. Members can choose the spring, summer, fall or complete season pricing, opting for seasonal goods like micro greens in the spring, watermelon in the summer, or sweet potatoes in the fall.
Clarion Sage offers delivery, but invites participants to visit the farm, just a few miles south of Waukee, for the weekly pick-up.
Benefits of the program also include a weekly newsletter featuring recipes, produce information, and storage tips.
"We want our members and families to be intricately linked," Miller said. "We want to see them as much as possible; it's a chance for them to see the produce and a chance for us to share our passion."
Miller said one of the main goals for Clarion Sage in 2014 was to distinguish the CSA program as unique.
"We wanted to bring real food to typical families. A lot of CSAs are geared towards foodies, which is great, but we wanted to bring something to the meat-and-potatoes kind of families," Miller said of the wide variety of staple favorites they include in their program.
Families were certainly interested in consuming real, wonderful food from their community. Clarion Sage fed 30 families—around 100 individuals—throughout the summer from less than an acre.
"We do kind of let our members pick veggies and make requests, and we work with other local farms to supply our members with what they want," Miller said. Members may request items such as eggs that they source from other Central Iowa sustainable providers.
Clarion Sage also occasionally hosts fun farm events, including bonfires and "pick-your-own days."
"We feel like we've walked into heaven with this land—it's all rolling hills and wildlife," Kilgore said.