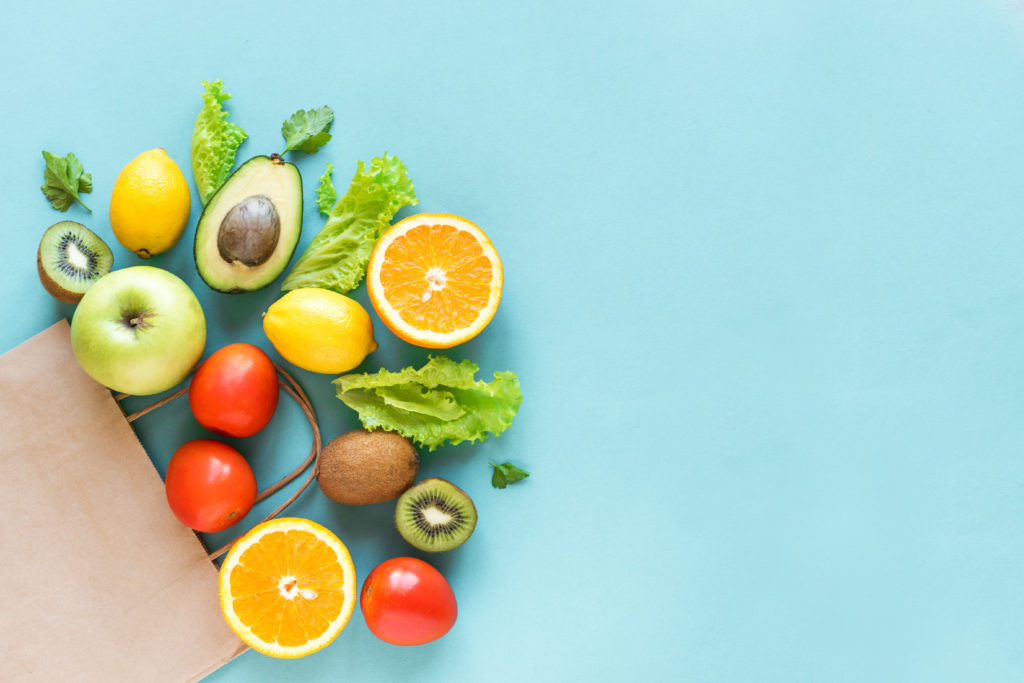 January 1, 2020 marks the beginning of not only a new year, but a new decade. And of course, New Year's brings with it the traditional resolutions—for many of us, they include eating better and exercising more. However, it's also notoriously difficult to stick to these resolutions.
According to U.S. News & World Report, the failure rate for New Year's resolutions is around 80 percent, and most people have abandoned theirs by the middle of February—not exactly encouraging odds. Even worse, the demoralized feelings this can cause can lead to a lack of motivation and confidence that can permeate other areas of our lives.
So, if we want to use the start of a new decade to make permanent, positive changes in our eating and exercise habits, how can we best set ourselves up for success? 
Luckily, Waukee Hy-Vee Dietitian Erin Good, RD, LD, has some great ideas.
Good, of course, is very familiar with the struggle to stay committed to healthier habits from her work in nutrition. One thing she recommends to help you stay committed is adding the word "no" to your vocabulary, pointing out that "saying 'yes' to your New Year's resolution may mean saying 'no' to something else."
"Say 'no' to a TV show to choose exercise, say 'no' to lunch out at work to choose bringing leftovers from home, [and] say 'no' to overcommitting yourself and instead keeping time for yourself and your needs, health and happiness," she advised.
Two other strategies Good recommends for people working to implement new habits are to start small and consider convenience. In terms of healthier eating, "Are you more likely to eat more vegetables if they're already cut and cleaned for you?" she asks. "Would you roast more veggies if all you had to do was toss them in oil and season to taste?"
Considering the simplest ways to make things more convenient can go a long way. Frozen veggies—many of which are available in steamable packages that are ready to eat after five minutes in the microwave—are another easy way to work in more servings per day.
According to Good, considering convenience can also be crucial when considering workout options. She recommends finding a gym with a convenient location and drive time.
She also said that it pays to consider which forms of exercise are most motivational for you, and to determine whether you would benefit more from attending group classes or having a workout buddy for extra accountability.
In terms of healthy habits, the ones Good recommends to just about everybody are some of the most familiar. Upping your water intake is one of them. She says you should aim to drink half your body weight in ounces of water daily. "Carry your water bottle with you everywhere, like you do your wallet," she said.
And we could all stand to keep a close eye on our added sugar intake. Many people are surprised to learn that the dietary recommendation for daily added sugar is no more than 25 grams per day. (For reference, a 12-oz. can of Coke contains 39 grams. Yikes!)
To make things worse, added sugar can be found in items like salad dressings and pasta sauces, in addition to the usual suspects, like soda and candy. Good recommends being thoughtful about how you spend your daily added sugar allowance, deciding whether you would prefer to enjoy it on things like candy, cookies or your favorite condiments. Less added sugar means fewer empty calories, making it easier to keep off unwanted pounds.
Other habits Good universally recommends to clients include—yay!—sleeping more. "Find two to three days per week that you can go to bed 15-30 minutes earlier, and/or wake up later," she advises. "Extra sleep equals extra control of your hunger hormones." Think of this as permission to relax (and maybe sleep in) a bit more often.
Good also points out that being connected with others can help boost a healthy mindset. "Surround yourself with friends, family and coworkers that have similar health goals as you," she said. It can be easier to stick to healthier habits when those around you are trying to do the same.
And of course, don't be afraid to reach out for support when you need it. Committing to making healthy changes is difficult in the best of circumstances, and we could all benefit from added guidance now and then. If you're not sure where to start, or need more inspiration, motivation or clarification on which foods are best for you, Good recommends scheduling a free, personalized nutrition tour with your local Hy-Vee dietitian.
"Dare to do this new decade differently, starting with the foods you place in your shopping cart," she said. "Walk with a nutrition expert by your side aisle-by-aisle at Hy-Vee and find the best foods to keep you fit, focused and full of energy in 2020."
With some smart planning, support from the people in our lives and extra shut-eye, this can be the year our New Year's resolutions finally stick. Armed with these tips, you'll be ready to commit to a healthier lifestyle as we head into a new decade!